What Is Gold Loan Balance Transfer?
People apply for gold loan without considering multiple factors with various lenders. Want to know about gold loan balance transfer and how can gold loan transfer can be beneficial for you. Read Now.
28 Nov,2022
10:59 IST
10 Views
22 Likes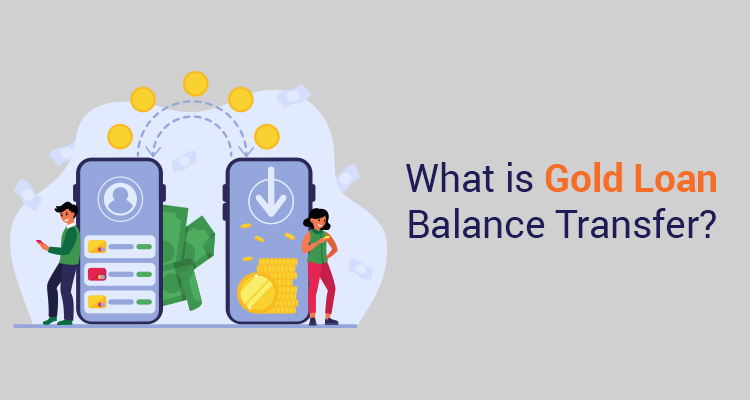 People bequeath gold ornaments and items from generation to generation in India. Thus, a gold loan is the most feasible borrowing method for most citizens.
Many people apply for gold loans without researching other lenders. Consequently, they choose gold loan companies that don't offer them the best deal. Gold loan transfers can save EMI costs and increase the payout.
What Is A Gold Loan Balance Transfer?
Moving a gold loan balance from one lender to another is known as a gold loan balance transfer.
There are several reasons to transfer a gold loan.
• Being unable to pay high-interest rates
• Loans that are lower than their gold value
• No flexibility in repayment options
• A lack of adequate security for their gold
What Are The Benefits Of A Gold Loan Balance Transfer?
There are several advantages of a gold loan balance transfer, including:
1. Reduced Interest Rate
Many lenders charge higher gold loan interest rates than their competitors. Borrowers can reduce their monthly payments by transferring their loans to another lender with a lower interest rate.
2. A Higher Rate Per Gram
Financial institutions usually offer a minimum 75-90% loan amount. If your gold value is low, consider shifting your loan to a higher loan-to-value ratio (LTV) provider.
3. Better Terms
By transferring a gold loan, you can get better loan terms and no processing fees, including flexible repayment terms. The flexibility offered by this option allows you to make repayments in a time frame that best suits your financial situation.
4. Gold Security
Gold is a valuable investment. Therefore, it needs to be insured and stored safely. Transferring your gold loan to the right lender can provide this kind of security for your gold.
How Does A Gold Loan Transfer Work?
To successfully transfer the balance of your gold loan, follow these steps.
Step 1: Start the gold loan transfer process by providing the new lender with your existing pledge card.
Step 2: You will receive a savings report after sorting out all the details of the transfer process. You will have to analyse and approve the savings report.
Step 3:
Complete your KYC after confirmation to finalise the gold loan personal loan transfer.
Step 4: To begin the transfer of gold to the new lender, you will receive a detailed description of the Gold Loan EMI you must pay.
Step 5:
Your gold loan will be transferred successfully to the new lender when you pay the interest.
Frequently Asked Questions
Q1. Is there a cost associated with transferring a gold loan?
Ans. Yes, you will have to pay foreclosure charges to your previous lender and processing charges and administration fees to your new lender when you transfer a gold loan.
Q2. What are the effects of gold loans on credit scores?
Ans. The financial institution will regularly report your gold loan and EMI payments to CIBIL. You must make timely repayments to help improve your credit score.