Gold Loan Process
Get a step-by-step understanding of the gold loan process in this guide. Discover how to get a gold loan quickly and easily, and the best ways to utilize it!
27 Jan,2023
11:11 IST
1773 Views
740 Likes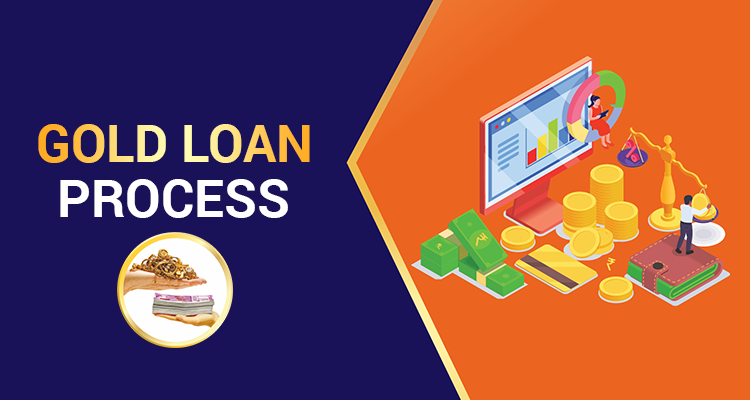 Most Indian households have gold articles sitting idle in lockers. However, they are valuable to pay for your immediate financial needs if you need money urgently.
You don't need to sell your gold but pledge it to a lending institution to get the necessary funds. Many Indian banks and NBFCs offer gold loans at attractive interest rates. However, you should know the gold loan procedure before applying for a gold loan.
How To Avail A Gold Loan? – Step By Step Process
The
bank gold loan process
includes the following steps.
Step 1: Application
The first step of taking a gold loan is to apply to a bank or a non-bank financial company. There are two ways to apply: in-person (at a lender's branch office) or online. In urban areas, borrowers prefer the latter option.
Step 2: Evaluation
The lender's representative will contact you after submitting your application. A representative may come to your home to examine your gold if you have submitted an online application. The purity of gold is the first thing financial institutions check. The appraiser determines the price and quality of the gold.
Step 3: Documentation
The lender follows RBI Know Your Customer (KYC) guidelines to complete the KYC process. You need to keep your KYC documents ready to complete this process.
Step 4: Approval and Disbursement
Once the applicant confirms their consent to the gold loan amount and other terms, the lender approves the loan. The processing fee for gold loans ranges from 0.10% to 1%.
What Are The Required Documents For A Gold Loan?
To obtain a gold loan, the applicant must provide the following documents.
• Aadhaar card.
• Proof of identity: A PAN card, passport, driving license, or voter ID card.
• Proof of address: A passport, driving license, electricity bill, or gas bill.
It is important to note that no proof of income is mandatory to obtain a gold loan.
Who Is Eligible For A Gold Loan?
The following individuals are eligible for a gold loan:
• Individuals with gold jewellery are eligible to apply.
• Applicants should be between 18 and 60 years old.
• Professionals, self-employed individuals, business owners, and others can obtain loans against gold.
Since this is a secured loan, you don't have to worry about a poor credit score.
What Are The Features That Make The Gold Loan Process Easy and Fast?
Gold loan schemes have several prominent features, including the following.
• Faster Processing:
The
eligibility criteria for gold loans
are straightforward, requiring minimal documentation since these are secured loans. Thus, lenders usually disburse loans within a few hours.
• Lower Interest Rate:
Gold loans charge lower interest rates than unsecured loans, such as personal loans.
• No Processing Fees:
In many cases, banks and NBFCs do not charge processing fees for gold loans. If lenders do charge a fee, it is usually 1%.
• No Foreclosure Charges:
Banks and some lenders impose 1% prepayment penalties, while others don't charge any at all.
• Income Proof Not Required:
Since gold loans are secured against gold, lenders do not generally ask for income proof. Therefore, gold loans are available to everyone, regardless of income level.
• The Credit Score Is Not Required:
For most loans, the amount is based on the borrower's ability to repay and credit history. Gold loan approvals do not require your credit score.
Apply For A Gold Loan With IIFL Finance
Access safe, swift, and budget-friendly gold loans through IIFL Finance. The platform offers several benefits, such as minimal paperwork, instant transfers, low gold interest rates, and customised repayment plans. IIFL holds pledged gold assets in modern, safe lockers backed by insurance.
Apply for a gold loan
today!
FAQs
Q1. How long does it take to process a gold loan?
Ans. Gold loans are processed instantly. After completing the verification process and choosing a scheme that meets the requirements, lenders appraise the gold within minutes and approve your loan.
Q2. What are the interest rates on IIFL Finance Gold Loans?
Ans: IIFL Finance gold loans carry interest rates ranging from 6.48% to 27% per annum.