What Is The Process Of Gold Loan Repayment?
Learn the step-by-step process of repaying a gold loan in this guide. Find out how to make gold loan repayment easy and hassle-free!
20 Jan,2023
09:59 IST
2483 Views
855 Likes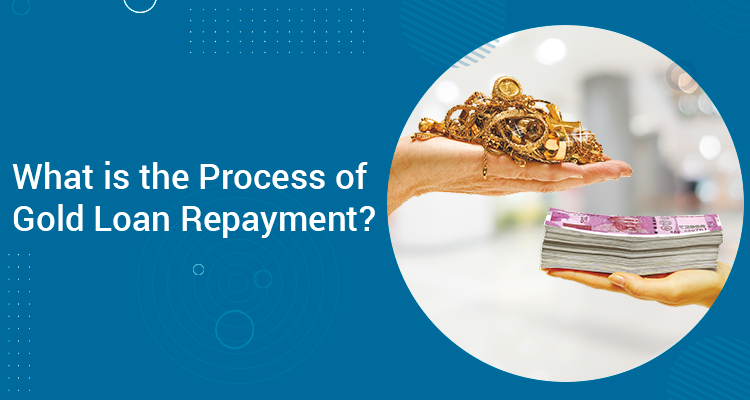 Gold loans are popular funding options because they are easy to obtain and have simple eligibility requirements. Today, households can easily raise funding from this idle asset by leveraging its underlying value. Repaying gold loans is also simple, as you can pay them via easy EMI payments, bullet repayments, or other options. Here's how gold loans work and the repayment options available to ensure a seamless repayment plan and journey.
What Is Gold Loan Repayment?
Gold loan repayment
consists of repaying the principal amount financed and the interest accumulated by the lender. As gold loans are secured loans, borrowers can choose from various repayment options to suit their requirements and regain possession of the gold they pledged.
Gold Loan Repayment Procedure
Typically, loans are repaid through monthly installments, each containing an interest and principal component. Repayment procedures for gold loans adjust the monthly obligation, making the advance easier to repay.
You can choose from the following gold loan repayment options:
1. Repayment Through Interest-Only EMIs
Gold loan borrowers can choose the interest-only repayment option to repay their loans on time. The borrower must repay the loan principal at the end of the tenure after paying the accruing interest through installments.
2. Partial Principal Repayment With Flexible Interest Payment
Borrowers can make interest payments according to a flexible repayment schedule while repaying the principal amount in parts throughout the tenure. During the loan term, it eliminates the need to fulfill a fixed liability monthly.
Regardless of the gold loan interest rate, the repayment of a significant portion of the principal during the early stages of the tenure means a reduced overall interest liability for the borrower.
3. Bullet Repayments
Some financial institutions permit gold loan borrowers to choose the gold loan bullet repayment option to repay their loan obligation on time. Rather than meeting any repayment obligation periodically, a borrower must repay the entire loan liability, including principal and interest, upon loan maturity.
It gives borrowers more control over their finances by allowing them to handle their income without any monthly charges. Upon completing your bullet repayment, you can take possession of the gold pledged at once.
4. Monthly Repayments In EMIs
Borrowers can repay gold loans via EMIs, the most common form of repayment. They are composed of principal and interest components amortised over the term of repayment. By reducing interest accrual, borrowers will have a lower loan liability, making repayments more convenient.
To make gold loans more affordable, secure a minimum interest rate by applying with a high income and keeping all the necessary documents handy.
Apply For A Gold Loan With IIFL Finance
Gold loans from IIFL Finance offer the best features to maximise your benefits. Taking a gold loan with IIFL Finance has many advantages, including low-interest rates, advantageous terms, and instant approval. The gold loan process is designed specifically to meet your capital needs, with a wide range of unique and comprehensive features.
Our gold loans don't require you to submit prolonged loan applications. A gold loan with IIFL Finance requires only an identification card and address proof.
Frequently Asked Questions
Q1. What is the repayment period of a gold loan?
Ans. The repayment period of gold loans spans anywhere from 6 months to 24 months.
Q2. What is the best way to pay a gold loan?
Ans. EMI, or Equated Monthly Installment, is the most common payment plan for gold loans.