How Do I Avoid Capital Gains Tax on Gold?
Want to avoid capital gains tax on gold? Let's break down three common strategies that investors use to minimize capital gains taxes on gold. Read t know more!
26 Dec,2022
12:59 IST
1985 Views
1269 Likes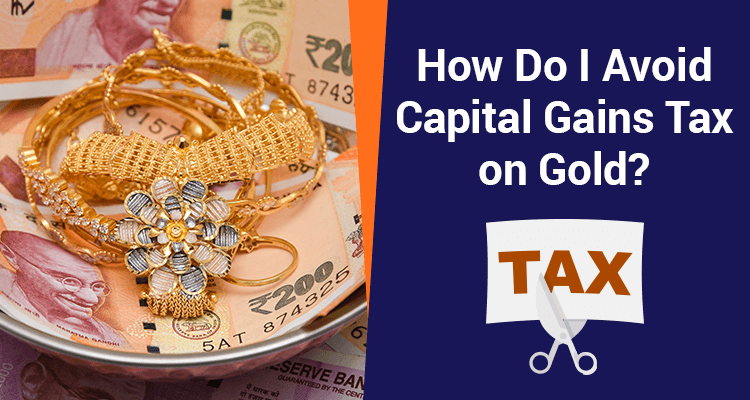 Gold is not only used for ornamental purposes in India but continues to be one of the most popular forms of investment in households. Gold is seen as an asset for security to be liquidated in times of any emergency or financial trouble, or to fund any other need that may arise.
But at the time of selling the gold, one must keep in mind the tax implications. In particular, sale of gold whether in the form of jewellery or coins may require the seller to pay the capital gains tax.
What Is Capital Gains Tax?
Any profit realised from the sale of a capital asset, such as gold or property, is referred to as a capital gain and is categorised as an income that is liable to be taxed by the government.
They can be classified into two categories:
Long-Term Capital Gains:
Gains earned by individuals for selling a long-term capital asset that has been owned by the seller for a duration of more than 36 months.
Short-Term Capital Gains:
The profit earned by an individual on a short-term capital asset, which is defined as that held by the owner for a period of 36 months or less.
The rules are a little different in the case of shares and mutual funds.
Capital Gains Tax Rate
The tax rates levied on the sale of a gold asset vary from the duration of the gold held by the owner, which will classify it as a short-term capital asset or a long-term capital asset.
Short-term Capital Gains Tax:
This will be applied if the gold is sold within three years of purchase. Such a form of capital gain is added to the income of the individual and is then taxed according to the prevailing income tax slab that the person is eligible for.
Long-term Capital Gains Tax:
This will be applied when the gold is sold after three years of purchase. As per current tax laws, the long-term capital gains tax on gold gains is 20% with an indexation benefit, through which the purchase price of an investment can be adjusted to accommodate the effect of inflation.
Avoid Paying Capital Gains Tax On Gold
One can avoid paying capital gains tax on gold by claiming a tax exemption from the sale of gold assets under Section 54F of the Income Tax Act, 1961.
Section 54F allows income tax exemption on capital gains earned from selling capital assets such as shares, gold, or bonds, if the gains are re-invested in purchasing a house.
The proceeds earned from the sale of the gold asset will be exempt from tax if they are used to purchase a house within one year before the sale of gold or within two years of the sale of the gold.
The proceeds will also be exempt from tax if they are used to build a house within three years of the sale of the gold asset.
Parking Funds In Capital Gains Account
The government has also given provisions to save on tax in case the re-investment of the capital gains cannot be completed within the required time frame.
In case a person is unable to use the full capital gains from the sale of the gold asset into the purchase or construction of a new residential house property before the ITR filing due date, the person can deposit the capital gains into a Capital Gains Account with a public sector bank.
Investing In Government Bonds
The long-term capital gains can also be waived through the investment of the gain in certain specified bonds to claim tax exemption within six months of the date of sale of the gold asset.
Funds can be invested in 54EC bonds, or capital gains bonds that provide tax benefits, such as the National Highway Authority of India bonds, REC bonds, among others.
The maximum limit for investing in 54EC bonds is Rs. 50,00,000.
Opting For Gold Loan
In case of a short-term need to raise funds, other than investing in a property, to avoid paying tax on the sale of gold, a gold loan may be a more viable option. It allows one to borrow funds easily against gold jewellery or gold coins. The borrower can submit the gold asset as collateral for a loan and retrieve it on repayment of the loan. Therefore, they need not have to part with a family heirloom or a precious asset forever.
Conclusion
While gold is accumulated as an asset for financial security, its liquidation in large amounts is deterred by the imposition of capital gains tax on its sale.
There are, however, multiple ways to avoid the payment of hefty tax by re-investing the gains earned either for the purchase of a house, investment in tax-saving bonds, or investing in a capital gains account.
For smaller short-term needs, however, one may opt for a gold loan that allows the borrower to raise funds without having to part with the asset.
IIFL Finance, one of India's leading non-bank lenders, provides gold loans at competitive interest rates through a quick digital process with minimal documentation. It also offers flexible repayment terms, which allow borrowers to repay the loan without financial stress and improve their credit score.