Can A Balance Transfer Reduce Your Gold Loan EMI?
Does balance transfer really affects your gold loan emi? Read to know the complete details on gold loan balance transfer to help you make an informed decision!
8 Jul,2022
12:03 IST
238 views
68 Likes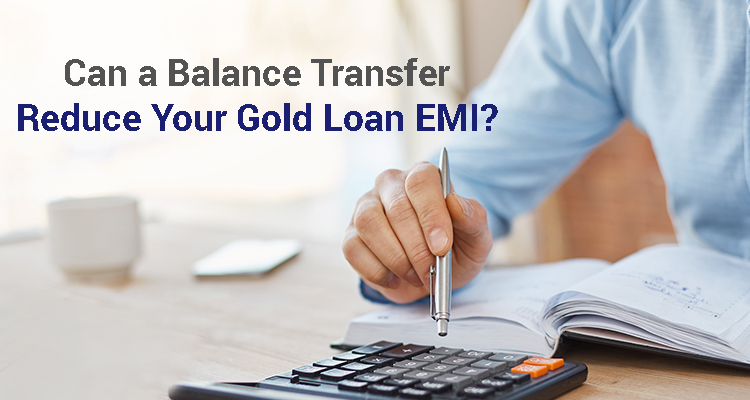 India is known for its tradition of passing down gold ornaments and jewellery from one generation to the next. As a result, using gold as collateral to obtain funds is the most feasible borrowing mode for most citizens in the country.
However, people often apply for gold loans without doing their due diligence first. As a result, they end up with a gold loan company that does not offer them the best deal. If you have been in a similar situation, a gold loan transfer can save your EMI costs and get you a higher payout for your gold.
What Is A Gold Loan Transfer?
Gold loan transfer occurs when you move your gold loan balance from one lender to another. Many people transfer gold loans when they are unhappy with their present lender's customer service, or when the loan amount is lower than the gold value.
However, a popular reason why borrowers transfer their loan balance between lenders is when their existing lender charges a higher Gold Loan EMI. Despite the relatively short term of gold loans, high-interest rates may result in a hefty amount to repay. This means that you can lower your Gold Loan EMI by transferring your balance.
What Are The Other Advantages Of A Gold Loan Transfer?
The advantages include:
1. Reduction In Interest:
Many lenders charge higher Gold Loan EMI than their competitors. Borrowers can choose a lender with a lower interest rate by transferring their loans, making the process of paying a loan much easier.
2. An Increased Rate Per Gram:
Financial institutions offer loans anywhere between 75-90% of the gold loan value. If you're getting a lower value for your gold, moving the loan to a provider offering a higher loan-to-value (LTV) ratio is a great option.
3. Better Terms:
Gold loan transfer offers a possibility to get better loan features, including flexible repayment terms and no processing fees.
4. Improved Security And Insurance Facilities:
Some borrowers may be dissatisfied with the security for their gold provided by their current lender. Therefore, a gold loan transfer to a lender that offers better protection, such as insurance policies, might be the better option for them.
What Is The Gold Loan Transfer Process?
Follow these steps to successfully transfer your gold loan balance:
Step 1:
Provide the new lender with your existing pledge card to begin the gold loan transfer process.
Step 2:
After the details of the entire transfer process are sorted out, you will receive an analysis of the savings report that you must evaluate and then approve.
Step 3:
Following confirmation, complete the KYC process to finalize the gold loan personal loan transfer.
Step 4:
You'll receive a detailed description of how much Gold Loan EMI you have to pay to the original lender to start the transfer of gold to the new lender.
Step 5:
Upon paying this interest, your gold loan will successfully get transferred to the new lender.
What Are The Gold Loan Transfer Documents Required?
The following documents are often requested by lenders during gold loan transfers:
• Filled gold loan application form.
• Identification Proof. It could be an Aadhar card, PAN card, passport, driving licence, or voter ID.
• Proof of address, which may be in the form of utility bill, gas bill, water bill (latest), passport, and more.
• A signature proof.
• Passport-size photographs.
Gold Loan Balance Transfer Charges
A gold loan balance transfer involves some charges, which vary based on the existing lender and the new lender. These charges include:
1. Pre-Closure Charges:
Often called foreclosure charges, pre-closure charges are the fees you pay to your existing lenders to cover the interest loss when you close your loan too early. Every bank has different foreclosure criteria, and they range from nil to up to 1%.
2. Processing Fees:
Processing fees charged by banks and NBFCs range from 1% to 5% of the loan amount.
3. Inspection Charges:
A fee is charged by the financial institution when they evaluate pledged collateral.
4. Administration Charges:
When you apply for a loan, a lender charges you a non-refundable fee, which applies to the basis of the loan amount.
Save More With Gold Transfer With IIFL Finance
IIFL Finance offers the best benefits when you want to maximise the benefits of your gold loan. The interest rate is as low as 0.83% p.m. and there are no processing fees involved. Transferring your existing loan balance to IIFL can easily increase the value of your existing loan by 30%. Additionally, if you're looking for a way to get an extension of your loan in under 30 minutes, the IIFL Gold loan is your best choice.
Frequently Asked Questions
Q1. Does transferring a gold loan cost anything?
Ans. Yes. Transferring your gold loan will involve some fees like foreclosure charges to your previous bank, and processing and administration charges to your new lender. These fees can vary from lender to lender.
Q2. What are the effects of gold loans on credit scores?
Ans. Gold loan EMI payments are reported to CIBIL regularly to update your credit score. As with any loan, the gold loan has an interest rate and term. Make sure that you repay the loan on time.