10 Smart Benefits Of Taking A Gold Loan
Wanting to apply for Gold Loan? Get to know the Top 10 benefits while applying for gold loan online. Visit IIFL Finance to Know more!
29 Oct,2022
11:58 IST
16 views
3 Likes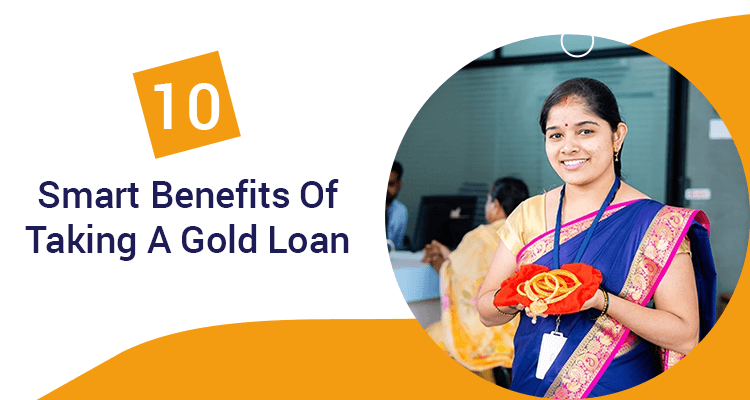 A large quantum of Indian households buy gold for religious and auspicious occasions, which they store in bank lockers. However, individuals familiar with the value of gold in the domestic market leverage the gold locked in the bank lockers to take a gold loan and raise adequate funds from lenders such as banks and NBFCs.
Gold loans have become widely popular because of their
gold loan benefits
. This article details
gold loan advantages
and
benefits of taking a gold loan.
Gold loans include numerous advantages that allow you to cover your expenses without draining your hard-earned savings. Here are the benefits of taking a gold loan.
1. Immediate Capital:
A loan against gold offers immediate funds approved within 5 minutes and disbursed within 30 minutes into the borrower's bank account.
2. No External Collateral:
Lenders provide the loan amount based on the total value of the gold ornaments without the need for any external collateral.
3. No End-Use Restrictions:
The borrower has complete freedom to use the loan amount without explaining the nature of each expense.
4. Added Liquidity:
Gold loans provide easy liquidity based on an asset otherwise dormant in the bank lockers.
5. Online Process:
The process to
apply for a gold loan
is entirely online and does not require visiting the lender's official headquarters. The loan application process is simple and quick.
6. Minimal Paperwork:
The application process for gold loans requires minimal paperwork, which saves time and offers quick disbursals.
7. Gold Loan Tax Benefits:
If you use the gold loan amount for home improvement, the construction or purchase of a residential property or as a business expense, you can avail of
gold loan tax benefits
under section 80C.
8. No Credit Score:
Unlike other loans where a credit or CIBIL score above 750 is necessary to qualify, lenders offer the loan amount without a
good credit score.
9. Lower Interest Rates:
Gold loans are secured loan products with comparatively lower
interest rates
than other unsecured loans. Low-interest rates ensure that the financial obligations are within the budget.
10. Security Of Physical Gold:
One of the best benefits of a gold loan is the security of the physical gold pledged by the borrower. The lender keeps the gold in secured vaults and protects it further with an insurance policy against theft. The lender returns the gold to the borrower once they repay the loan completely.
Avail Of An Ideal Gold Loan With IIFL Finance
With
IIFL Finance gold loans
, you get industry-best benefits through our process designed to offer instant funds based on the value of your gold within 30 minutes of application. IIFL Finance Gold Loans come with the lowest charges, making it the most affordable loan scheme available. With a transparent fee structure, there are no hidden costs you have to incur after applying for the loan with IIFL Finance.
FAQs
Q.1: What documents are required to take a gold loan with IIFL Finance?
Ans: Documents required are Aadhaar Card, PAN Card, Driving License, Passport, Ration Card, Electricity Bill, and a few others. Visit the IIFL Finance gold loan page to get the complete list of documents to submit.
Q.2: What are the interest rates on IIFL Finance Gold Loans?
Ans: The interest rates on IIFL Finance gold loans are between 6.48% - 27% p.a.
Q.3: What is the gold loan tenure of IIFL Finance gold loan?
Ans: The term of an IIFL Finance gold loan is up to 24 months.