Is A Good Cibil Score Required For A Gold Loan?
Know the importance of credit score required for a gold loan and understand who determines your CIBIL score. Read this article by IIFL Finance to get detailed insights!
4 Oct,2022
12:30 IST
103 Views
11 Likes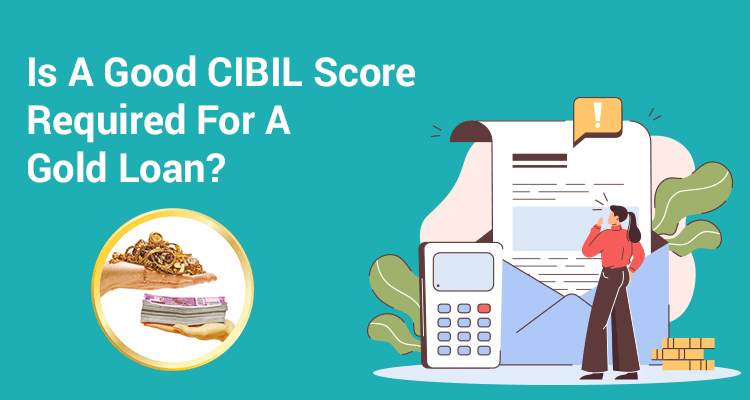 Financial institutions, be it banks or non-banking finance companies (NBFCs), offer two types of loans: secured or unsecured.
Secured loans are advanced against a collateral or pledge of some asset. Loans are provided after discounting a part of the value of the asset being pledged. This is to mitigate the asset-liability mismatch in case there is a default and the value of the collateral goes down.
In case of unsecured loans, the borrowers take a loan without putting up a collateral. In effect, this pushes up the risk for lenders. One of the ways such loan applications are assessed is the credit history of the borrower.
What Is The CIBIL Score And Why Is It Important?
The credit history is captured via credit scores, also known as CIBIL scores after the company which pioneered the concept in India—Credit Information Bureau (India) Limited, or CIBIL. The score is represented by a three-digit number that ranges between 300 and 900.
The higher this figure, the better is the credit score and vice versa. In fact, a low credit score can even trigger a bank or an NBFC to reject the loan application. In a few cases, even if they approve a low with a low CIBIL score, they use the score to increase the interest rate at which they agree to advance the money.
As a result, the CIBIL score is critical for a borrower as the lenders use it as an important element to decide whether to lend or not and at what price or interest rate.
Typically, a score of 750 and above is considered good, giving a reasonable assurance that the borrower would repay the money.
Who Determines These Scores?
Besides CIBIL, which is now known as TransUnion CIBIL, there are a few other specialised credit information agencies that offer standardised credit scores that help lenders evaluate a loan application. These include Experian, Equifax and CRIF Highmark.
These firms scan each individual's financial capacity given their credit history. This is not just by looking at actual loans, be it personal loan or a housing loan etc, but also credit card usage and repayment track record.
Gold Loan
A gold loan is a type of collateral-backed
personal loan
. In fact, it is the most secured form of loan for most lenders. This is because the price of gold historically has only moved up and the yellow metal is considered a safe asset. With the margin money involved, lenders also get a buffer to increase their comfort factor.
A gold loan is provided against personal gold jewellery. Many banks also provide gold loans against gold coins issued by them in the past.
A gold loan is also a special case as it is an exception as a lending product. This is because lenders do not necessarily insist on meeting a credit score requirement for advancing money to a borrower against gold ornaments.
The price of the asset being pledged, in this case gold jewellery, itself provides a reasonable assurance to banks and NBFCs, reducing their lending risk.
One needs to keep in mind that only the value of actual gold is considered while calculating its value. Any precious stone embedded is not factored in the weight of the ornament while calculating the value of the collateral.
Lenders also, however, do due diligence and evaluate the purity of the yellow metal in the jewellery to cover their money against the risk of default.
This makes gold loan an easy and accessible option to meet various personal or business requirements of cash in the short term, compared to a plain-vanilla personal loan that is dependent on the
CIBIL score
.
So, if one has a bad score, say at just around 600, one may have to struggle to find a lender to borrow money. But if one has some gold ornament that one can part way from temporarily, one can get a loan sanctioned even with a bad CIBIL score.
Conclusion
A
gold loan
is often considered the best form of borrowing to meet short-term personal needs. This is because they come with minimal hassles and scrutiny by the lender, who otherwise need to be comfortable of the creditworthiness of the borrower and his or her ability to repay.
Since the gold loan is provided against gold as a collateral, lenders like IIFL Finance do not base their decision to accept a borrower on their CIBIL score. This is due to the fact that they already have a precious metal as collateral, whose value is more than that of the loan sanctioned.
IIFL Finance promises a hassle-free loan application and disbursal process where the approval can happen within a few minutes of the representative valuer setting the worth of the collateral and the disbursal is promised within 30 minutes flat.