Can I Transfer A Gold Loan From My Current Bank to Another Bank?
Transferring a gold loan from one lender to another bank can be a wise decision. Read on to know how to transfer a gold loan from current bank to another at IIFL finance.
10 Nov,2022
10:09 IST
23 views
11 Likes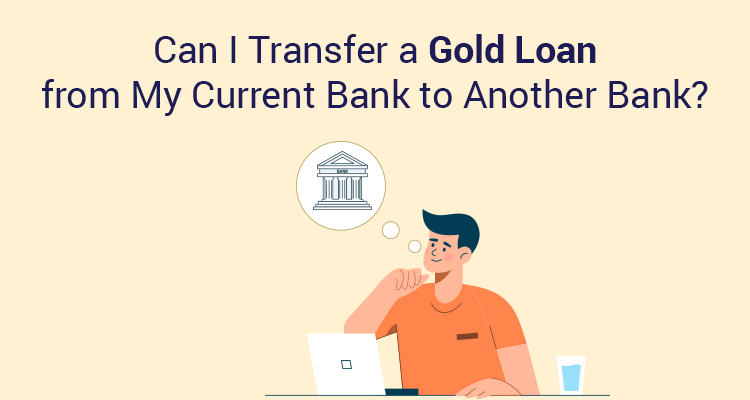 A gold loan can be one of the most effective ways to overcome a difficult financial situation. When one needs quick money, that small pot of jewellery lying at home can come in handy as it can be pledged to take out a loan for the short or the medium term.
Not only is a gold loan a quick way of getting money, it is also hassle-free and does not require much paperwork or for that matter a high credit score. The process of assessment of the quality of gold is also easy and can be done from the comfort of the borrower's home since most lenders these days provide an online application process.
Moreover, a gold loan can be repaid just as easily and in easy monthly instalments. Once the loan is fully repaid, the gold, which the lender would keep safely, is returned to the borrower.
Gold Loan Transfer
In some cases, a borrower might want to transfer his or her gold loan from one bank to another bank or a non-banking finance company. Customers usually move their loan accounts from one lender to another if they are unhappy with the overall service or if they find that the other lender is offering a more competitive rate of interest.
So, how does one transfer a gold loan?
Many lenders allow the transfer of outstanding gold loans at lower rates of interest via what is called a balance transfer facility. The gold loan can be transferred quickly and easily, and the process involves just a few easy steps.
Transferring a gold loan to another lender with a lower interest rate can be beneficial for the borrower as it can reduce their cost of borrowing, allowing them more disposable income and effectively a higher rate of savings.
A reduction in the EMI payment can go a long way in helping a borrower manage his or her finances better. Some good lenders also offer services like complimentary insurance on the pledged gold, which gives the borrower an increased sense of security and comfort.
Moreover, some lenders offer facilities like part-release of gold against equivalent repayment and multiple repayment channels. Here is a step-by-step process of transferring a gold loan:
• The borrower should check if they meet all the eligibility criteria for a balance transfer
• If they do meet the eligibility criteria, they should apply for a gold loan foreclosure with their existing lender
• Once this is done, the borrower should make an application with the new lender and then submit all the required documents
• The borrower should then obtain a new gold loan agreement
• Once the agreement is signed, receive the loan in their designated bank account.
Conclusion
Transferring a
gold loan
from one lender to another bank or a reputed NBFC such as IIFL Finance can be a wise decision. The process is usually quick and hassle-free, and the new loan will carry a more competitive rate of interest. Moreover, the borrower can avail a suite of value-added services, along with flexible repayment options.
IIFL Finance offers some of the most competitive gold loan interest rates in the market. The gold is assessed and valued in a transparent manner and a suitable value of the pledged asset is arrived at based on its purity and weight.
IIFL Finance stores the gold safely and securely so as to avoid any chance of theft or damage. Borrowers can also avail a slew of repayment options to suit their cash flows.