Why You Should Take A Gold Loan From IIFL Finance
Planning to apply for gold loan? Check out the reasons why you should consider taking gold loans with IIFL Finance. Visit to know more details here!
2 Jun,2022
12:43 IST
124 views
37 Likes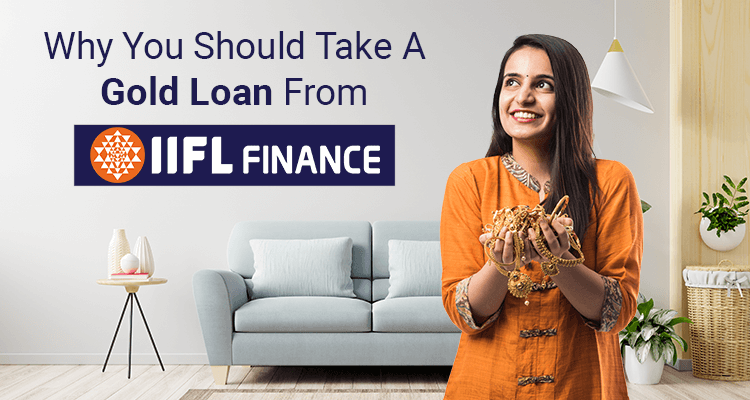 Why You Should Take A Gold Loan From IIFL Finance

A gold loan is a simple and secured financial product where one can borrow money by placing one's personal or family's gold jewellery as collateral with a lender. One can borrow money from either banks or reputable non-banking finance companies (NBFCs).
The basic process is the same across lenders, where a borrower owning gold jewellery approaches a financer. The lender values the jewellery based on the market price of gold and offers the maximum amount that can be availed after keeping a buffer.
Based on the borrower's choice, whether it is the actual loan amount or the time period for repayment, the lender then customises the rate of interest on the loan. The lender also discloses the additional charges and fees associated with processing, managing and, at the end, closure or repayment of the loan leading to return of the gold jewellery.
Why IIFL Finance

IIFL Finance is the non-banking finance unit of one of the most prominent private financial service groups in the country—IIFL Group, formerly known as India Infoline. As a public company, it has several big investors as also over 63,000 public shareholders and is monitored by top regulatory authorities. This ensures that its processes and the loan book it manages adhere to strict protocols.
The company has built a strong base for itself through the years. It has grown its business to become one of the leading retail-focused diversified NBFCs in India, engaged in the business of loans and mortgages. It has a pan-India reach, through both physical and digital channels, making it convenient for customers to approach and avail loans.
Wide Reach:

IIFL Finance's total number of branches stood at 3,296 across India as of March 31, 2022.
Gold Loan Network:

The company offers gold loans in more than 1,260 cities across 22 states, with 83% of the branches located in tier II, III cities and rural areas.
Size:

It has more than doubled its assets under management over the last five years. Its AUM grew 15% to Rs 51,210 crore as of March 31, 2022, despite the second and third waves of Covid-19 pandemic.
Retail Focus:

As many as 94% of IIFL Finance's loans are to retail customers.
Why Gold Loan From IIFL Finance

IIFL Finance uses a seedhi baat, or straight talk, approach to build customer confidence and relationship with the borrower.
The underlying approach of this strategy is to stick to the core values of honesty and transparency of keeping the customer above all else.
IIFL Finance tries to simplify the process and make it transparent enough to make it an honest transaction.
The primary rule of the seedhi baat strategy revolves around communication. This cuts off jargons or heavy words and technical terms from the interaction with the borrower to keep it simple. It also means presenting the terms of the loan clearly upfront.
So, if IIFL Finance says it processes loan applications in 5 minutes and disburses loan within 30 minutes, it does stick to that promise due to its simple process. All it has to do is assess the purity of the gold jewellery and the weight of the yellow metal that its experts do swiftly once they look at the gold jewellery being used as a collateral.
IIFL Finance's simple and transparent gold loan schemes has helped its AUM from the business grow to Rs 16,228 crore as of March, 31, 2022.
Key Features Of IIFL Finance Gold Loan
Approves gold loan in five minutes and disburses the amount within just 30 minutes.
Offers loan tenure of up to 24 months. Also offers half-yearly gold loan schemes for farmers.
Gold loan amount starting from Rs 3,000 with no maximum limit.
Truly 'digital gold loan' offering via an end-to-end digital process for availing loan against gold jewellery.
Gold pledged is insured and secured in vaults.
Allows gold loan anytime, anywhere via its Money@Home Gold Loan scheme.
Provides top-up on existing loan, renewal and payment of outstanding dues digitally.
Zero processing charges in some cases, no hidden charges.
Offers gold loans at as low a rate as just 0.79% per month.
Special gold loan for business owners looking to borrow over Rs 5 lakh, starting at just 0.54% a month.
No loan closure charges after three months, which is the minimum loan tenure.
Unique practice of five days of grace period in repayment, applicable for all repayment schedules.
Conclusion

Gold loan is often the cheapest form of debt you can take to meet your short-term personal or small business needs. All you have to do is approach reputable lenders like IIFL Finance, which offers a swift and seamless approval and disbursal process.
IIFL Finance's pan-India network and its focus on customer convenience, especially via a doorstep service, make it easier for borrowers to pledge their precious gold jewellery to take on a loan.
Its thrust on transparency further provides comfort and security to the borrowers. Moreover, unlike standalone gold loan companies, IIFL Finance also has other retail finance products and intends to build a long-term relationship with the borrowers who could be customers of its other products.