An Overview Of The Best Gold Finance Companies In India
You can avail gold loans from various banks, NBFCs etc. Which one is the best among them? Read this article to help you pick the best company to avail gold loans!
21 Jul,2022
10:29 IST
599 Views
120 Likes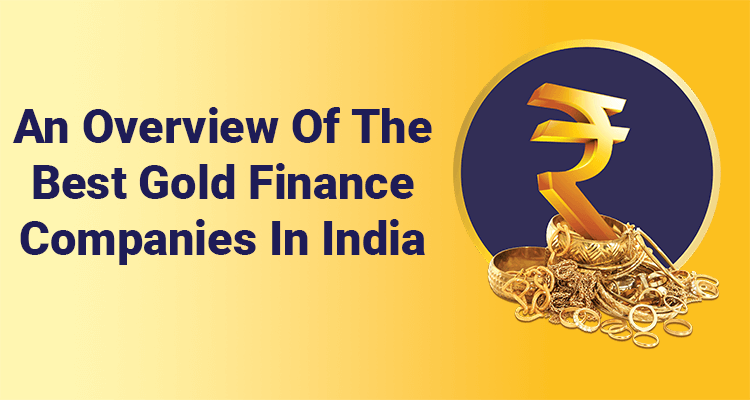 The need for capital is continuous, but there are times when the capital requirement goes above the available funds. In such a case, a gold loan can be an ideal way to raise funds by pledging your gold as collateral. As numerous companies offer gold loans, it is important to understand how you can choose the best gold loan finance company in India.
Where To Take A Gold Loan In India?
Gold loans have become one of the most widely preferred methods to raise funds and fulfill personal capital requirements. Finance companies are licensed to offer loans on gold to individuals who fulfill set eligibility requirements which differ from each company by charged rates, costs and interest. However, if you want to take a loan by pledging your gold articles, it is important to understand the various financial entities from which you can take such a loan. They include:
• Non-Banking Finance Companies (NBFCs):
Non-banking finance companies are financial entities that can offer almost all banking services but do not have a banking license. Such companies are registered under the Companies Act. They are regulated and controlled by the guidelines set by the RBI and offer services such as loans on gold to individuals. Good NBFCs, like IIFL Finance, are considered the best
gold loan finance companies
in India, allowing you to take ideal loans on gold based on your requirements.
• Banks:
Banks are financial entities that accept deposits from the general public and provide them with regular interest while using the deposits to provide loans to borrowers. Banks are also largely regulated and managed by RBI and have a banking license to offer all the banking services such as loans on gold. You can take a gold loan from various government and private banks based on their interest rates and tenure.
• Gold Banks/Finance Institutes:
Gold banks or financial institutes are specialised financial entities that are included in the gold loan finance companies to offer
gold loans
to individuals. They specialize specifically in providing loans on gold and no other type of loans. These entities are also managed, controlled and licensed by the RBI and provide an effective way to avail a loan on gold.
Best Gold Finance Companies In India
The first step in the process of taking a loan on gold is to decide how much loan amount is necessary to fulfill the required capital demand. The next and most important step is to narrow down the gold loan entity from where you should take the loan on gold. Here is how you can compare and choose the best gold loan finance company:
• Security:
Taking a loan on gold requires pledging your gold as collateral. Since the lending company will keep your gold articles until the loan is repaid, the lender must give the utmost importance to the safe keeping of the gold. Some lenders also secure the stored gold with an insurance policy.
• Tenure Options:
Tenure options highly influence the interest rate and EMI options for loan repayment. The higher the loan tenure, the lower the monthly EMIs. It is better to choose a lender with a host of tenure options to manage your finances well and fulfil your loan obligations easily.
• Rates and Charges:
There are numerous charges applicable on
loans on gold
, such as processing fees, valuation fees, late payment fees etc. Although these fees are universal, the lender must communicate these charges transparently, including any other hidden charges.
• Repayment Options:
The lender must have flexible repayment options such as EMIs, upfront interest payments and monthly interest payments. The more repayment options, the better.
What Is The Gold Loan Process?
1. Based on your mode of application (online or offline), you need to register with your basic information.
2. Considering the loan amount required, the lender takes the gold articles, values them and provides a loan amount to the borrowers with predefined interest rates.
3. Until the tenure of the loan is completed and the borrower repays all the interest payments along with the principal amount, the lender safely keeps the gold articles.
Loans on gold have become a common yet effective means for borrowers to utilise their stored gold to fulfill their capital requirements.
Apply For A Gold Loan With IIFL Finance
IIFL Finance is India's leading gold loan finance company. IIFL Finance Gold Loans come with the lowest fee and charges, making it the most affordable loan scheme available. With a transparent fee structure, there are no hidden costs you have to incur after applying for the loan with IIFL Finance.
The online loan process offers the industry-best benefits to ensure you enjoy a hassle-free loan application and disbursal process within 30 minutes of application. However, it is mandatory to execute e-KYC by providing your Aadhaar number, identity proof from IDs such as a Valid Passport, Pan Card, Driving License etc., along with address proof from IDs such as Ration Card, Electricity Bill, Voter ID Card etc. You can also avail the gold loan offline by visiting the nearest IIFL Finance branch.
FAQs:
Q.1: Can I use my gold jewellery to apply for a loan on gold with IIFL Finance?
Ans: Yes, IIFL Finance offers affordable and comprehensive loans on gold articles that also include pledging gold jewellery as collateral. However, gems, stones and other items on the jewellery apart from the gold itself will not be considered.
Q.2: Will my gold articles be safe with IIFL Finance?
Ans: IIFL Finance gives utmost importance to safeguarding the pledged gold articles. They are kept in secure vaults and are backed by insurance.
Q.3: What is gold loan eligibility?
Ans: The eligibility criteria for a gold loan are as follows:
• You must be a salaried employee/businessman/businesswoman/trader/farmer or self-employed professional.
• You should be between the age of 21-70 years.