What Happens When You Default On Loan Payments?
What happens when you fail to repay your business Loan EMI?. Get to know the consequences of missing an EMI payment & other details here. Visit Now!
19 Aug,2022
11:39 IST
102 views
29 Likes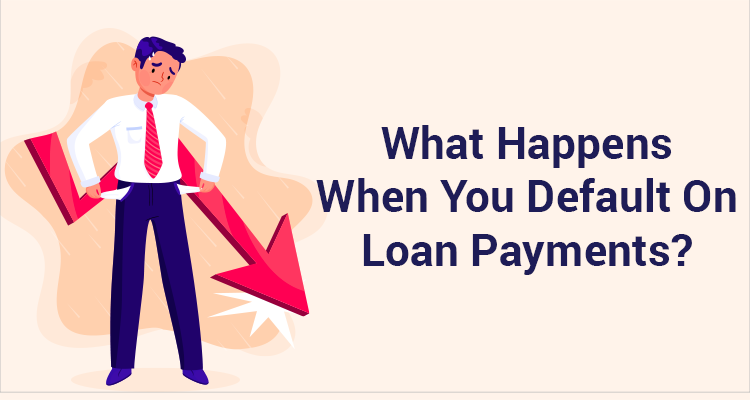 A quick loan can be the best way out of a financial emergency. However, there may be times when you might falter in EMI payments on your loan for business. Non-payment of loan EMIs or defaulting on a loan could reduce your credit score. It could also hamper your financial reputation in more ways than one. Payment delays and defaulting can also sever your chances of securing a loan in the future.
What Does It Mean To Default On A Loan?
If you fail to repay the loan installments on time, you are marked as a defaulter when a lender calculates
business loan repayments
. Most lenders, including banks and NBFCs, allow a grace period that begins soon after you fail to pay an EMI. If you pay the missed EMIs within this period, it will not affect your creditworthiness.
The grace period span varies among lenders. However, only when you miss paying pending EMIs within this grace period does your CIBIL score begin to suffer.
How Does A Low CIBIL Score Affect You?
The CIBIL score is a significant factor in determining your eligibility for any
loan for business
or personal use. Your lender will duly fill in all details of your sanctioned loan amount, payment details, and the pending amount. Therefore, missing any EMI payments will result in a drop in your CIBIL score. However, when you keep missing multiple payments, your score drops significantly, affecting your chances of further loan approval.
Extra Fees And Charges
When you default or delay an EMI, you will always have to pay additional charges, including a late fee and GST. Payment of missed EMIs after the due date attracts these charges, which you must pay over and above the original EMI amount.
Reduced Capacity For Borrowing
Applying for a loan with a low credit score is not advisable. Loan applications get rejected when the CIBIL score is not up to the required limit. New lenders do not consider any exceptions to missed payments on older loans either, leading to application rejection. Additionally, even if the lender approves your application, it would include a much higher interest rate.
Collateral Loss
You will lose your pledged assets as collateral when you default on a secured loan. However, there is a grace period and relevant norms are applicable. Consistent defaulting on a loan will lead to collateral seizure at the lender's end.
Legal Implications
Some lenders might take the legal route if you fail to repay the loan after surpassing the loan tenure significantly. This legal action may not lead to severe punishment, such as a jail term, but could lead to higher penalties. Legal action against a borrower is often the last resort for a lender.
Guarantor Woes
If you have a guarantor for a loan sanction in your name, there could be implications of negligence on the former. Some chances of defaulting on a loan can impact the guarantor's credit score.
Trust IIFL Finance For All Your Loan Needs
Take a loan at an affordable interest rate from IIFL Finance and discuss the flexible repayment options and tenure instead of defaulting on a loan payment. This way, you can achieve your dreams free from financial woes with a loan for business.
FAQs
Q1. Is a personal loan a secured loan?
Ans. No, personal loans are unsecured and sanctioned based on your income level.
Q2. Will defaulting on EMIs harm your credit score?
Ans. Yes, it will negatively impact your credit score. Defaulting on EMI payments determines your inability to repay the debt on time.