Top 5 Government Loan Schemes For Small Businesses In India
Looking for government loan schemes for a new business? Here are the top 5 small business schemes provided by government of India. Visit to know!
22 Jun,2022
12:00 IST
1577 Views
30 Likes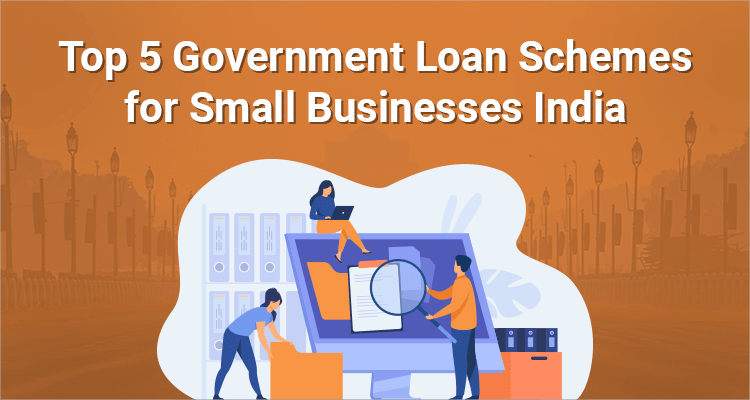 Owning a business can be stressful when you are commencing your journey as an entrepreneur or even a seasoned businessman. While the perks and the highs are a part of the entrepreneurial journey, a business needs much more support in terms of finances than you anticipate. Especially when you belong to the MSME or small business categories in India, there is a lot of anticipation around the level of assistance you can gain. Here is a look at the business loans from the government that can help you scale up your business:
1. The MSME Loan Scheme
One of the most popular names among business loans by the government, the MSME loan scheme focuses on providing the working capital requirement for industries in the MSME sector. A business in this niche can avail loans up to Rs. 1 crore. The processing time for this loan is around 7 to 12 days. The approval takes an hour from the point of application.
The most significant advantage of this MSME business loan by the government is its 8 per cent interest rate. The repayment thus becomes more accessible. The reservation for female entrepreneurs for this loan stands at 3 per cent. In fact, women entrepreneurs could find the MSME Loan Scheme easier for its approval process.
2. Credit Guarantee Fund Scheme
Known as the CGTMSE, the Credit Guarantee Fund Trust for Micro and Small Enterprises is also a popular name among business loans by the government. It provides collateral-free loan sanctions. A scheduled commercial bank or a regional rural bank can participate in this CGTMSE scheme via empanelment as a leading authority.
This agency sanctions loans to all MSMEs based on their credit standing, through the registered lending agencies. The CGTMSE scheme offers working capital loans up to 10 lakhs and needs no collateral. For credit facilities of larger amounts up to Rs. 1 Crore, primary security or property/land mortgage becomes mandatory as per the CGTMSE scheme.
3. MUDRA Loan
MUDRA or the Micro Units Development and Refinance Agency offers credit at low-cost for funding small businesses. This loan is specifically for micro or tiny-scale businesses as part of the services, manufacturing, and trading sectors. A MUDRA Loan is available via all banks in the public and private sectors. Besides this, the MUDRA loan is available from:
• Cooperative societies
• Scheduled commercial banks
• Small banks
Registered business firms applying via the MUDRA scheme must be part of the following categories:
• Shishu Loan: Amount of up to Rs. 50,000
• Kishor Loan: Amount of up to Rs. 5,00,000
• Tarun Loan: Amount of up to Rs. 10,00,000
4. Credit-Linked Capital Subsidy Scheme
If your small business is looking at any technological upgrade in the future, this loan is tailor made for you. With this business loan by the government, the funds are primarily allocated for tech upgrades in the supply chain, manufacturing, and marketing sectors.
CLCSS offers an up-front capital subsidy of around 15 per cent for businesses eligible for this scheme. These loans are most helpful for:
• Sole proprietorship's
• Partnership firms
• Co-operatives
• Private limited companies
• Public limited companies
5. SIDBI Loans
The Small Industries Development Bank of India (SIDBI) dates back to 1990. It was set up as a business loan by a government provider that caters to the financial requirements of MSME segment-based industries. MSME players can directly avail loans from SIDBI. It also offers indirect loans to top NBFCs as well as small finance banks. Loan amounts range between Rs. 10 lakhs and Rs. 25 crores, with a tenure of up to 10 years. Up to 1 crore of loans need no collateral.
The most popular SIDBI loan schemes are:
• SIDBI-Loan for Purchase of Equipment for Enterprise's Development or SPEED
• The SIDBI Make in India Soft Loan Fund for MSME or SMILE
• The Smile Equipment Finance or SEF
How can IIFL Finance help?
As MSMEs are seeing consistent growth in India, business loans by the government are becoming highly popular. However, many lenders, such as IIFL Finance offer affordable business loans for small and medium-scale business. You can visit our website or branch for more information about business loans.
FAQs
Q1. Does A Retail Or Wholesale Trade Business Belong To MSME?
Ans. The Ministry of Micro, Small and Medium Enterprises allows Udyam registration related to all retail as well as wholesale trade. More details are available under its guidelines in the circular FIDD.MSME & NFS.
Q2. What Is Priority Sector Lending?
Ans. Priority sector lending comprises those sectors which impact larger groups of the population, weaker sections and those that see high employment. Some of these include sectors of Agriculture, Micro and Small enterprises.