Micro, Small And Medium Enterprises: Know The Differences
MSME is an acronym for Micro, Small, and Medium Enterprises. Check out the article to know the difference between micro, small & medium enterprises in detail!
8 Sep,2022
09:43 IST
2705 Views
37 Likes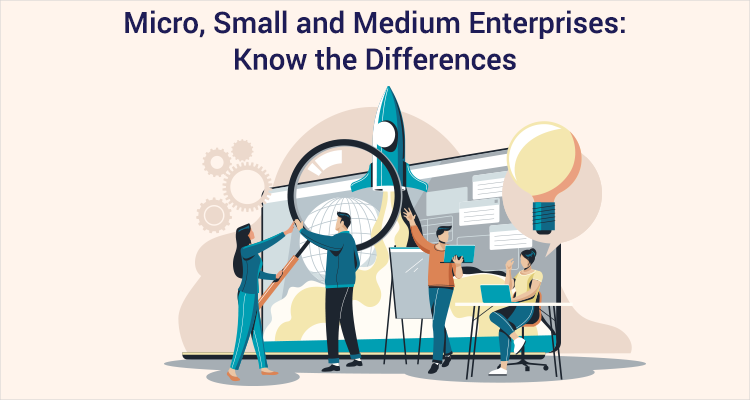 Micro, Small, and Medium Enterprises (MSMEs) play a crucial role in the country's socioeconomic growth. Besides creating employment opportunities, they also contribute to developing the nation's remote regions.
Despite this, many people are still unsure about the differences between Micro, Small, and Medium Enterprises. The following article highlights the distinction between the three types of enterprises.
What Are MSMEs?
MSME is an acronym for Micro, Small, and Medium Enterprises. According to the MSMED Act of 2006 by the Government of India, MSMEs are enterprises that process, produce, and preserve products.
The ministry has, however, removed the distinction between manufacturing-based MSMEs and service-based MSMEs in the 2020 revision of the Micro Small and Medium Enterprises Act.
Difference Between Micro, Small And Medium Enterprises
1. Micro Enterprises
According to the revised MSME definitions released by India's finance ministry (with effect from 01.07.2020), Micro Enterprises are small companies with investments up to 1 crore and turnovers under 5 crores.
Micro enterprises vary from small cafes to local grocery stores to ice cream parlours. Small businesses like these typically start with little capital and have fewer than ten employees.
2. Small Enterprise
The income cap for small enterprises is between one and ten crores, and the turnover cap is up to 50 crores. The workforce is small and has a low sales volume.
Small Businesses can range from well-performing restaurants to manufacturing plants and bakeries. The average number of employees for small enterprises exceeds that of micro-enterprises.
3. Medium Enterprises
Businesses with an investment of up to 50 crores and a turnover between 50 and 250 crores are considered medium-sized enterprises. They typically employ 200-250 people on average. Generally, medium enterprises are micro and small-sized businesses that have grown steadily over time.
As a small business grows and expands, it spends its revenue on equipment, buildings, and employee retention, transforming it into a medium business.
Chart Depicting Micro, Small and Medium Enterprises Classification 2020
Size of the Enterprise

Investment and Annual Turnover

Micro

The investment is less than Rs. 1 crore

Turnover is less than Rs. 5 crores

Small

The investment is less than Rs. 10 crores

Turnover is less than Rs. 50 crore

Medium

The investment is less than Rs. 20 crores

Turnover is less than Rs. 100 crore
Take Advantage Of IIFL Finance Small Business Loans
IIFL Business Loans are the right fit for any business owner looking for ways to scale their firm. The collateral-free loan option alleviates all funding problems for Indian MSMEs, allowing them to grow. Small businesses can utilize MSME business loans for various reasons, including infrastructure, machinery, operations, marketing, and advertising.
Additionally, due to the low-interest rates on these business loans, you won't have to cut back on essential costs. The application process also requires minimal documentation.
Fulfill your financial business needs with IIFL Finance!
Frequently Asked Questions
Q1. What are the different types of MSMEs?
Ans. There are two types of MSMEs: manufacturing enterprises and service enterprises.
Q2. What are some examples of MSME?
Ans. Examples of MSMEs are restaurant service providers, agricultural farm equipment sellers, and IT service providers.