Udyam Registration Certificate & Its Benefits
Udyam Registration, involves the government sign-off & the provision of an Udyam Recognition Certificate with a Unique Number. Read to know about the Key benefits!
8 Sep,2022
09:12 IST
2221 Views
22 Likes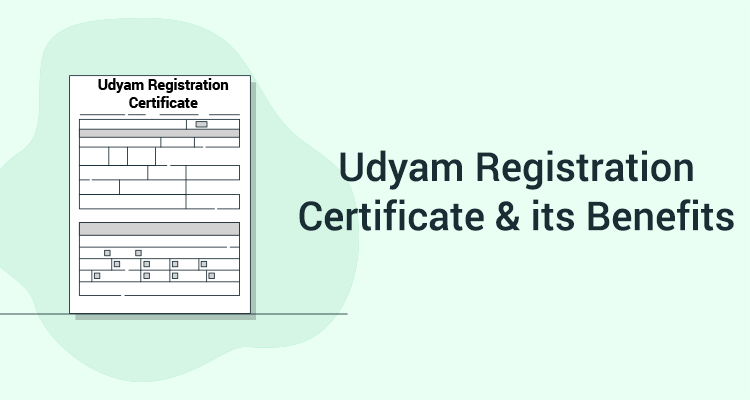 With Udyam Registration, business owners can simplify the procedural format for registering their Micro Small Medium Enterprises (MSME). Before its introduction, the procedures involved were time-consuming and complicated, requiring a lot of paperwork.
Udyam Registration has transformed and become easier for micro, small, and medium enterprises. This article highlights the benefits of Udyam Registration.
What Is Udyam Registration?
The Ministry of MSMEs launched the Udyam Registration Portal to digitize India and streamline processes. It is an improved, tech-first system to assist small and medium businesses to grow and provide all the necessary support.
Udyam Registration, also known as MSME Registration, involves the government sign-off and the provision of an Udyam Recognition Certificate and a Unique Number. This certification is essential if you seek legal and operational certification for small or medium businesses. The Ministry of MSME, Government of India, conducts Udyam registration for micro and small businesses.
Benefits Of Udyam Registration
Here are some of the Udyam certificate benefits:
1. Borrowers get collateral-free loans from banks
2. Licensing, approvals, and registrations are accessible
3. Special considerations are given to international trade
4. The government offers concessions on various bills, including electricity bills
5. Organizations registered with Udyam get eligible for Credit Linked Capital Subsidy Scheme
6. Reimbursement of ISO certification fees
7. Protection against late payments or supplied services
8. Bank loans with subsidies and lower interest rates
9. Production/manufacturing sectors have special reservation policies
10. Direct tax laws rule exemption
11. Subsidy on NSIC performance fees and credit rating
12. Barcode registration subsidy
13. Patent registration subsidy
Eligibility For Registration
Per the latest guidelines, Udyam certificate benefits are only available to businesses that meet specific criteria. Registration for Udyam depends on three key aspects: type of enterprise, annual turnover, and investment of the MSME.
1. An MSME must fall into one of three categories: micro, small, or medium
2. MSMEs receive different benefits based on their annual turnover. Registration and its benefits are available to micro-enterprises with turnovers up to 5 crores. Small firms with a turnover of up to Rs 75 crores and medium firms with a turnover of up to Rs 250 crores are also eligible.
3. Udyam registration benefits micro-businesses with investments below one crore. The investment limit for small businesses should not exceed Rs 10 crores, and for medium businesses, it should be below Rs 50 crores.
Documents Required For Udyam Registration
• PAN of the enterprise
• GST Certificate
• Copy of the entrepreneur's Aadhaar
• Social Category of entrepreneur
• Phone number
• E-mail address
• Business Commencement Date
• A/C No. and IFSC Code (or a copy of the passbook)
• Number of employees (with male and female divisions)
• The nature of the business
• The latest audited financial statements
Get A Small Business Loan From IIFL Finance
Are you ready to start a business and get an Udyam Registration? Fulfill your capital needs with IIFL Finance business loans.
IIFL offers a wide range of business loans to meet the needs of every borrower. Getting a loan with us is hassle-free due to our commitment to speed and convenience. With these loans, you can expand your business, pay your employees, manage operational costs, and meet additional day-to-day expenses. You can visit our website or branch for more information about business loans.
Frequently Asked Questions
Q1. Is Udyam registration mandatory?
Ans. The Udyam registration process is compulsory for any company registered with another ministry agency under the Department of MSME.
Q2. Is Udyam registration free of cost?
Ans. Yes, Udyam registration is free and does not include any special registration fee.