What Happens When One Fails To Repay Gold Loan?
Unexpected circumstances prevent one from paying their loan on time. Read on to know repercussions of missing gold loan repayment in detail here!
12 Oct,2022
11:22 IST
112 views
16 Likes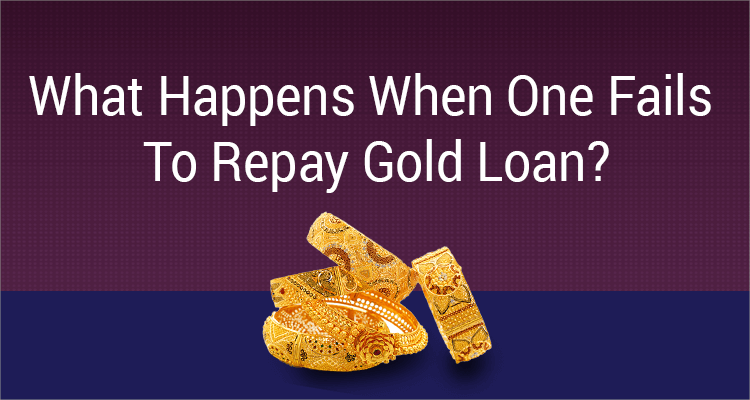 Lending institutions (Banks and NBFCs) grant gold loans to borrowers to help them meet their financial obligations. Like any loan, the borrower can make EMI payments regularly (monthly, quarterly, half-yearly).
Sometimes, however, unexpected circumstances prevent one from paying their loan on time. Long-term non-payment of a loan can have negative consequences. This blog discusses the repercussions of missing
gold loan repayment
in detail.
What Happens If You Don't Repay Gold Loan?
1. Reminder Through Text Messages/Calls/Letters
A borrower may receive periodic SMS reminders/ calls/ emails/letters from the company in case of a persistent overdue loan. To avoid such a situation, borrowers can visit the branch office where they took their loan and reset their repayment schedule.
2. Impose By Penal Interest
If a gold loan lender misses a draw, they may charge a penalty interest in addition to the monthly interest charged. Usually, this penal charge is between 1% and 7% per year.
3. Affects Credit Score
Based on an individual's income and past credit history, a credit score determines their creditworthiness. Highmark, CIBIL, Experian, and Equifax provide this information. The lower the credit score, the harder it will be for you to obtain a loan or even a credit card in the future.
If the borrower defaults on the loan payments, their credit score will be adversely affected. Additionally, if you fail to pay back a gold loan, you may not be eligible for more loans.
4. Lenders Could Take Legal Action
Lenders do not care if there are a few lapses in loan repayment. It is when a default occurs for three consecutive months that trouble arises. They will send you a legal notice if you ignore their reminders.
5. Auctioning Gold
When a borrower fails to repay a loan in full within the stipulated period, the lender can sell the gold through a public auction at the borrower's risk and expense. However, the lending institution must notify the borrower about this two weeks before auctioning off the pledged gold.
How To Stop Loan Repayment Default?
1. Inform The Lending Partner
One must inform the lending partner in advance if there will be a delay in payments. They may allow some leniency in the interest rate if one explains their current financial situation.
However, lenders aren't required to comply with such requests, and they have absolute discretion over it.
2. Loan Restructuring
Negotiate the loan terms with the lender after informing them about the default. Make the repayments more manageable by requesting longer tenure or smaller EMIs.
3. Consolidate Your Debt
Consolidating debt involves paying off multiple debts with a new loan. When taking a new loan, ensure the interest rate is lower.
Ways To Repay Gold Loans
Ensure you don't default on your gold loans by choosing a repayment option that's right for you. The different
gold loan repayment options
are as below.
1. Deferred Principal Payment
Through this option, borrowers can continue to pay the interest amount in EMIs and the principal amount later. Borrowers can pay the principal as a lump sum at the end of their tenor instead of in instalments.
2. Part Payments
Unlike other types of loans, gold loan repayment options allow borrowers to repay their interest and principal amounts at their convenience. Therefore, one does not have to follow a pre-set EMI schedule. Partially or fully paying both amounts is possible. Paying the principal amount first, followed by the interest amount, can reduce your interest rate considerably.
3. Bullet Payment
A borrower may request a
bullet repayment gold loan
from the lender to defer repayment until the end of the term. It applies to both principal and interest. In other words, borrowers need not make EMI payments on time. They can repay the entire amount owed upon maturity with interest.
4. EMI Payment
With EMI payments, you can calculate both interest and principal at the same time. It is preferable for those with regular incomes. Borrowers can pay these instalments at any interval they choose.
Apply For A Gold Loan With IIFL Finance
IIFL Gold Loan
enables you to meet all your business or personal needs instantly using your physical gold. As a customer-oriented company, we make our loan processes faster and shorter to ensure you won't have to take the time to complete lengthy loan applications. Apply now!
FAQs
Q1. Are there any end-use restrictions involved with gold loans?
Ans. No, you can use your gold loan for any purpose.
Q2. What is the eligibility criterion for a gold loan?
Ans. The applicant should be 18 years old and possess the applicable purity of gold to pledge to qualify for a gold loan.