Can I get a gold loan with a low CIBIL score?
There are various factors which affect your CIBIL score. Read to know the top factors & whether a good credit score is important for gold loans. Visit to know!
11 Jun,2022
08:58 IST
121 views
19 Likes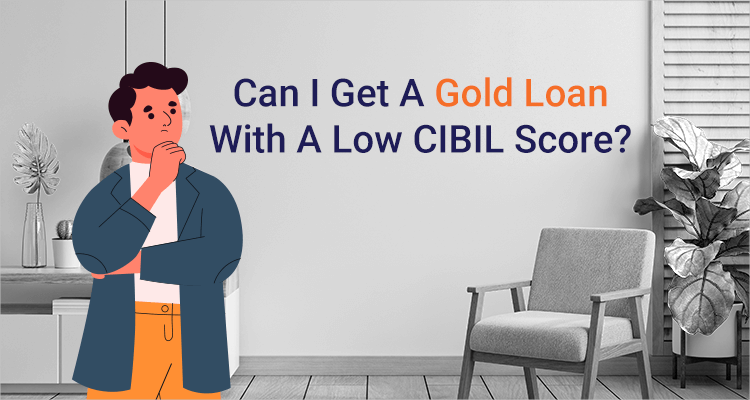 Can I get a gold loan with a low CIBIL score?
A loan is provided either against a security through a secured loan product or without any collateral via an unsecured loan. In either case, lenders who lend the money are concerned about the repayment.
In the case of unsecured loans, they base their decision to lend or not on the 'creditworthiness' of the person availing a loan. For secured loans, lenders already have a collateral provided by the borrower. But they still look at creditworthiness to assess the loan application and price the loan, or set an interest rate, accordingly.
Lenders use a time-tested filter of credit scores to assess how likely is the borrower to stick to the repayment plan and whether they fall in the danger zone given their historical behaviour or their existing liabilities at hand.
These credit scores are also popularly known as CIBIL scores after the company which pioneered the concept—Credit Information Bureau (India) Limited, or CIBIL—in the country.
Who gives credit scores?
There are many specialised credit information agencies such as TransUnion CIBIL, Experian, Equifax and CRIF Highmark who study each individual's financial capacity based on the set criteria, which are available in the financial data stack.
Factors affecting credit score
Payment History:
This is the single biggest factor affecting credit score. If one has missed even a single repayment schedule or equated monthly instalment (EMI), it pulls down the credit score.
Outstanding Loan:
The total value of existing loan is another key aspect of a credit score. If one already has one or more loan accounts that take out a big chunk of one's salary or monthly cash flow, then credit scores slide.
Number of Enquiries:
Borrowers like to shop around to find and choose a lender. But this lowers one's credit score.
Credit Length:
The payment duration of historical loans is another important factor. Lenders like to assess new loan applications on the basis of past behaviour and for that they like to see how the longest duration loans were serviced.
Credit Mix:
Lenders also like to see a mix of secured and unsecured loans in the past and present loan accounts of new applicants.
Scores and importance
The credit scores fall in the range of 300 to 900. The higher the credit score, the better chance one has of getting a loan in the future. The credit scores are also used by some lenders to price their loans or customise their products for borrowers. A lower credit score means higher risk and thereby a higher interest rate, and vice versa.
To be sure, the lenders may also try to put additional filters to ascertain if a borrower with a low credit score is even worthy of getting a loan. These credit scores are important for most type of personal loans and not just gold loans.
Gold loan: The outlier
However, gold loan is an outlier in this regard as lenders do not mandate a credit score requirement for lending against gold jewellery. The price of the asset, in this case gold jewellery, is a natural risk mitigation tool as the borrower knows the value of gold is more than the cash availed as a loan.
The value of gold is enough to cover the principal amount lent initially. If the lender has done a strong due diligence or correct evaluation of the purity of the gold in the jewellery and, of course, the weight of the product, it is covered from potential risks and the loan turning bad.
This makes gold loan a more accessible form of personal loan in the country. Individual borrowers who may have missed an interest payment, for say a two-wheeler loan long back, due to temporary issues such as a delay in salary input into their account, still carry a low credit score unless they have managed to improve their score over time with timely repayments.
Many a time, low credit scores can push a consumer out of the consideration set of banks, who offer lower rates for personal loans. They can, however, still avail a gold loan as long as the product meets the basic criterion such as being in the form of gold jewellery (and also gold coins up to 50 gm for banks).
Gold loans also offer an additional benefit of actually 'mending' or improving credit scores for the future. If a borrower was denied a personal loan due to a low credit score, they can fall back on a gold loan, assuming ownership of gold ornaments, and then repay the amount as per schedule. At the end of the payment, they can improve the score. This helps them the next time they go for a different loan.
Conclusion
Gold loan providers like IIFL Finance do not depend on credit scores to decide whether to lend to someone. This is because they already have a precious collateral, whose worth is more than that of the loan disbursed.
So, if one has a low credit score from any or all of the credit information agencies, one will still get to borrow in lieu of the gold necklace or the ring that they own.