Avail Inventory Financing With Gold Loans
The process of obtaining a gold loan is convenient and hassle-free. Now get inventory financing with gold loans from IIFL Finance. Read Now!
17 Dec,2022
18:02 IST
7 Views
5 Likes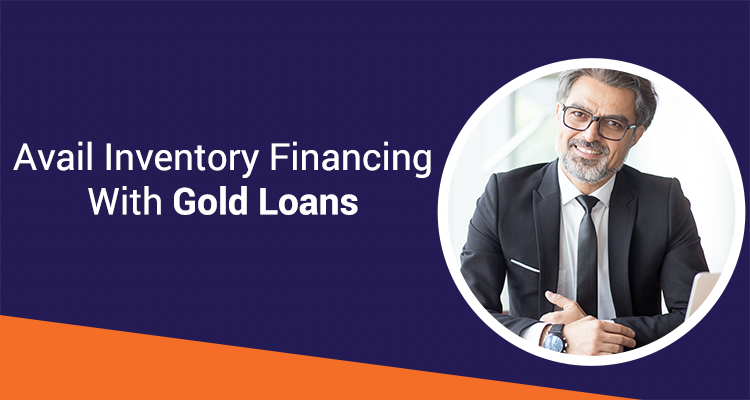 In emergencies, the commercial sector has repeatedly demonstrated its volatility. Although large companies and conglomerates may have enough financial resources to recover, it's the opposite for smaller businesses. Due to a lack of funds for procuring and managing inventory, the core driver of achieving business purpose fulfilment, some companies may even decide to shut down operations permanently.
Then, how can businesses overcome this scenario? In such circumstances, is it possible for companies to obtain inventory and meet customer demand?
The market now offers favourable inventory financing options for small-scale businesses, which allows them to meet stock requirements and recover from difficult financial times.
What Is Inventory Funding and Its Applications?
A secured inventory loan helps companies maintain their stock levels by extending credit. Suppose you run a pharmacy. You can use the loan to purchase enough medicines and drugs. However, this type of financing doesn't work unless the supply remains in storage for some time before you sell it to consumers.
A stock purchase, therefore, functions as collateral for a loan of this type. This way, lenders can recover remaining dues if borrowers fail to pay their debts on time.
Borrowers who wish to avoid collateralising their inventory can raise inventory financing quickly by borrowing against their household gold jewellery or ornaments. A gold loan can provide additional cash to your business, ensuring smoother recovery following a financial crisis.
Gold Loans For Inventory Financing: Features and Benefits
Lenders offer inventory loans based on your held stocks. Gold loan providers offer loan assistance based on the gold jewellery you pledge.
Listed below are some benefits of gold loans for inventory financing.
• Instant Disbursal
Often, businesses find themselves in situations where they cannot wait or fill out lengthy applications. Gold loans may be the ideal solution for your financing needs if this is the case.
The approval process for these loans is usually straightforward. With most NBFCs, loan application no longer requires you to stand in line. After you apply via the mobile application or website, a loan manager will visit your home to weigh and value your gold. Upon approval, they credit your bank account with the loan amount.
It only takes 30 minutes to complete the application, so you have access to funds immediately. Additionally, the loan manager only leaves with the gold once you receive the funds in your bank account.
• High Security For The Pledged Asset
A person's first thought when dealing with gold is safety. Apart from its monetary value, gold holds a distinct emotional significance for Indians. It means you would do anything to prevent such jewellery from being robbed or damaged.
Thankfully, the best lenders handle and store assets with strict security protocols, ensuring the safety of pledged gold.
• Minimal Documentation Necessary
Providing excessive documentation against an emergency credit can make financing your inventory requirements difficult. In contrast, you may take an inventory loan by pledging gold after providing KYC documents.
• A High Loan-To-Value (LTV) Ratio
When your lender has a high LTV, you can borrow a considerable amount against your gold pledge. The loan-to-value ratio, or LTV, refers to how much a lender will sanction based on a pledged asset's value. Having a high LTV increases your chances of raising a large loan amount.
Substantial funds can help you fulfil your inventory needs, such as supplier payments, warehousing, etc. Gold loans from IIFL Finance come with the highest LTVs, translating into a high per-gram value.
Moreover, these loans do not come with any end-use restrictions; you can use them as you like.
• Low Interest Rates To Reduce Repayment Burden
A gold loan has low-interest rates. Thus, you don't have to worry about overburdening your business finances with this loan. It includes minimal interest rates and flexible repayment options to ease any repayment issues.
Borrowers may repay their gold loan's interest during their tenure but defer repayment of the principal until they reach the end of the term. The entire repayment obligation can also be deferred until the end of the term, resulting in a single bullet payment.
Compared to conventional inventory financing options, gold loans offer all these benefits. Ensure the smooth running of your business with the hassle-free funding option that takes the worry out of inventory stocking, payment, and storage.
Avail Of A Gold Loan With IIFL Finance
IIFL offers attractive gold loans, among other products. It is the most affordable loan scheme, with a quick, hassle-free renewal process and the lowest fees. We provide industry-best benefits for hassle-free loan applications and disbursements within 30 minutes of
applying for a loan
.
Frequently Asked Loan
Q1. Can you use a gold loan for inventory financing?
Ans. There are no end-use restrictions on gold loans. You can use them any way you want.
Q2. What type of loan is an inventory loan?
Ans. Inventories loans are known as inventory financing. They are used to purchase goods a business intends to resell later on.