Are You Storing Your Gold Correctly?
Owning gold is one thing but when it comes to storing them, it is a completely different scenario. Read to know the correct ways to store your gold Now!
17 Nov,2022
09:39 IST
9 views
3 Likes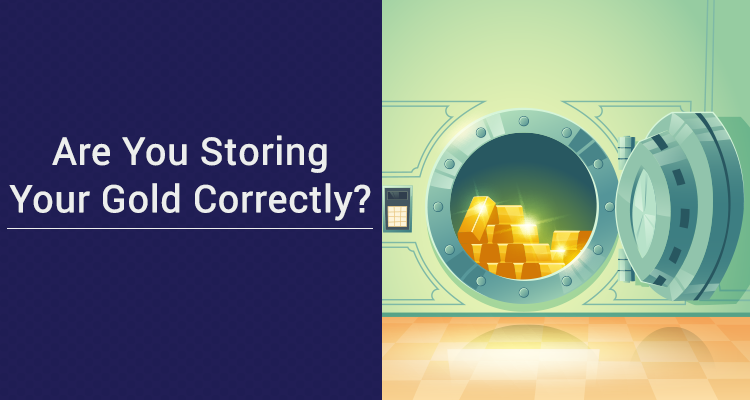 People see gold as a substance of tremendous value, financially and auspiciously. They invest in gold to earn profits based on the cost and selling price difference or use it for religious occasions. However, more Indians have recently used their gold to get a loan.
Gold loans
allow the owners to avail of funds by pledging their gold as collateral to the lender. They determine the gold value against the current price in the domestic market and offer a loan amount equivalent to a certain percentage of the gold value.
However, to attain a gold loan or use the gold for any other purpose, you must understand how to store gold. Lenders provide a loan against gold based on the current value, which they ascertain on the present condition and the quality of gold. On the other hand, there is a possibility that someone may steal your gold for its market value.
How To Store Gold Safely?
As gold is valuable, it is expensive to buy and witnesses price fluctuation daily. If you lose your gold to theft or any biological activity, such as corrosion, repurchasing it is challenging. Hence, you must keep your gold safe to ensure it doesn't lose its value. Here is
how to store gold
ideally.
• Keep It Secret
One way to keep your gold safe is to not talk about it much and keep the quantity as secret as possible. You must remain cautious about whom you tell about owing the gold, especially on social media. Such things create a chain reaction where thieves can know how much gold you own.
• Diversification
You mustn't keep some gold articles in a single place. You can spread the risk by dividing your gold articles and keeping them in different areas. You can keep the gold articles you use the most in your home while you keep the rest in other places, such as safety boxes, bank lockers, etc.
• Quality Safes
It is common to store gold articles in wardrobes with a single key lock. However, such places are unsafe in a theft situation and can erode the gold owing to moisture or other natural factors. Hence, it would be best to buy high-quality safes with digital locks and other unique features to store the gold safely.
• Storage Services
You can opt for third-party storage services to store your gold, as their core business is to ensure your
gold is kept safe in highly secure vaults
. Such vaults are monitored 24/7 and backed by an insurance policy to protect against any damage or theft. However, such lockers usually charge a monthly fee for providing such services.
Avail Of An Ideal Gold Loan with IIFL Finance
IIFL Finance designed several loan products to cater to all the financial needs of Indian citizens. The proprietary
gold loans
offer instant funds up to Rs 30 lakh with a quick disbursal process. The gold you pledge as collateral is kept safe in highly secure vaults monitored 24/7 through a unique management system. Furthermore, the gold articles are protected by an insurance policy to offer the utmost protection.
The loan repayment structure is flexible and offers multiple repayment modes, including standing instructions, NEFT Mandate, ECS, Net-banking, UPI, etc. You can apply for the loan online or offline by visiting IIFL Finance nearest branch.
FAQs:
Q.1: What documents are required to avail of a Gold Loan from IIFL Finance?
Ans: Documents required include Aadhaar Card, PAN Card, Driving License, Passport, Ration Card, Electricity Bill, etc.
Q.2: What is the average interest rate on Gold Loans offered by IIFL Finance?
Ans: The average interest rates for gold loans offered by IIFL Finance range between 6.48% - 27% p.a.
Q.3: What are the benefits of IIFL Finance loan against gold?
Ans: IIFL Finance loan against gold offers numerous benefits to borrowers, such as:
• Instant loan amount up to Rs 30 lakh
• An easy and online application process
• Instant credit of loan amount to your bank account
• Affordable EMI repayment options