How To Store Your Gold Correctly?
Like all high-value items, gold require special care when it comes to storage. Follow our tips on how you should store your gold safely only at IIFL finance.
26 Aug,2022
09:12 IST
1010 Views
80 Likes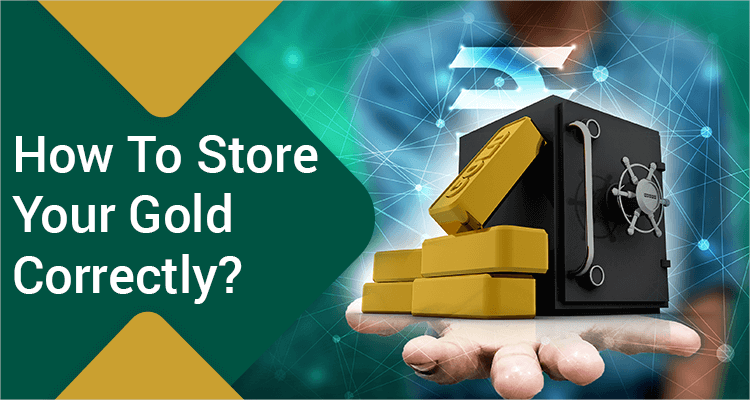 Investing in precious metals, such as gold, is a wise choice. There has been a proven track record of financial stability for these assets, and that trend does not appear to be changing anytime soon. However, many investors fail to consider the difficulty of storing this precious metal.
Here are some tips on how to store gold safely.
1. Don't Tell Everyone About Your Gold Savings
It is critical to be careful who you tell about your gold savings. The more people you include, the greater the likelihood that someone will share it without your consent.
However, you must have one confidante who knows where you store your savings. If you fail, your family members cannot access your savings, even if you suffer an illness, accident, or die. Not appointing a nominee defeats the purpose of buying and storing gold to preserve and protect your family's wealth.
2. Diversify The Storage Method
Diversifying your storage plan is one of the best ways to reduce theft risks. Store your gold in multiple locations, such as safety boxes, bank lockers, the safe in your home, etc., instead of all in one place. Some investors even store part of their investments at home and the rest in a vault or a gold storage box to diversify their storage methods.
3. Don't Be Afraid To Get Creative With Storage
Put your creativity to work and think outside the box to store your gold. You may find the following tips valuable:
• Nothing Obvious:
Do not use fake cookie jars or carved-out books; they're too obvious. You should place it somewhere so an electrician, gardener, plumber, or domestic helper won't stumble upon it.
• Three Layers Deep:
A burglar usually looks for things they can grab and run. It is best to store your gold three layers deep. It could be a floor safe covered with floorboards and carpet over it.
• Think Like A Thief:
Imagine yourself as a thief; how long would it take to find a particular hiding spot if you were a desperate burglar? Based on the answer, choose the appropriate storage spot.
4. Use A Fake Safe
Decoy, or fake, safes are a good investment for homeowners with considerable wealth in their homes. Invest in a smaller safe and store some extraneous jewellery or coins there. It's all about making the thief think he's got your valuables.
5. Install Cameras And Alarms
Video recording and monitoring are particularly crucial if you have a lot of gold ornaments or items in your home. Ultimately, they may not prevent theft, but they would provide evidence that you can leverage in a court of law.
6. Use Safe Deposit Boxes
It's one of the most convenient ways to store gold. A safe deposit box at your local bank offers more security compared to keeping gold at home. The method is ideal for bullion, rare and collectable coins, and expensive jewellery.
7. Store In A Secure Vault
As opposed to a safe deposit box, a secure vault offers direct ownership and accessibility, as well as high protection and insurance. Several companies provide vault storage services. Before you select a company to care for your gold, make sure you research the company thoroughly.
Get A Gold Loan From IIFL Finance
Are you short on cash but have gold jewellery and coins handy? With IIFL Finance, you can secure a gold loan by simply pledging your gold assets.
In addition to providing low-interest gold loans, IIFL requests minimal documentation and approves loans quickly. You can also calculate loan amount, repayment tenure, and interest rates with our gold loan EMI calculator.
Apply for a gold loan at IIFL Finance and maximize your benefits now!
Frequently Asked Questions
Q1. What is better than a safe deposit box?
Ans. Private vaults are a better alternative to safe deposits. Their superior security, optional total anonymity, and biometric security measures offer the utmost peace of mind.
Q2. Is it safe to store gold at home?
Ans. Keeping your gold at home is a good idea if you follow the safety measures listed above.