How To Find The Best Gold Loan Company For Your Needs?
Selecting the best gold loan company to avail gold loans can be tricky. Here are some tips on how to choose the best gold loan company easily!
24 Aug,2022
06:49 IST
59 Views
32 Likes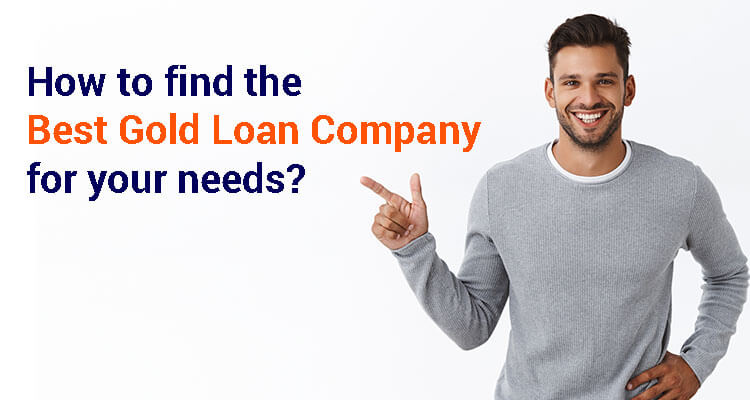 Gold loans have simple eligibility criteria, and anyone can secure funds by offering their ornaments as collateral. Lenders return the assets upon repayment. Additionally, compared to other types of unsecured personal loans, this credit facility proposes lower interest rates.
As they are asset-backed, gold loans have lower borrowing costs, which makes them a good choice for most borrowers. However, you will need to check the best gold loan company that offers certain features to ensure a hassle-free application and repayment process.
How To Choose A Gold Loan Company?
To ensure hassle-free loan transfers and disbursement, look for the following loan features when selecting the best gold loan company:
1. Disburses Loans Quickly
While applying for gold loans, you should choose a lender with a fast turn around time. Quick access to funds ensures you can meet an urgent financial need. However, a lender's loan management system must automate the entire process to disburse a gold-backed loan quickly.
2. Delivers A Personalised Experience
There is no ready-made solution for financial services as everyone may have different needs. Your chosen gold loan company's management system must be capable of adapting to meet your requirements.
Ideally, as a borrower, you would want to benefit from features the lending company offers that are convenient for you. For instance, many customers may wish to receive reminders for their interest payment date.
3. Maintains Accurate Information
Proper organization is crucial when dealing with money and personal information. Therefore, your lender must have a centralized database for customers in their loan management system. This way, the entire loan department can see a detailed description of a borrower's profile.
A centralized database management approach allows loan officials to extract customer details, such as CIBIL score, repayment history, contact information, and KYC details. This process ensures that the financial records and the borrower's information are accurate. For timely repayments, they simply need to sign in to their online accounts.
4. Has Transparent And Mobile-Friendly Ecosystems
It is necessary to have an intuitive and easy-to-use user interface to make the lending and repayment processes as convenient as possible. Your lenders should have mobile-based applications to simplify the lending process.
For maximum transparency, the app should provide detailed information about the loan for borrowers to check their loan progress by logging into their profiles.
5. Protects Against Fraud
As digitization accelerates in India, online fraud is on the rise. Therefore, you should choose a gold loan provider that uses smart intelligence and automation. Automated loan processes eliminate inaccuracies and fraud throughout the loan cycle. Additionally, artificial intelligence-based analysis enables the loan provider to identify and eliminate potential threats.
6. Offers Functionality Of Loan Rescheduling
You can reschedule your loans if your lender's gold loan management system integrates accounting management. Once you make a rescheduling request, it updates the loan amount calculation. The same applies to part-payments and prepayments of gold loans. Hence, borrowers must ensure that the gold loan management system allows loan rescheduling.
Get The Best Gold Loan Management System With IIFL Finance
IIFL Finance is an industry leader in gold loan financing in India. With the lowest fees and charges, IIFL Finance Gold Loans are the most affordable loan scheme available. Moreover, our fee structure is transparent, so you won't have to worry about hidden costs.
Our online loan application and disbursal process provide you with the best industry benefits, such as hassle-free loan applications and disbursals within 30 minutes. We use high-security collateral maintenance, so you don't have to worry about your gold jewellery safety.
Frequently Asked Questions
Q1. What is the eligibility criterion to qualify for a gold loan?
Ans. Gold loans are available to applicants over 18 years of age who own gold to pledge to the bank.
Q2. How long does it take to approve a gold loan?
Ans. Gold loans get approved very quickly. You can receive the loan amount within an hour if you meet all the loan conditions.