Why Should You Choose A Gold Loan For Emergency?
Gold loan is an attractive loan for emergencies because of its prompt approval. Why should you choose a gold loan for emergency? Read to know!
12 Oct,2022
11:33 IST
48 Views
32 Likes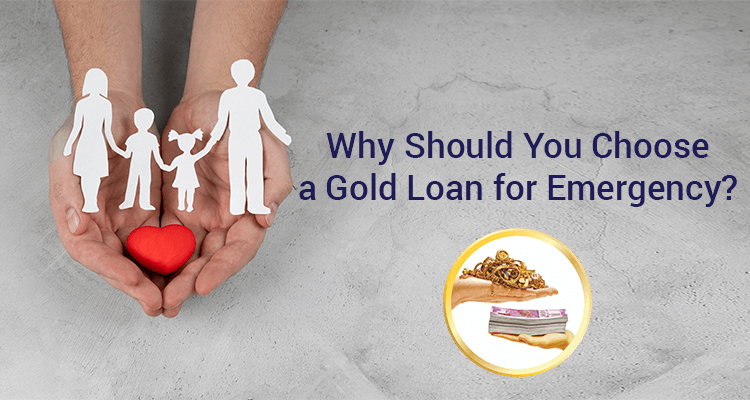 Looking for a way out of an emergency financial crunch? Gold loans can help you out!
Gold loans are a smart way to get the amount you need against your gold ornaments or coins. A
gold loan
is a secured loan offered by financial institutions at an affordable interest rate. But why should you take a gold loan during an emergency? Given below are a few reasons.
Reasons To Take Gold Loan During An Emergency
1. Fast Approval And Disbursal
The gold loan is one of the most attractive loans during emergencies because of its prompt approval and disbursement process.
Since gold loans are secured, they require minimal documentation. Once you complete the KYC process of an institution's emergency loan application, the loan amount is processed almost instantly. Usually, the entire gold loan process takes between 24 and 48 hours to complete.
Contrarily, the financial institution takes a few days to process and verify other financial products before the funds are disbursed.
2. Easy Eligibility Parameters
Compared to other credit instruments, gold loans have relatively lenient eligibility requirements. In this case, prospective borrowers do not need to maintain a high credit score or meet income requirements to obtain funds. However, the borrower's gold items must meet specific quality standards and fit the required age bracket.
3. High Loan Value
Among the advantages of a gold loan is its relatively high LTV (loan-to-value) ratio, which allows for a larger loan quantity during financial needs. RBI's notification states that one can receive up to 90% of an article's market value as credit. In other words, if you own gold items worth Rs. 10 lakh, you can get up to Rs. 9 lakh.
It's interesting to note that borrowers can increase the gold loan amount by pledging additional collateral. By estimating their requirements, borrowers can apply accordingly. Therefore, they can manage their debt better.
4. Low-Interest Rates
As gold loans are secured, they typically carry a lower lending risk for financial institutions. Hence, lenders can offer a more competitive interest rate than they would for unsecured loans.
A low-interest rate is always welcome for borrowers, regardless of the funding situation. It lowers the overall debt repayment, facilitating better debt management. Moreover, it doesn't strain the borrower's budget or financial goals.
5. No End-Use Restriction
The lack of end-use restrictions is the biggest USP of gold loans in emergencies. Borrowers can use these funds for various financial needs. It can be a personal expense, medical emergency, or professional requirement. You do not need to specify the reason for the fund's need or usage.
6. Repayment Flexibility
The repayment flexibility of gold loans makes them a preferred option for emergency funding. Several leading financiers offer an upfront interest payment in addition to an EMI. Alternatively, borrowers can make one lump-sum payment. Thus, you can prevent payment default by planning and managing your finances.
7. No Income Proof Needed
Gold loans are an excellent emergency credit option since they do not require income proof. In contrast to its other secured and unsecured counterparts, which require borrowers to submit this document, a gold loan lets them skip it to get the needed urgent financial assistance.
Take Advantage Of IIFL Finance Gold Loan Services
Get instant access to gold loans using your gold jewellery or physical gold with IIFL Finance. By obtaining a Gold loan from IIFL, you will have access to industry-best benefits and instant funds according to the value of your gold. Unlike lengthy and time-consuming applications by other lenders, our loan application process is customer-oriented, fast, and efficient.
With IIFL loan against gold, you can raise funds instantly at the most affordable and attractive interest rates.
Take advantage of an
IIFL Gold loan
if you need to raise funds quickly and easily.
Frequently Asked Questions
Q1. How to apply for IIFL Gold Loan?
Ans. To apply for a gold loan with IIFL Finance:
1. Go to IIFL Finance official website. Select the Gold Loan tab.
2. Fill out the form with your current personal information.
3. To process the application, click Submit.
A representative of IIFL will contact you regarding your application. They will also assist you through acquiring a Gold Loan from IIFL.
Q2. What factors affect gold loan rates?
Ans. The purity of gold, loan term, and loan amount affect loan rates.