What Role Do Gold Loans Play In India's Economy?
Gold used as the primary form of asset and using it for transactions is vital to the Indian Economy. Read to know how taking gold loans impact the Indian economy!
19 Nov,2022
17:05 IST
11 views
1 Like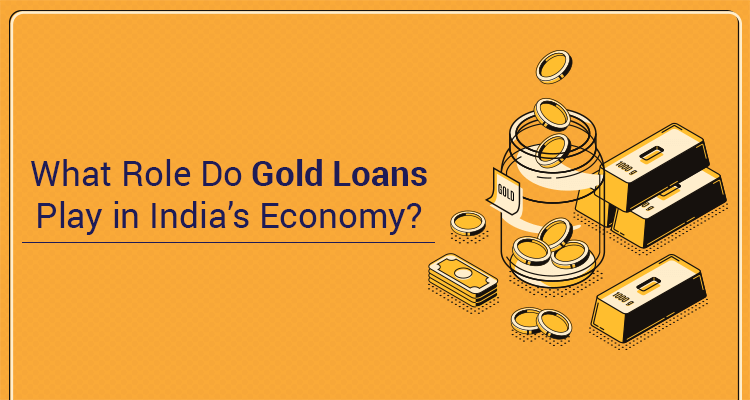 The financial system is the backbone of all economies. All lenders, whether banks or non-banking finance companies (NBFCs), look to come up with new products to sell to their depositors or investors. They also seek to bring unorganised lending to the formal channel, thereby creating more business for themselves and growth opportunity for their investors.
A gold loan is one such product that has existed in the country for centuries, if not millenniums. In the past, local moneylenders in villages used to advance money against gold articles, utensils or ornaments owned by the borrower. To be sure, they still do but as banks and, more importantly, NBFCs opened more branches across the country, the formal financial system has become a bigger driver of the gold loan business.
For the banks, the gold loan business is one of the several loan products they offer. But for NBFCs, it is one of the main products in their product suite. In fact, some NBFCs are specialised gold loan companies. Almost 65% of around Rs 2 lakh crore worth of gold loans availed by borrowers is via NBFCs.
Demand Factors
The gold loan industry is primarily fueled by the value of the yellow metal as the amount one can borrow is wholly dependent on that parameter. If one gauges the long-term trend of the price of gold in the international market and within India, as both are tied, the mostly unidirectional move upwards in the price of gold has boosted the industry.
The demand for gold loans from individuals as well as business owners is also driven by the general state of the economy. For instance, in the April-June period of 2021, when the second wave of the Covid-19 pandemic was wreaking a havoc all across, but especially so in the northern part of the country, disbursals of gold loan had got affected due to logistical reasons.
However, there was a strong trend reversal soon after, during the festive season in October-December 2021.
Krishnan Sitaraman, Senior Director and Deputy Chief Ratings Officer at CRISIL Ratings, had said at the time: "Gold-loan disbursements have rebounded sharply in the second quarter of this fiscal (FY22) after a dismal first quarter. Gold loans will continue to be a sought-after asset class, while lenders would remain cautious about growth in many other retail asset classes."
In 2017, the World Gold Council had estimated that Indian households held around 25,000 metric tonnes of gold, or roughly 13% of the total gold mined in human history. The value of this gold in 2019 was around 40% of the country's Gross Domestic Product (GDP).
Although the gold jewellery market itself is growing every year as disposable income rises, the stock of old ornaments in the country provides a major cushion for the economy. Unlike physical or financial assets whose value goes up and down, the price of gold typically only goes up and is seen as a hedge against inflation and in moments of crisis.
Growth In Gold Loans
This was clearly apparent during the first year of the pandemic. Bank data for gold loans shows the loan book against gold jewellery rose sharply from around Rs 34,000 crore at the end of March 2020 to nearly Rs 61,000 crore in the first year under the pandemic. This provides a window to borrow for individuals who lost jobs and needed money to meet their day-to-day expenses till they found another job or required cash to keep their business afloat.
Given the pressure with healthcare expenses such gold loans also allowed people to meet their medical bills.
After the temporary blip in disbursals during the first quarter of FY22, the gold loan business from the banks itself again shot up by around 20% to around Rs 74,000 crore at the end of March 2022.
This was much higher than the total personal loans market providing banks with boosting their business and thereby added to profits for their shareholders.
These trends also stand true for NBFCs, who already have a bigger chunk of the fast-growing gold loan market.
This provided the right cushion for small businesses who could use the money availed to prop up their enterprises. Given that small businesses comprise a big source of employment, taxes and provides key inputs for the larger firms too, it has an important role to play for the economy and gold loan can be seen as a saviour in the moment of crisis.
Given that it is a secured form of lending, lenders who are cautious about advancing unsecured small business loans can continue providing necessary debt to these smaller establishments, who are an important part of the economy. In a nut shell, gold loans come as a lubricant for the economy.
Conclusion
A gold loan is a compelling product for individuals as it comes with the lowest interest rates and the disbursal is not dependent on one's credit history. It also comes in handy in moments of crisis for businesses when lenders may be cagey about lending without any collateral or lack of cash flows but with no end-use clauses, it can be availed in a jiffy despite being a secured loan product.
Broadly, gold loans work as a lubricant for the economy as an alternative form of borrowing for personal needs but more importantly for small business owners to continue to contribute to the economy.
IIFL Finance offers
gold loan via a fully digital process
at an interest rate as low as 9.96% per annum within 30-minutes flat, making it as easy and quick as ordering a pizza.