Ways To Repay Your Gold Loan
Some financial obligations can sometimes make repaying a gold loan difficult. Get to know 5 different ways of repaying your gold loan at IIFL finance.
12 Oct,2022
11:15 IST
132 Views
29 Likes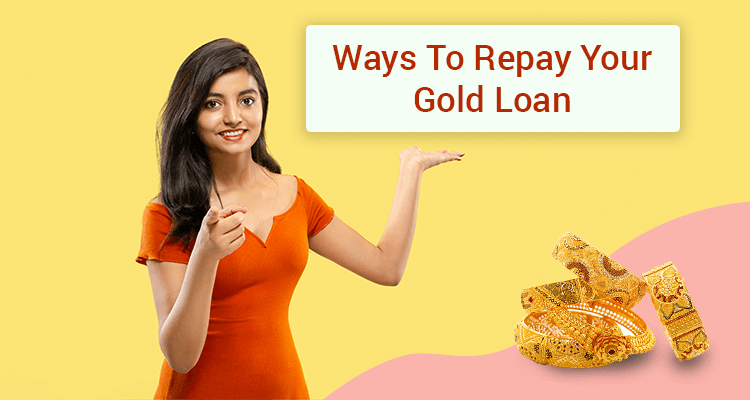 Gold ornaments are more than a social symbol. Your gold can save you in tough financial times as a form of backup or emergency fund. If you take out a loan against your gold ornaments, you can gain access to financing quickly and easily.
Gold loans
are easy to qualify for, so almost anyone can secure funds by pledging their ornaments. These loans have lower interest rates than other forms of unsecured personal loans. Creditors return the gold assets to you upon complete repayment.
As a result of their asset-backed nature, gold loans are more affordable than other types of loans, making them an appealing option for most borrowers. However, other financial obligations can sometimes make repaying a gold loan difficult. Here are some gold loan repayment options to make things easier for you.
1. Pay Interest As EMI & Principal Later
When you repay a gold loan this way, you repay the interest amount due on the loan according to the EMI schedule provided by the lender. When the loan matures, you can pay the principal amount in one payment. The benefit of this repayment is that borrowers are only responsible for repaying the interest amount during the repayment period, not the principal.
2. Repay Interest And Principal Amount Equally
The repayment plan is similar to any other instalment loan. Your loan is closed after paying a set EMI monthly for a fixed tenure. Upon completing the loan, lenders return your gold assets.
It is a stress-free method of repayment. A simple ECS or NACH mandate is required to deduct your EMI from your bank account. This way, payment of the EMI is on time, and you won't incur any late fees or fines.
3. Make Prepayments Or Part Payments
Part prepayments are an excellent way to save on gold loans. A reputable lender usually does not charge a fee for part-payments on gold loans. Customers with existing gold loans can repay part of their loans at their convenience by using additional funds, such as earnings from investments, freelancing projects etc. As part payments are made over and above EMIs, the principal amount gradually decreases, making repayments more convenient.
Foreclosing the gold loan can also save on interest costs. Nevertheless, financial institutions may impose foreclosure charges. Thus, it is wise to search for a lender that charges little or no part-prepayment fees.
4. Bullet Repayment
A
bullet repayment gold loan
requires you to repay the principal and interest amount at the end of the loan's term. You don't need to repay any part of the loan during the loan term. Since there is no EMI schedule to adhere to and you can make the full payment at the end of the loan tenure, there is no fear of default. Every month, the gold loan amount gathers interest, but it is only payable at the end of the term.
5. Refinance With Lower Interest Rates
Managing
gold loan repayments
through refinancing is also an option. If you are already repaying gold loans at a high-interest rate, you may consider refinancing with a lender offering lower rates. This way, you can save a significant amount on your ongoing loan.
Get A Gold Loan From IIFL Finance
IIFL Finance is one of the most reputable financial institutions in the country, offering gold loans online. Customers can
apply for gold loans
, check their active gold loans, transaction history, and much more using its online services. Taking out a loan against gold with IIFL allows you to raise funds instantly at an attractive, affordable, and low-interest rate. Check out our gold loan services to learn more.
Frequently Asked Questions
Q1. What factors determine the gold loan amount?
Ans. Lenders determine the loan amount by its LTV ratio and the value of the gold.
Q2. Can we repay the gold loan early?
Ans. Prepayment penalties or minimum lock-in periods are not usually attached to most gold loans, so you are free to prepay them when you want.