Ways Gold Loan Proves To Be The Best For Your Financial Needs
A gold loan is a perfect solution to generate instant funds. Read on to know 10 gold loan advantages for financial needs in detail only at IIFL finance.
7 Oct,2022
09:37 IST
25 views
2 Likes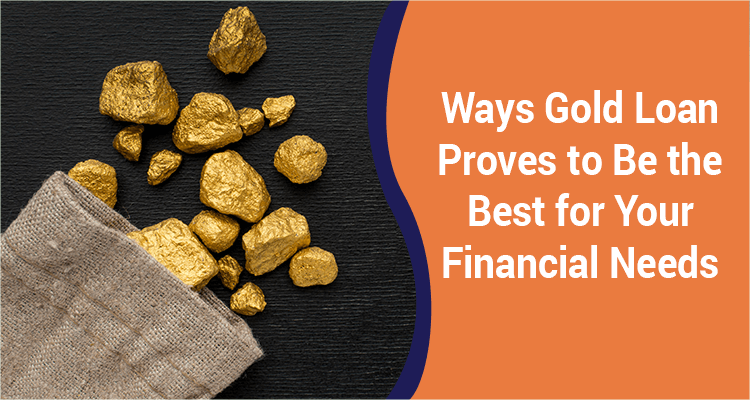 Gold is regarded as one of the safest options to park your savings. For decades, people have purchased gold in small amounts for numerous reasons: Wedding gifts and Financial fallback plans. Thus, in addition to having a monetary value of a dependable asset, gold also holds a sentimental value.
A gold loan is a perfect solution to generate instant funds if you don't want to sell assets or wait for personal and other loan approvals. You get instant liquidity, don't require any credit score or documentation and ensure safety for their valuable gold items.
There are many benefits of taking gold loans, including fast disbursals, minimum documentation, flexible repayment options and ease of application, providing complete freedom to use the funds for any expense. They also have a lower rate of interest as compared to other loans.
People with physical gold in their vaults can consider gold loans a valuable way to generate liquidity. This way, the gold becomes an active investment instead of a passive one. This article discusses what makes a gold loan the best solution for financial needs.
10 Gold Loan Advantages For Financial Needs
1. Easy Eligibility Criteria
Any individual above 18 years can avail of a gold loan. It does not require the borrower to have a high credit score. With such flexible eligibility criteria, everyone can use the loan right from an employee, a business person, to a homemaker, if they have repayment capacity.
2. Simple Application
Banks approve the gold loan based on the value of the gold pledged. Gold does not require income details and credit history, unlike other loan procedures. KYC of the customer, i.e. PAN card, Aadhar Card and some basic information, are enough to start the process.
Gold is the collateral that lenders can use in the event of default. This security is one of the reasons for gold loans' straightforward application process. They have high-tech vaults in place, which ensures your gold remains safe.
3. Swift Disbursal
The gold loan requires minimal time for disbursal. After you apply, the lender assesses your gold's value. After calculating the valuation, the lender immediately transfers the loan amount to the borrower's account.
As per the borrower's requirement, the loan amount is directly transferred online or handed over in cash. For a loan amount below 2 lakh rupees, the borrower can opt for an online transfer or take the loan amount in cash. But loan amounts above 2 lakh rupees are transferred only to a bank account.
4. No CIBIL Score Check
Banks and NBFCs reject multiple loans owing to the borrower's low credit score. However, the borrower doesn't need a good CIBIL score to get a gold loan. The disbursal of the gold loan amount is approved based on the purity of gold alone. For a bank or NBFC, the mortgage of the gold items is enough security. This is one of the most unique
benefits of a gold loan.
5. Low Interest Rate
Many opt for a gold loan because of the low-interest rate. The low-interest rate is due to the high price of gold in the market. When gold prices rise, lending institutions provide loans at a lower interest rate. Gold has always been a highly-priced commodity in India. Therefore, the banks/NBFCs can charge lower interest rates. Usually, the interest rate varies between 12-14% per annum.
6. Flexible Repayment Options
While applying for a gold loan, it is essential to go through and understand all the repayment options. Banks and NBFCs offer four options to
repay a gold loan
: Regular EMI payment, Pay interest as EMI and Principal at tenure end, Partial Payment and Bullet Repayment. After considering all options, borrowers can choose the most suitable option based on repayment capacity.
7. Gold Storage Safety
A gold loan puts your gold asset to work. Banks/NBFCs keep the gold in a secure vault when they provide the loan amount to the borrower. The borrower can be at ease because the financial institution is responsible for the safety of their gold. In case of loss or theft, the borrower gets the maximum amount equivalent to the gold's value.
8. Flexible Usage
You can use the loan for any purpose, including purchasing assets, business growth, salaries, household, travelling or education expenses. You can use it as per the requirement after disbursing the amount.
9. Minimal Additional Charges
There are no processing fees and minimal charges for gold loans. The borrower also gets the benefit of early repayment of the loan without any additional foreclosure charge.
10. High-Value Loans
The gold loan does not have any cap on the disbursal amount. As long as the borrower can provide the required collateral in the form of gold, the banks/NBFCs have no problem approving the loan. In case of any emergency, an individual can avail of a gold loan of up to 1 crore.
Fulfill Your Financial Needs With An IIFL Finance Gold Loan
IIFL Finance is the most trusted brand and has millions of satisfied customers. With 0 processing fees, IIFL offers gold loans instantly and hassle-free.
A gold loan stands out in several ways for coping with financial needs. It is essential to choose a reliable source to acquire a gold loan. With numerous advantages, the IIFL gold loan nullifies the stress of a financial crunch. Download the IIFL app, complete the KYC and get a gold loan in 30 minutes.
FAQs
Q.1: What documents are needed while applying for a gold loan?
Ans: While applying for a gold loan, only KYC details, i.e. address proof and ID proof, are required.
Q.2: What are the processing fees levied upon gold loans?
Ans: There are minimal to no processing charges levied on a gold loan.
Q.3: What are the age criteria to apply for a gold loan?
Ans: The individual has to be 18 years or above to apply for a gold loan.