Understanding GST On Gold Loan Interest
There are various aspects of taking a gold loan which includes interest rate, GST & more. Check out the things you must know about GST on gold loan here!
17 Aug,2022
10:28 IST
128 views
37 Likes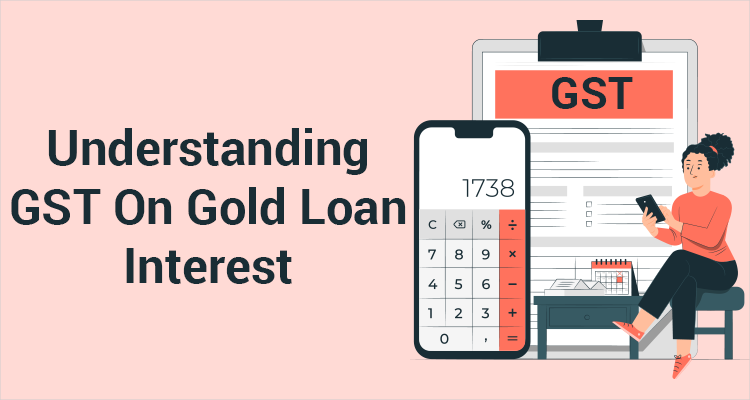 When you apply for a gold loan, the lender offers a loan amount that is a percentage of the total value of the pledged gold based on the current market price. However, after taking the loan against gold, you are legally bound to repay the loan amount to the lender within the set loan tenure.
This loan repayment has two parts: the gold loan amount and the gold loan interest rate. The principal amount is fixed, whereas the interest rate fluctuates based on various factors, such as the current gold prices. This interest rate is the base for GST implementation. But what are the GST norms on interest rates on loans against gold?
Understanding GST On Gold Loan Interest
The Indian government has designed the GST norms to benefit the borrowers who pledge their physical gold to take a loan against gold. No GST is levied for a borrower paying interest on a loan against gold as there is no GST if the transaction fits the meaning of "loan" or "deposit".
However, GST is levied on all other earnings or charges apart from interest, such as processing fees, documentation charges, service charges, foreclosure or prepayment charges etc.
Things To Keep In Mind To Tower The GST On Loans Against Gold
The best way to ensure you do not have to pay a higher GST on your gold loan is to analyze the charges and costs associated with the loan product. Here are some things to remember:
1. Licensed Lender:
You must take a loan against gold from a licensed lender. If the lender is not licensed, its loan products will not be deemed under the definition of "loans" and can attract GST, even on interest payments.
2. Costs And Charges:
GST is levied as a percentage of the total charges. For example, if there is 2% GST on Rs 500, the individual has to pay Rs 510. This means that the higher the number of charges, the higher the individual will have to pay after adding the GST. Hence, it is wise that you choose a loan product that comes with lower charges and costs, excluding the interest rate.
3. Reputed Lender:
You can take a gold loan from a bank or an NBFC. However, NBFCs offer lower charges than banks as they often do not have a processing fee on loans against gold. However, the financial entity must be reputed to customize the loan product to suit your financial situation and goals, including fewer GST charges.
Take An Ideal Gold Loan With IIFL Finance
IIFL Finance is India's leading financial services provider that has designed numerous loan products, including loans against gold, with minimal GST. The proprietary loan against gold offers instant funds up to Rs 30 lakh with a quick disbursal process.
The loan repayment structure is flexible and offers multiple repayment modes, including standing instructions, NEFT Mandate, ECS, Net-banking, UPI, etc. You can apply for the loan online or offline by visiting IIFL Finance nearest branch.
FAQs
Q.1: Do I have to pay GST while taking a loan against gold with IIFL Finance?
Ans: Although there is no GST on the interest payments, you will have to pay GST on certain other charges, such as loan processing fees and service charges.
Q.2: What documents are required for IIFL Finance Gold Loan?
Ans: Documents required are Aadhar Card, PAN Card, Driving License, Passport, Ration Card, Electricity Bill, etc. Visit the IIFL Finance gold loan page to get the complete list of documents to submit.
Q.3: Are there any restrictions on the end use of the loan against gold?
Ans: No, there are no restrictions on the end use of the loan amount, and the borrower can use it for any purpose.