Should You Opt For A Gold Loan With EMI Or Overdraft?
You get the gold loan with an option to repay it in EMIs, or just by repaying the amount as an overdraft. Read this article to know which option is better for you!
22 Aug,2022
10:33 IST
39 views
15 Likes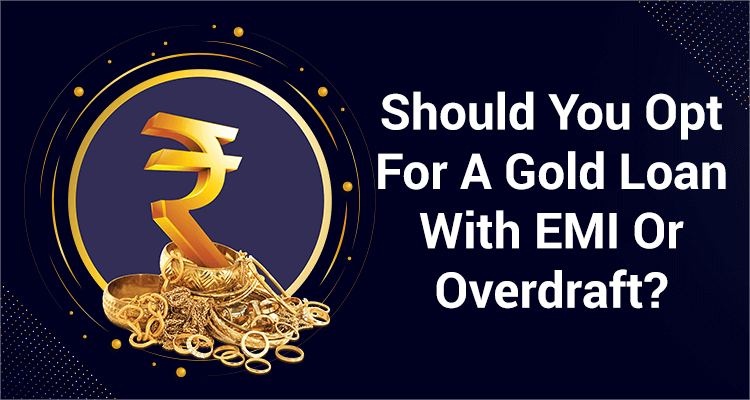 A gold loan can help you escape financial emergencies even if your credit score is low. Gold loans have many benefits, including minimal documentation, lenient eligibility requirements, and fast disbursement. Moreover, these loans are available in various forms to meet your needs.
This article compares the overdraft facility and the EMI option for gold loans to choose the best gold loan for yourself.
What Is A Gold Loan With An EMI Option?
EMI gold loans require you to pledge your gold to the lender. You will then receive a lump-sum payment in your bank account from the bank or lender. Principal and interest repayment will begin the month after loan disbursement. NBFCs and banks offer this service.
What Is A Gold Loan With An Overdraft Facility?
Gold loans
with overdraft facilities are comparable to credit cards. Like credit cards, this option lets you access money whenever you want, but there is a credit limit. Your gold assets determine this limit. In this case, you will only pay interest on the amount used, not the entire sanctioned amount.
Difference Between The Two Options
EMI gold loans function similarly to other secured loans. Upon submitting your collateral and completing the necessary paperwork, the loan amount will be credited to your bank account. You can use this money as per your requirements.
Gold loans with EMIs have the following advantages:
• Lower Repayment Pressure:
You can repay the borrowed amount through EMIs, reducing your financial stress.
• Helps With Planning:
EMI payments are predictable as loan amounts, interest rates, and duration is fixed. Borrowers can plan repayment easily as they know the amount to be paid upfront.
• Flexible Plans:
By adjusting the duration of the loan or the assets pledged, financial institutions often let you choose your EMI amount.
Gold loans with overdraft facilities function like bank accounts. In exchange for this loan, you will have an overdraft account, which you can access using a debit card, cheque-book, or demand draft. The amount you use is solely at your discretion.
Gold loans with overdraft facilities have the following benefits:
• Flexibility:
A gold loan with an overdraft facility is a credit system you can use according to your needs. It gives borrowers with dynamic credit needs the flexibility to use funds to an upper limit.
• Lower Interest Rate:
A gold overdraft facility charges interest only on the amount borrowed. If you borrow less than the sanctioned amount, it can be less expensive than a lump-sum loan.
• Convenience:
Overdraft facilities offer the same benefits as bank accounts. You can access the borrowed funds in multiple ways, making it highly convenient for borrowers.
• Pre-Closure:
You can make a lump sum payment at any time to close the overdraft facility.
Which Option Is Better?
You can choose an EMI loan or an overdraft facility based on your needs and convenience. Overdrafts of gold loans, however, are advantageous since they charge interest only on the amount borrowed and allow borrowing up to the sanctioned limit.
ATM cards, mobile-banking, net-banking, and cheque-books are the ways to withdraw funds from an overdraft account. Therefore, it is ideal for family medical emergencies and the short-term business capital needs of the self-employed.
Through the EMI gold loan option, you pay interest on the entire loan amount, even if you don't use it immediately. If you do not use the sanctioned amount, it will sit in your savings account for future use. This is the best option for planned expenses that require immediate use of the entire borrowed amount.
Apply For A Gold Loan With IIFL Finance
With IIFL Gold Loan, you can fulfill all of your business and personal needs. By offering instant funds based on the value of your gold, IIFL Gold loan offers the best benefits in the industry. We offer a customer-oriented, fast, and easy loan application process that does not require lengthy or time-consuming paperwork.
Moreover, you can use the gold loan EMI calculator to determine how much interest you have to pay for your loan.
Frequently Asked Questions
Q1. What is the difference between a Gold Loan and a Personal Loan?
Ans. You need to pledge gold ornaments as security for gold loans. Contrarily, you can avail of personal loan based on your income source and repayment capacity.
Q2. When should you get a gold loan with an overdraft facility?
Ans. If you are unsure of the amount of loan you need, a gold loan with overdraft features may be a good option.