Myths Vs Facts About Gold Loan
Despite its benefits, there are a few misconceptions about gold loans. Read on to know 4 myths & facts about taking a gold loan in detail at IIFL finance.
8 Oct,2022
09:53 IST
24 views
2 Likes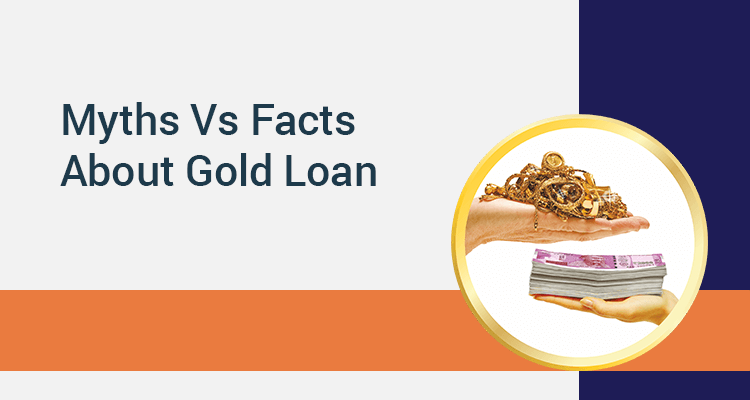 Gold has grown from a fiat currency to a luxury commodity. In the 1920s, gold, silver, and bronze were currencies. Today, it is also a crucial part of the emergency corpus for businesses and individuals.
A few decades ago, taking gold loans from banks wasn't a popular trend. In 2019, the demand surged. The subsequent pandemic is also a reason for the improved gold loan market. Fortunately, banks and financial institutions have revolutionised the gold loan application process. In an emergency, people now
apply for gold loans
rather than any other unsecured loan for various reasons, including low
gold loan interest rates,
flexible repayments and no credit checks.
Despite its benefits, there are a few myths tied to them. Here are the common misconceptions about gold loans debunked.
Myths About Gold Loans
Despite the significant advantages of gold loans, people still divert owing to some mainstream myths.
Fear Of Losing Gold
Myth:
Lenders switch pure gold with a lookalike.
Fact:
Reputed banks and NBFCs have high-end security vaults for gold loans.
While taking a gold loan, individuals must submit the gold item to the lender until they repay the loan completely. Therefore, people often fear losing their gold and bring a look-alike while applying for gold loans.
The lenders' reputation would be tainted if any such case surfaced. Also, the banks/NBFCs are legally bound to return the original assets to the borrower after fully
repaying the gold loan
.
Only Jewellers Provide Gold Loans
Myth:
Banks and NBFCs cannot offer gold loans; only jewellers can.
Fact:
Banks and NBFCs are authorised to provide gold loans.
Decades ago, jewellers primarily offered gold loans. Later, when banks and NBFCs evolved, they took place as prominent players that dealt with gold loans. Gold loans taken from jewellers or anyone else are not legally binding. Therefore, in case of any dispute with repayment or the gold loan amount, there's no regulatory body to resolve the issue. However, with NBFCs and banks, borrowers can report theft or loss in court or through a government body and achieve a proper resolution. As they are registered entities, they must follow the law.
Old Gold Won't Qualify For Gold Loans
Myth:
Ancient gold jewellery or family gold heirlooms don't qualify for gold loans.
Fact:
Any gold jewellery of 18 carats and above qualifies for gold loans. Banks and NBFCs have a set of norms for gold items to qualify for a loan. However, people believe that old gold might not meet the standard of current gold. However, antiques or exquisite jewellery offer extra loans as their valuation increases with time.
Tiresome Paper Trails In The Gold Loan Process
Myth:
Getting a gold loan approval is tedious, and the documentation is cumbersome.
Fact:
Gold loans are the most accessible loans with minimum documentation required. People assume the gold loan paper trail is as tiresome as personal and business loans. However, the bank will allocate 90% of the gold value as a loan if the gold qualifies for the purity test. The institutions primarily require ID proof, address proof, and passport-size photographs. The loan application takes 30 minutes to approve and 24 hours to disburse the amount.
Apply For A Gold Loan With IIFL Finance Today
IIFL Finance is the leading provider of
gold loans
. Since its establishment, it has provided several borrowers with a hassle-free experience. We successfully offered 6 million happy consumers loans secured by gold. From application through disbursement, the entire process is conducted online. The disbursals take a few hours if the purity check on your gold products is successful. Apply for an IIFL Finance gold loan now!
FAQs
Q1. How do banks determine gold loans?
Ans. Banks and financial organisations use loan-to-value (LTV) ratios to determine the loan amount. Gold prices fluctuate based on various market factors and per the lender's discretion. To identify your eligible loan amount based on the gold you wish to pledge, reach out to the lender or use the online gold loan calculator to get an accurate estimate.
Q2. Which is preferable, gold or a personal loan?
Ans. A gold loan can be preferable if you can repay the loan quickly and at a low-interest rate. On the other hand, a personal loan is preferable for a long-term and bigger loan. You must evaluate both loans in light of your financial requirements.