Mistakes To Avoid While Applying For A Gold Loan
Availing gold loan is easy but there are some mistakes which you can avoid. Know the 5 mistakes to avoid while applying for a gold loan!
3 Oct,2022
10:13 IST
15 views
21 Likes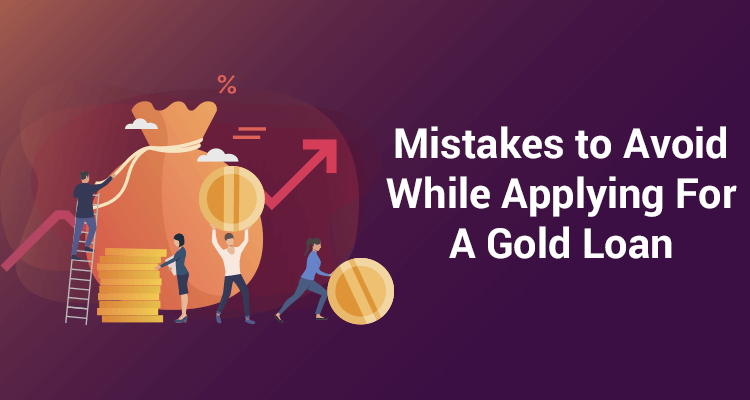 In Indian households, gold has remained a trusted commodity. One of the most rewarding advantages of investing in gold is that it is not subject to depreciation like paper money. Therefore, if the market crashes, it is unlikely that the value of gold will drop significantly. Therefore, it can be good collateral to avail of a loan during financial emergencies.
This article discusses the mistakes to avoid while applying for a
gold loan.
A gold loan is a secured loan where your gold items (jewellery, coins, biscuits, etc.) act as collateral. While availing of a gold loan is easy, you should avoid the following mistakes while applying for a gold loan.
1. Not Checking The Lender's Credibility
Gold loans
give you cash equivalent to the maximum loan-to-value ratio of your pledged gold. Thus, the risk is on you rather than the lender, as the assets remain with the lender until the loan is fully repaid. Therefore, before taking a loan, it is necessary to verify the lender. Avoid scam traps and choose a lender who will keep your assets secure.
It is important to choose a reputable bank or NBFC with a good reputation for gold loans. A company regulated by the RBI is always a better choice.
2. Not Exploring Other Gold Loan Options
Currently, multiple banks and NBFCs offer gold loans, each with different offers to borrowers. It is wise to review all decisions. Review and research the perks and quirks of many lenders as possible and compare their offers. Prepare a list of lenders according to interest rate and loan ratio. You can then select the winning lender based on the best loan offer suited to your preferences.
3. Pledging Any Gold Items For The Loan
Lenders only consider gold of certain carat value as valuable collateral. While you can determine the EMI and other details through the lender's
online gold loan calculator
, you cannot gauge the actual gold acceptable to qualify your application. You need to read the eligibility criteria online or visit the lender's branch to see if the gold asset is acceptable. Therefore, we recommend that you check the items that can earn Gold Credits before claiming Gold Credits.
4. Ignoring Interest Rates
Reputable banks and financial companies offer
gold loans
for an interest rate that the borrower must pay with the principal amount within a certain tenure. People with little knowledge or experience often start taking out gold loans without worrying about interest rates. This can become a significant financial burden in the long run. Therefore, it is advisable to choose a
gold loan
with a reasonable interest rate that does not create a burden on your finances.
5. Not Knowing Your EMI Alternatives
There is more than one way to repay a gold loan. You may choose a gold loan scheme that strains your finances by not checking the available repayment options. Therefore, before submitting your gold loan application, check the ways you can repay the loan. The four standard ways to repay your gold loan include:
• Daily EMI option
• Make a partial payment
• Bullet refund
• Interest now, principal later.
Apply For A Gold Loan With IIFL Finance
IIFL Finance is a leading
gold loan
provider. We provide quick loans with small financial requirements with minimum eligibility criteria. You can check the rates at your nearest IIFL Finance branch or apply for
gold loans online.
The entire process, from application to disbursement, is 100% online. The disbursals take 24-48 hours. This way, you can fulfill your needs and repay them per cycle. Apply for an IIFL Finance gold loan today!
Frequently Asked Questions
Q.1: What are the required documents for a gold loan?
Ans: Since the gold loan process with a reasonable interest rate is simple and quick, you do not need to submit extensive documentation apart from ID and address proof.
Q.2: What are the additional charges associated with a gold loan?
Ans: A nominal processing fee is chargeable on your gold loan, which varies from lender to lender. Typically, the processing fee does not exceed 2% of the loan amount. Some financial institutions also add a gold validation charge with a processing fee.