Instant Loan vs Gold Loan
People use personal loans to establish & grow businesses or to combine several loans into one. Read on to know what is personal loan here!
7 Oct,2022
18:42 IST
34 Views
6 Likes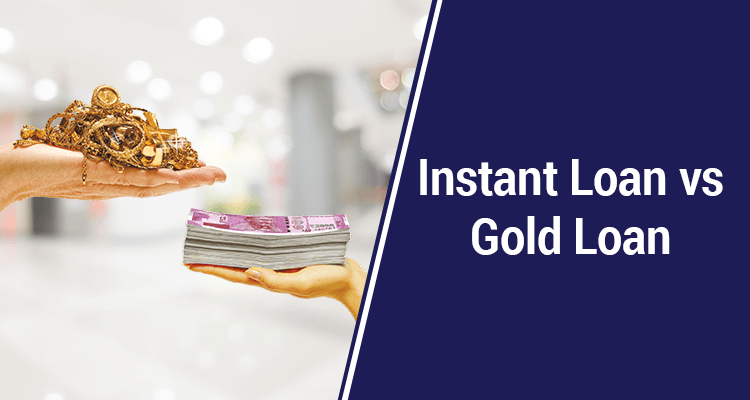 Many lenders have multiple rules that make generating funds lengthy and tiresome. Moreover, even after one follows through with the loan application process, there is no guarantee that they will receive the loan for their essential purpose. Does this mean there is no way to get a loan from a reputed financial institute for emergencies?
An instant solution to raise funds is to apply for a loan that takes less time to get approved and disbursed. Instant and gold loans are the ideal options for many who face financial crunch and need assistance instantly. With varying interest rates, Banks/NBFCs offer instant and gold loans to overcome any financial emergency. Hassle-free and quick, these loans are one-click solutions to making the banking experience easy and accessible.
Although instant and gold loans are the fastest available loan options, they also have pros and cons. This blog discusses the difference between these two types of loans, their distinction points and their suitability for various purposes.
What Is An Instant Loan?
Instant loans are disbursed with minimal documentation and no collateral almost instantly. Alternatively, people call it a personal loan or quick loan. The disbursal time is negligible if the salary records of the borrower are available in the correct format. Instant loans are quickly processed as they do not require any asset showcase. An individual can
apply for an instant loan online
without visiting the bank. The online application process is valid and can help procure an instant loan.
What Is A Gold Loan?
The gold loan is a financial aid the borrower gets by pledging gold ornaments or jewellery as collateral security with the concerned financial institution. With a quick disbursal, gold loans require no extensive documentation or proof of income and tax filing. The loan amount depends on the purity and weight of the gold. Banks and NBFCs that offer
gold loans online
have made online applications available and straightforward.
Features Of Instant Loan And Gold Loan
1. Disbursal And Approval Time
Instant Loan
An instant loan is perfectly suitable when there is an urgent need for funds. Instant loans do not require extensive documentation. The only requirement is proof of income which enables the banks and NBFCs to disburse the loan instantly. An Instant loan is accessible through online portals of the banks/NBFCs with the same conditions, and it gets disbursed within minutes in the account. The processing time is comparatively low compared to other loan processes.
Gold Loan
Borrowers can get a gold loan by pledging the gold against the loan as security; hence the time for extensive documentation is non-existent. The disbursal time for a gold loan is within minutes, with minimal documents and processing fees. The only requirement to decide the loan amount is the purity and weight of the gold. The loan disbursal is immediate after a basic KYC, including address and identity proof. This loan is ideal for those with a bad or low credit score.
2. Security
Instant Loan
In the case of an instant loan, the only security required is proof of steady income. No assets or other collateral are required to pledge security to obtain an instant loan.
Gold Loan
The gold loan is sanctioned only after the pledging of gold as collateral. The gold's purity and weight are the fundamental factors determining the loan amount.
3. Repayment Structure
Instant Loan
Instant loans have the provision of repaying them as per convenience. The loan tenure can be modified and extended up to 24 months.
Gold Loan
Banks/ NBFCs have varying repayment structures. The term for repayment is subjective to the lender. Borrowers can choose their repayment style based on the lending institution's options.
4. Eligibility Criteria
Instant Loan
Any individual belonging to the age group of 21-58 years is eligible to apply for an instant loan. Along with this criterion, the individual should also be a citizen of India. To grant an instant loan, Banks/NBFCs also check the employment status of the individual. The individual must be a salaried employee with a registered company, and the minimum salary should be Rs. 15,000.
Gold Loan
Any Indian citizen above 18 years of age and a maximum of 70 years can apply for a gold loan. Whether personal or professional, one can easily fund their needs by applying for a gold loan. An individual with no salary income too can apply for a gold loan. One does not submit income-proof documents like salary slips or bank statements for a gold credit.
Get Your Choicest Loan With IIFL Finance
A gold loan is the most suitable option to raise funds for an unsalaried individual with a low credit score. Although, gold will be kept as collateral by the lending financial institution. An Instant loan would be an ideal way to raise funds for a person with no gold reserve. A salary slip of 3 to 6 months is the only requirement for getting this type of loan.
IIFL Finance is a trusted platform that offers both options. With a user-friendly interface, IIFL disburses loans that can fulfill your personal or professional needs. Apply for the loan of your choice with IIFL Finance today!
FAQs
Q.1: Can a farmer apply for a gold loan?
Ans: A farmer can apply for a gold loan by pledging any gold article.
Q.2: What documents are required to avail of the instant loan?
Ans: For instant loans, documents like ID proof, address proof, and salary slips of 3 to 6 months are mandatory.
Q.3: How to ensure the safety of the gold kept with the lender?
Ans: Lenders store the gold in safe vaults. Banks and NBFCs also follow strict security protocols to safeguard their asset.