Is It Possible To Get An Interest-Free Gold Loan?
Gold loans without any interest rate can prove to be a boon for the needy. Here are the 5 steps to avail interest free gold loans easily. Visit to know!
7 Jul,2022
11:42 IST
367 views
26 Likes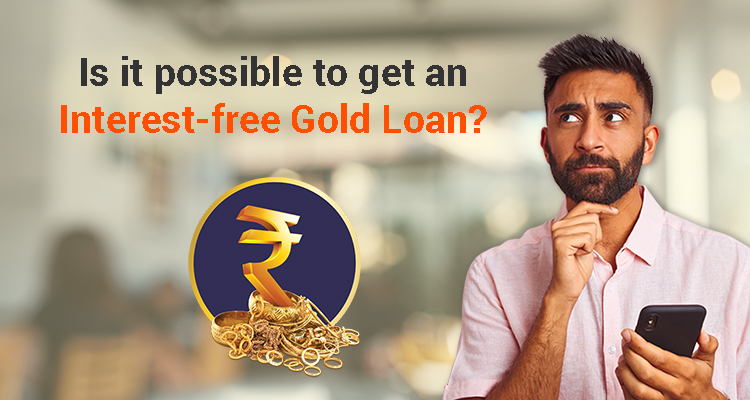 Loans prove to be the perfect safety net during an emergency. However, the interest rate on most loans can be pretty steep. Gold loans have low interest rates and have been the go-to choice of loan for numerous Indians as it allows one to encash their jewellery. While the gold interest rate is favorable, it is also possible to get an interest-free gold loan. The article details whether an interest-free gold loan is possible, and how you can achieve it.
Do Interest-Free Gold Loans Exist?
Yes, it is possible. However, it is rare for a bank or NBFC to issue such a gold loan.
An interest-free gold loan is designed to mitigate a customer's needs and desires. The nature of this loan can also be considered a mortgage. It caters to a multitude of personal needs, prescribes simple terms and conditions, and is also disbursed faster than any other loan. The paperwork is also relatively simple. However, before applying for a gold loan, check the terms and conditions carefully.
How To Get An Interest-Free Gold Loan?
While these steps do not guarantee an interest-free gold loan, here are a few steps to implement to tip the scales in your favour:
1. Improve Your Credit History
Your credit history is a reflection of your repayment capability. This is also one of the primary determinants for acquiring a gold loan that is interest-free. Therefore, it is important to keep your credit score above 720.
2. Ensure A Stable Income Source
Approving an interest-free loan requires proof of regular income. It reflects a possible payment capacity. The cleaner the record of income payments, the chances are higher of getting an interest-free loan approved.
3. Research Various Gold Loan Types
Each bank or NBFC has various gold loan schemes. You must review each one to determine the most suitable one for you and then check if an interest-free option is available under that scheme.
4. Review The Loan Policies
Before applying for a gold loan, it is important to review the policies or terms and conditions that constitute loan approval. If your application does not adhere to them, you may not be eligible for a gold loan that is interest-free.
5. Submit The Correct Documents
Submitting incorrect personal documents has proven to reduce your chances of acquiring a gold loan. Therefore, while applying for the loan, ensure you have the documents ready to avoid any form of conflict.
Why Approach IIFL Finance?
IIFL Finance offers gold loans with no hidden charges, high processing fees or pre-payment penalties involved. Simply fill in the application form and visit a nearby branch with your gold jewellery or apply online through the IIFL app and get the eligible loan amount sanctioned in under 30 minutes!
IIFL Finance has a large number of offers on its gold loan products, too. The lowest gold loan interest rate at IIFL starts at 0.83% for each month. Reach out to us to understand the offerings of IIFL Finance's gold loan.
FAQs
Q1. What are the latest interest rates on gold loans?
Ans. The interest rates on gold loans on average stand at 7-9% with nominal processing fees included separately. The lowest gold loan interest rate is dependent on lenders decisions. Borrowers need to do research to understand the interest rate associated with lending players.
Q2. When did gold loan availability begin formally in India?
Ans. The first instance of a gold loan dates back to 1959. Such loans were popular across South India throughout the 60s.