How To Calculate The Gold Price For Jewellery?
Usually every city has its own gold jewellers association which declares gold rates every day. So how do jewellers calculate the jewellery rates? Click here to know.
20 Jun,2022
11:03 IST
264 views
50 Likes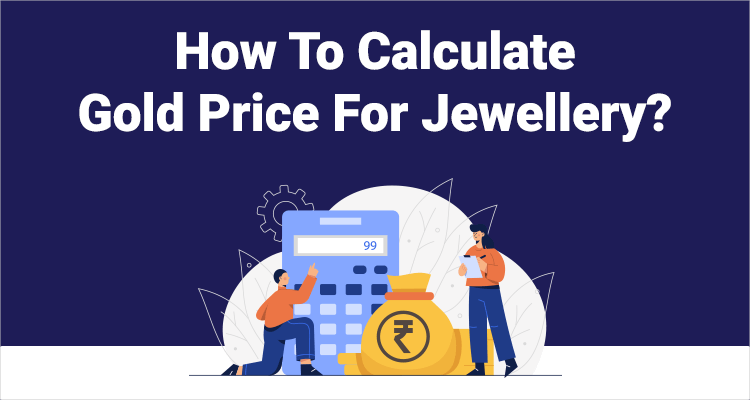 In India, gold is considered beyond just a yellow metal; it is an investment packed with returns for long-term needs. Gold jewellery is a fond backup resource for times of financial lows. Moreover, some even buy gold with the sole intention of selling it off for higher returns in the longer run, making it a more dependable investment than most financial instruments.
However, while jewellery shopping, you may find it odd that every shop has different pricing attached to gold items. The rate of gold is standardized as per its purity (in karat) and weight (in grams), but there is no standardized pricing for every gold item in the market. This is where you need to understand how to calculate the gold rate.
Gold traders and retailers operate per the daily price set by the local Gold Jeweller's Association every morning. This is why each town and city across India has some price differences, even for the same weight of gold jewellery. Several factors affect the final price of jewellery items that you purchase. These factors include:
Rate of gold
Modifications to the gold
Gemstone value
Taxes involved
The Formula To Calculate The Gold Rate Is:
Final Price Of A Gold Item = Price of gold per gram (of purity between 18-24 karat) X (The gold weight you purchase in grams) + Making charges of jeweller + GST of 3% on (Jewellery Cost + Making charge)
How To Calculate The Gold Rate
Let's consider you want to purchase a 10.5-gram gold chain of 22 karat purity. The jeweller you choose lists the price for 10 grams of gold on a specific day at Rs. 43,000. The making charges stand at 15 per cent of the listed price. Therefore, the final price you must pay for the gold chain will stand calculated as under:
Price for 10 grams 22 Karat gold = Rs. 43,000
Price for 1 gram 22 Karat Gold = Rs. 43,000/10 = Rs. 4,300
Price for 10.5 grams of 22 Karat Chain = Rs. 4,300 * 10.5 = Rs. 45,150
Making charges added = 15% of Rs. 45,150 = Rs. 6,772
Therefore, the final value of this gold chain excluding all taxes = Rs. 45,150 + Rs. 6,772 = Rs. 51,922
When you apply GST @ 3% on this total price, you get 3% of Rs. 51,922 = Rs. 1,558
Finally, the chain's total price with tax added is Rs. 51,922 + Rs. 1,558 = Rs. 53,480
Therefore, you need to pay Rs. 53,480 for this jewellery purchase.
Tips To Help You Know How To Calculate The Gold Rate
There are a few things that you must consider when buying gold.
When you purchase any gold jewellery studded with precious or semi-precious stones, make a special note that the gold value stand calculated will be as per the jewellery weight MINUS the weight of all the stones studded in it. The gemstone costs get added separately.

Making charges vary from jeweller to jeweller. You must keep track of the same when finalizing the price of gold jewellery.

Jewellery is available in the purity of up to 22 karat gold. When you have gold jewellery sourced from a reliable source, you can readily obtain gold loans from NBFCs such as IIFL Finance.
Get A Gold Loan With IIFL Finance
Minimal documentation, quick disbursal times and hassle-free processing of gold loans from IIFL can save you from cash crunches in future. As one of India's quickest disbursers of gold loans, IIFL Finance provides interest rates as low as 0.83% per cent per month and offers a minimum loan amount of INR 3000. Reach out to us to avail your gold loan or visit us at the nearest branch in Mumbai.
FAQs
Q1. Do I Have To Provide Original Bills Or Certificates And My Gold Jewellery For Gold Loan Processing At IIFL?
Ans. If you have them available, you may carry the same to our branch. However, for older jewellery wherein such bills are unavailable, you can bring us your jewellery, and we will do the needful.
Q2. Is There A Minimum Loan Amount IIFL Sanctions For Gold Loan Customers?
Ans. Yes, the minimum gold amount stands at Rs. 3000. IIFL Finance disburses an amount it deems fit on a customer-to-customer basis.
Q3. Can I Check How Much Gold loan I Am Eligible For With IIFL Finance?
Ans. Yes, you can drop by using the gold loan calculator embedded on the IIFL Finance website.