How Is A Gold Loan Better Than Other Loans?
Know the benefits of a gold loan and why it may be a better choice than other loan options. Learn about the easy approval process, flexible repayment terms here!
7 Feb,2023
11:22 IST
2517 Views
859 Likes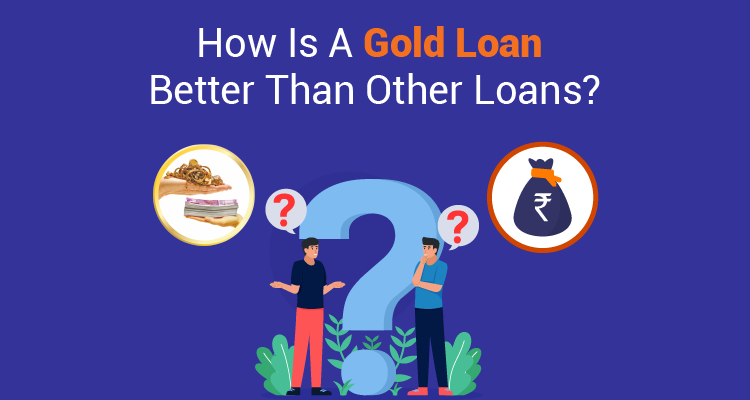 Emergencies often put a drain on savings. A lack of emergency savings corpus can disrupt household budgets and at times even force them to cut down on expenses.
Many people are forced to borrow at exorbitant rates from local moneylenders. In such a scenario, taking out a loan from a bank or non-banking financial company can be one such solution that will help meet unannounced expenses such as hospitalization or even expenses related to events such as a wedding in a short period of time.
Personal and gold loans are the most popular products offered by financial institutions. People are often confused about which one to choose but there are many benefits to taking out a gold loan.
Gold Loan Advantages
Most Indians have some form of gold jewellery in their house. This can be kept as collateral for availing a loan; hence gold loans are secured in nature. While there are many unregulated individual moneylenders who also give gold loans, it is important to take a gold loan from regulated banks and NBFCs, which will ensure the safety of the gold from the risk of theft or any other damage.
On the other hand, personal loans are unsecured in nature, meaning lenders do not take any security or assets as collateral and give loans based on various parameters such as monthly salary, type of job, transaction history etc.
However, the interest rate on a personal loan is higher than on gold loans. This is one of the main reasons why the gold loan is better than personal loans or credit cards. Gold loan interest rate starts from as low as 7.00%, whereas personal interest rate starts from upwards of 10.00%. The rate of interest also depends on the loan amount.
Another reason why gold loans are better is because borrowers don't need a good credit score. In the case of personal loans, the approval, amount and interest rates depend heavily on the credit score.
Moreover, like personal loans, there are no end-use restrictions on how and on what the loan amount can be used.
Quick Approval, Minimal Paperwork
Another benefit of taking a gold loan is that the paperwork involved is minimal and hence the amount is disbursed much faster. Since the borrower keeps his or her jewellery as the collateral, many banks and NBFCs offer hassle-free and quick disbursement after checking documents and completing the KYC (know-your-customer process) as per the norms of the Reserve Bank of India.
Documents required for gold loans include identity and address proof. The time can also be reduced through online applications and most lenders provide such services.
Borrowers don't have to furnish proof of income to avail gold loans because of the collateral. In addition, the processing fee on gold loans is also lower because the time taken is less. This is another benefit of taking a gold loan, especially in cases where cash is required on an urgent basis.
Easy Gold Loan Repayment
The first thing on the mind of borrowers while taking any kind of loan is the repayment capacity. Usually, most loans are offered with repayment in the format of EMI, or equated monthly installments.
In the case of gold loans, there are multiple options in addition to the EMI format. Gold borrowers can use the EMI schedule to repay the interest amount and then fully pay the principal amount at the time of maturity.
Alternatively, they can repay the principal first and then pay the total interest. Gold loan borrowers can also opt for partial repayment or complete the repayment irrespective of the EMI schedule within the loan tenure.
Lastly, gold loans can also be paid in the bullet repayment format, where the principal and interest amount is repaid at the end of the loan's tenure.
Not many people are aware of this but borrowers of gold loans can also get tax benefits. If the gold loan amount is used for funding expenses related to home improvement, the same can be availed for tax deduction under Section 80C of the Income Tax Act, 1961. The annual capping for such deduction in 1.5 lakh rupees per year.
Conclusion
Emergencies come unannounced and mostly led to a financial burden. In such a scenario, a gold loan can be the best solution as many lenders are able to provide them at shorter notice with attractive interest rates. Moreover, borrowers don't have to worry about their credit score and repay the loan amount from a variety of options and get back their precious jewellery.
However, borrowers must ensure they avoid local moneylenders who often charge extremely high interest rates and instead take out a loan only from well-known and reputed banks or NBFCs. For instance, IIFL Finance, one of India's largest NBFCs, offers gold loans via both offline as well as a swift online process that can be completed within minutes. The company provides gold loans at competitive interest rates and keeps your precious gold jewellery in secure vaults so you don't have to worry about its safety.