How Gold Loans Became Popular?
Borrowing against gold is becoming more popular. But what are the possible reasons for the increase in gold loan demand? Read to know here!
18 Nov,2022
11:29 IST
44 Views
11 Likes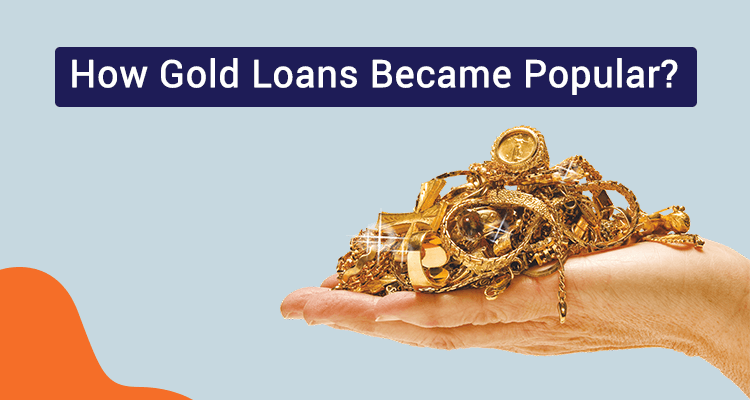 When a borrower avails a loan from a bank or a non-banking finance company (NBFC), it could be against some asset as a security but can also be without any collateral. The collateral can be an immovable asset of value like property or movable assets such as precious metals and gold besides financial assets like shares of a publicly listed company.
Moneylenders in India have been lending against gold articles, be it jewellery or utensils or decorative products, for centuries. The ease of using gold as a mode of financial exchange, and as a dependable security of value due to the relatively stable pricing that rarely declines, has only pushed its importance over time.
Even though it is not the most conventional form of lending in the formal banking channels, the gold loan industry has galloped over the last couple of decades and has gained stature as a part of the organised lending industry.
The increase in value of gold allows people to borrow larger amounts and also provides comfort to the lenders. These two factors are the main reasons behind the growth of the industry.
The simplicity of the process how a borrower can utilise the gold jewellery that is often stored in the cupboards at home or kept in bank lockers, coupled with strong marketing by gold loan companies, has provided the industry with the essential fuel to pull high double-digit growth over several years.
Given the tradition of buying and gifting gold jewellery in weddings and during festivals like Diwali and Dhanteras most people tend to have a stash of some gold ornaments. This can be monetised as a collateral to borrow money.
Uses Of Gold Loans
One important aspect of a
gold loan
is that the borrower is not tied down to how they can use the money availed from the lender. In other words, the product doesn't have end-use restrictions.
This makes it different from a fixed mortgage product like a housing loan, where the money is typically disbursed directly to the seller of the property whether it is a builder or an existing owner of the property. The money borrowed in the gold loan, similar to a collateral-free personal loan, can be utilised for:
• Personal Purposes:
Medical emergency, foreign vacation, school fee of children, family wedding, etc.
• Business:
Working capital or managing cash flows, vendor payment, office or factory lease rental, buying new machinery.
Demand For Gold Loans
The gold loan industry is primarily moulded by the value or price of gold. This is because the amount one can borrow is directly based on that. The long-term price trend of the yellow metal has only strengthened the industry.
Until 2011, around 1,81,881 tonnes of gold had been mined in the entire human history and a little over half was present in the form of gold jewellery, as per industry estimates. In 2017, the World Gold Council had come out with its estimates that said Indian households comprise around 13% of the total. Moreover, rural India accounts for around two-thirds of the total gold holdings in India.
If we consider the statistics on bank loans against gold jewellery, the total sum rocketed from around Rs 34,000 crore as of March 31, 2020 to around Rs 61,000 crore in 2020-21— the first year under the Covid-19 pandemic. This shows how borrowers shunned their reservations about parting temporarily with the jewellery to borrow at low interest rates, especially during moments of crises.
The total gold loans via banks rose by around 20% to Rs 74,000 crore during the 12 months ended March 31, 2022.
In comparison, the overall personal loan market grew in the 10-12% range over the last two years of the pandemic. This has added heft to gold loans as a category.
The same trends are visible for NBFCs, too, who already dominate the business. Over 60% of around Rs 2 trillion worth of gold loans business is with private financiers or NBFCs.
Growth Drivers
If we look at growth drivers, it is the aggressive push by NBFCs who have successfully communicated how one can borrow easily against gold while sitting at home. The process does not take long as it has been digitised. The
gold loan application
can be made online and a representative of the lender comes to the borrower's doorstep to value the gold and then a quick loan offer is made.
This is arguably the most convenient and swiftest form of a secured loan in the country. As against this, other collateral-backed loans require longer due diligence and evaluation by lenders.
But the most significant push for gold loan comes from its benefits to the borrower. One can monetise idle gold jewellery for small or larger amounts, unlike a personal loan that comes with both lower and upward limits.
Moreover, gold loans entail the lowest interest rates to the borrower. This makes it a compelling product as against availing a plain-vanilla personal loan or taking cash from credit card, both of which involve high interest rates.
Conclusion
Gold loans have become the fastest-growing segment because of the simplicity of availing short-term loans on sweet terms such as flexibility of use, lowest interest rates and swift disbursal.
Top NBFCs like IIFL Finance offer gold loans from as low a sum as Rs 3,000 without any upper limit with a repayment period of two years. IIFL Finance provides gold loans via a fully digital process, making it convenient to monetise gold ornaments for meeting short-term requirements.