How Gold Loan Help You For Short-Term Business Needs
Uncover the benefits of a gold loan for meeting your short-term business needs. Read this article & take your business to the next level with the help of a gold loan!
16 Jan,2023
12:02 IST
2418 Views
1402 Likes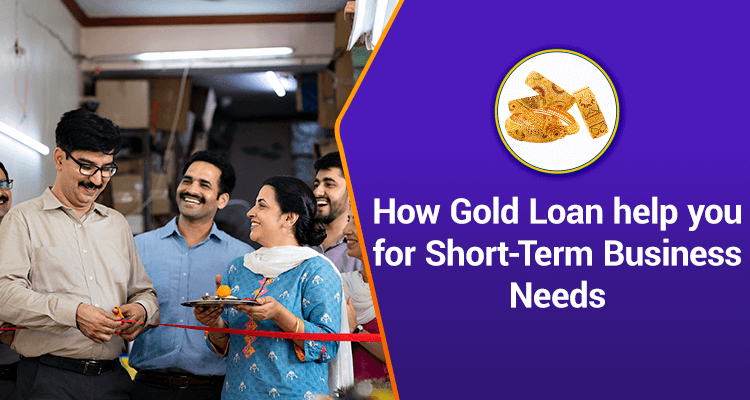 Micro, Small, and Medium Enterprises (MSMEs) contribute significantly to the nation's socioeconomic development. Although the sector has enjoyed continuous growth, quickly obtaining funds for emergency needs is challenging for such organisations.
Gold loans are a viable financing option when small businesses lack funds to fulfill orders, upgrade technology, maintain manufacturing cycles, and perform other day-to-day operations. Below are some of the benefits of using gold ornaments as a means of funding your short-term financial needs.
Benefits Of Gold Loans For Businesses Expenses
Some
gold loan advantages
for business needs include:
1. Less Documentation
In addition to serving as proof of the loan amount, the gold submitted by the borrower eliminates the need for extensive and complex documentation. Therefore, gold loans are one of the simplest forms of financing.
Using KYC documents as proof of identity and residence eliminates the lengthy, hectic paperwork and extra certifications. It is particularly helpful for business owners with less time to complete lengthy loan applications and approval procedures during financial emergencies.
2. Quick Processing
In most cases, lenders disburse gold loans within hours of receiving an application since they require minimal documentation. As a result, it is the best option for raising funds instantly.
3. No Credit Score
A low credit score or no credit history may make it difficult for business owners to obtain traditional financing through other types of loans. There is, however, no requirement for credit or a particular CIBIL score when
applying for gold loans
. To raise funds, a borrower only needs gold.
4. Low-Interest Rates
One important
gold loan benefit
is that they have attractive and reasonable interest rates. There are no hidden costs or extra charges. A gold loan's nominal interest rate ensures that business owners can pay off the loan obligation in full without incurring further financial strain in the future.
5. Several Repayment Options
Concerning repayment, gold loans offer consumers a great deal of flexibility. You can either pay EMIs regularly or repay the entire amount in one payment at the end of the loan term. It is also possible to defer the entire principal repayment to the end of the loan term by only paying interest. It reduces the burden of repayment for business owners requiring instant funds.
6. Flexible Tenure
Typically, gold loans have tenures between six and 24 months. You can choose the tenure and repayment options based on your financial situation and business goals. By doing this, business owners in a financial crunch are relieved of the burden of repayment.
Apply For A Gold Loan With IIFL Finance
Gold loans are the best sources of quick cash for business owners struggling with the current cash crunch. IIFL Finance allows you to take out a
Gold Loan
to meet your financial needs, such as business needs, unexpected expenses, and paying bills. Fill out an IIFL Finance gold loan application to secure your funding today.
Frequently Asked Questions
Q1. Can you use gold loans for business purposes?
Ans. You can use a gold loan for personal cash needs and business purposes.
Q2. What is the advantage of a gold loan over a business loan?
Ans. As gold loans are secured loans, the interest rate is much lower than business loans.