How Does Keeping The Gold Loan In Bank Lockers Work?
Don't know if Bank Lockers are safe or not for Gold Loan? Read this article that will help you to understand how does keeping the Gold Loan in bank locker works.
29 Oct,2022
12:10 IST
17 views
8 Likes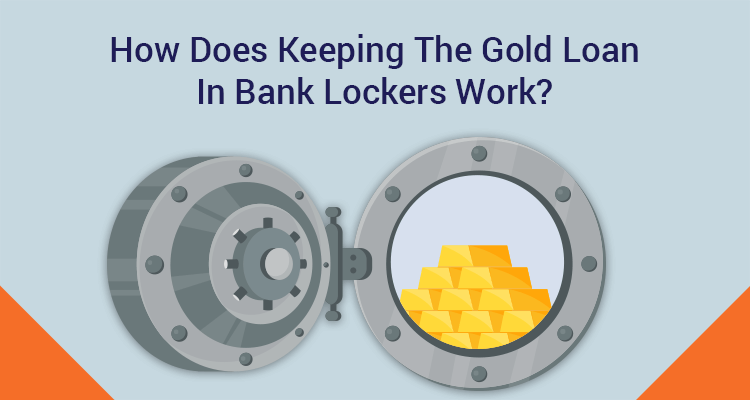 Most Indian households own or invest in gold. However, owing to its high value, they avoid keeping it at home due to a higher risk of theft. There are no extensive safety measures at home to safe-keep the physical gold, making storage of gold in bank lockers a wise decision.
A bank locker is a facility for people to store their valuables safely at a nominal cost. They prefer bank lockers as they protect the gold in high-safety vaults with a hardened steel doors. Every customer has a single key to use to access their lockers whenever they want.
Is It Good To Keep Gold In Bank Lockers?
Bank lockers are one of the safest facilities to keep gold safe as financial institutions take numerous high-security measures to protect assets against theft and other external problems. Banks adopt innovative infrastructure to create such vaults deep inside the building for maximum security.
The bank locker area is highly secure, and no individual, staff member or customer, is permitted to enter without prior application. However, the gold owners do not earn any gold interest in bank lockers or get any other monetary benefit. They have to pay a fee to the banks for availing of the bank locker facility.
How Does Keeping The Gold Loan In Bank Lockers Work?
The gold ornaments kept in the bank locker have monetary value, which increases with the rise in the gold prices in the domestic market. However, the gold lies dormant in the bank lockers. One of the best ways to use the kept gold is through an ideal
gold loan.
You can either take a gold loan in a bank or choose an ideal NBFC to leverage the gold to raise immediate capital. A gold loan is a loan product through which you can raise quick funds by pledging the gold kept in bank lockers as collateral.
You can take a
gold loan online
for better benefits, such as application approval in under 5 minutes and disbursal within 30 minutes. A
gold loan online
has no end-use restrictions where you can use the loan amount for personal or business purposes without being answerable to the lender.
Avail Of An Ideal Gold Loan With IIFL Finance
IIFL Finance is India's leading financial services provider offering customised and comprehensive gold loans. With IIFL Finance's gold loans, you get industry-best benefits through our process designed to deliver instant funds based on the value of your gold within 30 minutes of application.
IIFL Finance Gold Loans come with the lowest fee and charges, making it the most affordable loan scheme available. With a transparent fee structure, there are no hidden costs you have to incur after applying for the loan with IIFL Finance.
FAQs
Q.1: How much do banks charge for a bank locker facility?
Ans: Bank locker charges are nominal and can range between Rs 500 - 3,000 per annum based on the locker size and the branch's location.
Q.2: Do I earn interest by storing gold in bank lockers?
Ans: No. You do not earn any interest on the gold you keep in bank lockers.
Q.3: How can I get a gold loan from IIFL Finance?
Ans: Getting a gold loan from IIFL Finance is super easy! Click on the 'Apply Now' button mentioned above and fill in all the required details to get a loan approved in 5 minutes.