Gold Loans—An Easy Way To Buy The Home Of Your Dreams
A gold loan is an easy option to fund the purchase of the home of your dreams. Learn how gold loans are an easy way to buy the home of your dreams!
22 Dec,2022
12:17 IST
1584 Views
921 Likes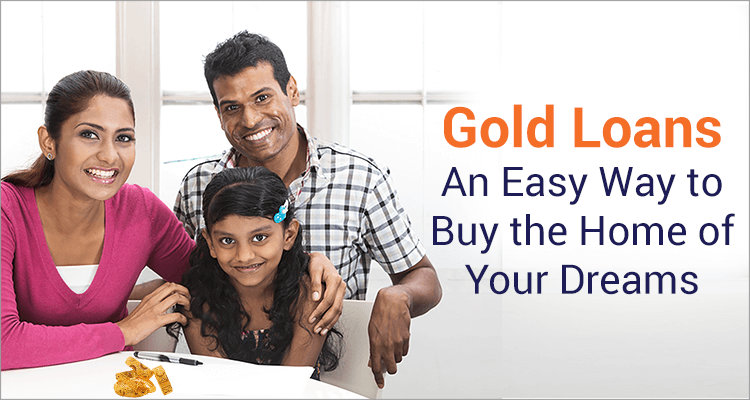 People who are in need of short-term cash to purchase their dream home and want to avoid exhaustive documentation can avail of the easy option of taking a gold loan via a quick hassle-free process.
A gold loan is a secured loan that a borrower takes from a bank or a non-banking financial institution by submitting their gold ornaments, or even coins in some cases, as collateral with the lender.
The borrower temporarily holds the gold jewellery and lends against it. When the money is paid back the jewellery is returned to the borrower.
The borrower is required to provide their gold asset as a security, which is similar to a mortgage loan. However, it usually has a shorter tenure typically ranging from six months to 24 months.
Gold Loan Versus Home Loan
Potential home buyers may opt for gold loans due to their less stringent eligibility criteria when compared with a mortgage. This is also a valuable tool to bridge any shortfall in the required amount to purchase the home.
Home loan interest rates are usually lower than that of a gold loan, due to their tenure which can go up to 30 years. This also renders the EMI to be much lower than that of a gold loan. Therefore, a home loan is typically preferred to fund the bulk of the purchase.
However, the interest rates on gold loans are lower compared to other forms of credit facilities, such as personal loans and credit loans. Therefore, it is a more viable option than others to plug any funding gap or as an initial down payment for a home.
To secure a home loan one has to go through a lengthier process. The approval, sanction, and disbursement of funds require at least a few weeks, as more time is needed for the evaluation of many documents for identity, income, residence, and property checks. Therefore, as seed money or for a down payment, a gold loan can be availed at much shorter notice, with only an evaluation needed for the gold jewellery or coins, and minimal paperwork.
A home loan requires you to fulfill eligibility criteria for income proof and credit score, which is not needed for a gold loan.
Home loans can be repaid through various EMI options. However, a gold loan has many repayment methods such as bullet repayment, overdraft facility, and EMI options, among others. Some banks and financial institutions allow repayment of gold loans with nominal closure fees, apart from the Goods and Services Tax.
Criteria For Availing Gold Loans
Anyone who owns gold jewellery or gold coins is eligible to apply for a gold loan. The applicant is required to be between the age of 18 years to 60 years. However, the age criteria differ from bank to bank.
With the submission of the jewellery or coins as collateral, the borrower's credit score is not usually taken as a criterion to sanction a gold loan.
Interest Rate, Processing Charges
A gold loan is a secured loan, where a borrower must keep gold jewellery as collateral. Therefore, the interest rates on it are lower than other means of credit, such as personal loans and credit loans.
At present, gold loans carry an interest rate between 7.5% and more than 20%, wherein banks offer better rates of interest for gold loans when compared with a non-bank lenders.
Banks and non-bank lenders also charge a processing fee to approve a gold loan which can vary between 0.10% to 1% of the loan amount.
Most lenders offer a gold loan with a value up to 75% of the current market price of gold. This is in line with the Reserve Bank of India's guidelines and gives the lenders some cushion in case of a sudden fall in the price of gold.
Quick And Easy Loan With Door-Step Service
If a shortfall of cash or inadequate documents are standing between you and your dream house, then a gold loan is the best option. Therefore, without any property visits, lengthy documentation, numerous proofs of income, and financial statements, funds can be secured to enable the purchase your dream home.
Conclusion
A gold loan is seen as the best form of short-term borrowing and an easy option to fund the purchase the home of your dreams. It is a hassle-free loan that can be processed easily in a short period of time, as it can be taken without much scrutiny and paperwork as long as the value of gold in the ornament is more than enough to cover the borrowing amount.
IIFL Finance, one of India's top non-bank lenders, offers gold loans at attractive interest rates through a swift digital process with minimal documentation. It also provides flexible repayment terms that help borrowers pay back the loan without stress on their finances and improve their credit score.
IIFL Finance, one of the pioneers of digital gold loans, approves gold loan in five minutes and disburses the amount within just 30 minutes. The Money@Home scheme of IIFL Finance digitizes the process of taking a gold loan with a simple online application and an underwriting to disbursal process that is digital-first.