Can I get a gold loan without a PAN card?
Can I get a gold loan without a PAN card? Click here to know what documents are required & what things are to be kept in mind while applying for a gold loan!
13 Jun,2022
07:07 IST
127 views
24 Likes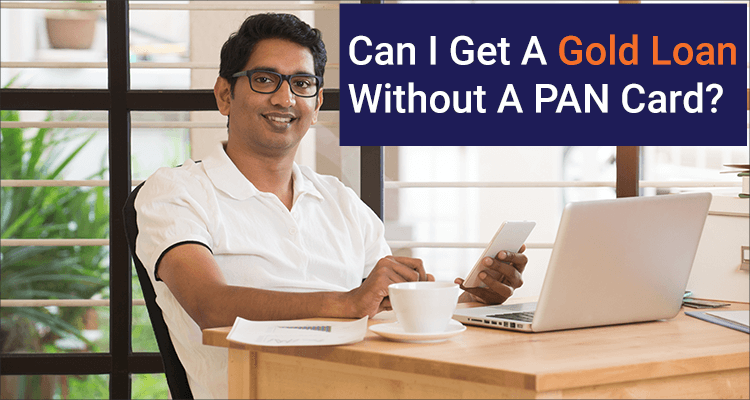 Can I get a gold loan without a PAN card?
A gold loan is a convenient way of availing borrowed capital, especially for immediate and short-term requirements. Indeed, gold loans are gaining popularity in India and often prove to be saviour for people who need urgent capital, whether to pay off their medical bills or tide over a cash crunch in their small business and so on.
What is a gold loan?
A gold loan is a secured loan that a borrower takes from a bank or a non-banking financial institution keeping their gold as a security. Due to the involvement of collateral, a gold loan is similar to a mortgage loan.
However, a gold loan generally has a shorter term that typically ranges from six months to 24 months.
Interest rate, processing charges
The interest rates on gold loans are lower compared to other forms of credit facilities, such as personal loans and credit loans. This is because a gold loan is a secured loan, where a borrower must keep gold jewellery as collateral.
Also, banks usually charge a lower interest rate compared to non-bank lenders. The interest rate in the case of a gold loan is currently between 7.5%-12%.
In addition, both banks and non-bank lenders charge a processing fee to approve a gold loan. Most lenders charge 0.10% to 1% of the loan amount as the processing fee.
Eligibility for a gold loan
Anyone who has gold jewellery or even coins can apply for a gold loan. Many borrowers prefer gold loans due to their less stringent eligibility criteria. While the age criteria vary from bank to bank, the applicant must be within 18 years to 60 years. The borrower's poor credit score usually doesn't come in the way of sanctioning a gold loan as the jewellery or coins are kept with the lender as collateral against the loan.
Repayment
Borrowers can choose a flexible tenure and EMIs or non-EMI schemes, whichever suits them best. Some banks and financial institutions allow repayment of gold loans with a nominal closure fees and Goods and Services Tax.
Loan sanction process
Documentation and evaluation are two important parts of the process. Usually, a proof of income is not mandatory to avail the loan. Also, no separate address proof is required in case a document contains both identity proof and the address of the applicant.
The lender verifies the submitted documents and also, checks the purity and weight of the gold that would be kept as collateral. After the quality and value of the gold are determined and the KYC process is completed, the financial institution and the customer agree upon the terms of the gold loan.
How do lenders determine the loan amount?
Most lenders offer a gold loan with a value up to 75% of the current market price of gold. This is in line with the Reserve Bank of India's guidelines, and gives the lenders some cushion in case of a sudden fall in the price of gold. The loan is approved following the agreement, and the determined amount is credited to the borrower's account.
Documents required for gold loan
Document submission is part of the Know Your Customer (KYC) norms and checks as mandated by the Reserve Bank of India for all commercial banks and NBFCs. Here is a quick check list of documents from the borrowers:
• Aadhaar card (Mandatory)
• Document of Identity proof (Any one of these: PAN card, Passport, Driving Licence, Voter's ID)
• Document of Address proof (Any one of these: Passport, Driving Licence, Ration Card, Electricity Bill)
PAN card
The Permanent Account Number (PAN) card, issued by the Income-Tax Department, is a critical document for income verification and credit check of the applicant.
However, PAN card is not mandatory to avail a gold loan, although it may provide some extra comfort to the lender about the borrower's financial position and repaying ability.
Conclusion
If you don't have a PAN card or don't want to submit it, you can still take a loan. However, you need to submit certain other documents as your identity and address proofs.
Many banks and financial institutions such as IIFL Finance offer instant gold loans following a simple and easy KYC and document verification process.
In fact, if you need a gold loan, you can provide just your Aadhaar number and IIFL Finance representatives can complete the KYC process electronically on their tablets and no other document will be required.
For borrowers in rural areas, IIFL Finance also accepts the job card provided under the National Rural Employment Guarantee Scheme as an address and identity process.