Gold Loan Vs. Loan Against Property - Differences You Must Know
The two most utilized loan products are gold loan & a loan against land property. Get to know the difference between gold loan & loan against property here!
27 Oct,2022
19:06 IST
10 views
2 Likes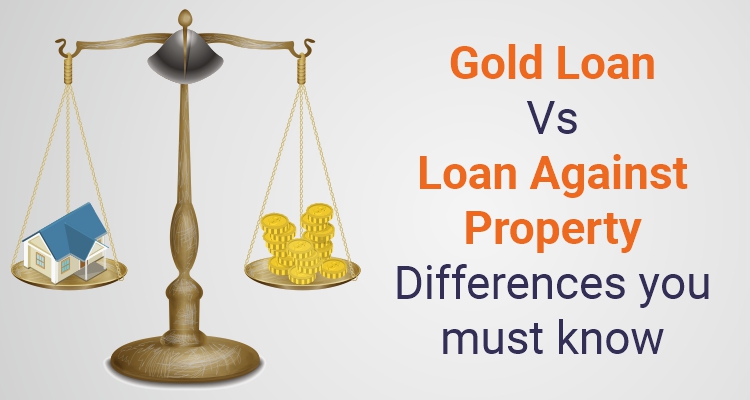 Life is an endless cycle of ups and downs where the need for capital is constant. Whether to cover personal expenses or invest in a business to earn profits, people need adequate funds to ensure the effective coverage of expenses. Most people raise capital through various loan products. Two of the most widely utilised loan products are a loan on gold jewellery and a loan against land property.
Gold Loan Vs. Loan Against Property - What's The difference?
Here are the most distinctive differences between a
loan on gold jewellery
and a
loan against a house property:
• Loan Amount
Before applying for either loan, analyse the current value of the gold ornaments and the house property. Lenders such as banks and NBFCs approve the loan amount based on the value of the gold or the immovable asset, which is generally 75% of the total value. Analysing both assets will determine the one with the higher weight and fetch you the highest loan amount.
• Loan Tenure
A gold loan has a tenure of up to 24 months, within which the borrower has to repay the loan amount. However, a loan against property is a long-term loan with a tenure of up to 18 years.
• Collateral
Gold loans require pledging gold ornaments as collateral, while a loan against property requires pledging an immovable asset such as a house or land as collateral. Hence, gold loans are considered more flexible and quick than loans against property.
• Approval and Disbursal
The application process for a gold loan is completely online and is quick and straightforward. Lenders approve gold loans within 5 minutes of application and disburse the loan amount into the bank account within 30 minutes.
The application for a loan against property is extensive. It may take days to approve, and the lender disburses the loan amount into the borrower's bank account.
Avail Of An Ideal Gold Loan With IIFL Finance
With
IIFL Gold loan
, you get industry-best benefits through our process designed to offer instant funds based on the value of your gold within 30 minutes of application. IIFL Finance Gold Loans come with the lowest fee and charges, making it the most affordable loan scheme available. With a transparent fee structure, there are no hidden costs you have to incur after applying for the loan with IIFL Finance.
FAQs:
Q.1: What are the interest rates on IIFL Finance Gold Loans?
Ans: The interest rates on IIFL Finance gold loans are between 6.48% - 27% p.a.
Q.2: How can I apply for a Gold Loan with IIFL Finance?
Ans: Getting a gold loan from IIFL Finance is super easy! Click on the 'Apply Now' button mentioned above and fill in all the required details to get a loan approved in 5 minutes.
Q.3: What is the loan tenure for the IIFL Finance gold loan?
Ans: The loan tenure for an IIFL Finance gold loan is up to 24 months.