What Is A Gold Loan Scheme And How Does It Work?
The bank takes your gold as collateral for the period of the loan. Check out how a gold loan works & how it helps us with our emergency cash needs.
12 Jul,2022
06:45 IST
53 views
35 Likes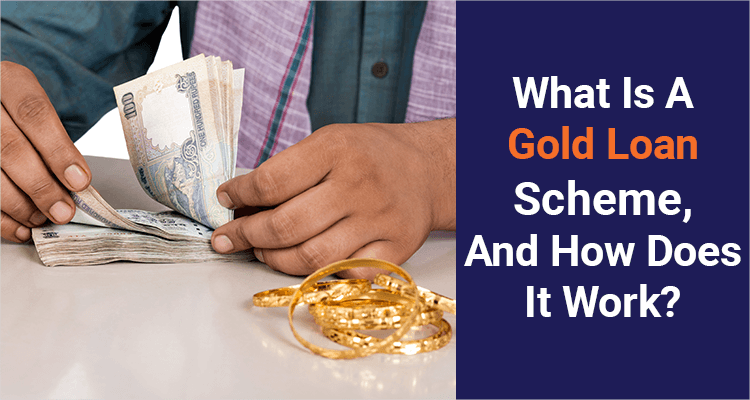 Gold has been a savior for many Indians, from weddings to festivities to tough times. People's trust in gold has made it as valuable as it is today. It is popularly known as a haven for various reasons. One of the most important ones is its liquid nature. It is easy to convert it into cash and get a gold loan.
A gold loan is a form of secured debt provided by the banks and NBFCs where the borrower pledges their golden elements. The process of availing a gold loan from IIFL Finance is simple:
1. Visit any of the 1900+ gold loan branches pan India or apply online.
2. A simple e-KYC with your Aadhaar Card number.
Rates and charges
The gold loan at IIFL Finance starts at an interest rate as low as 0.83% p.m. onwards. It varies depending upon the tenure and amount of the loan. Additionally, purity plays an important role in determining the interest rate.
Documents Requirement
IIFL Finance accepts a variety of identity and address proof, including-
• Aadhaar Card
• Valid passport
• Ration Card
• Electricity Bill
• Valid Driving License
• Voter ID Card
• Job Card Issued by NREGA
• Electricity Bill
IIFL Finance Gold Loan Scheme
IIFL Finance provides several schemes under their gold loan business as shown below:
| | | | |
| --- | --- | --- | --- |
| Parameters | IIFL SPL 1 | IIFL SPL 2 | IIFL SPL 3 |
| Loan value | Best loan value is provided | Best loan value is provided | Best loan value is provided |
| Interest rate | Reasonable interest rates | Starts from 0.83% p.m. (9.96% p.a.) | Starts from 0.79% p.m. (9.48% p.a.) |
| Minimum loan amount | INR 3,000 | INR 5,00,000 | INR 10,00,000 |
| Maximum loan amount | No cap | No cap | No cap |
| Tenure | 24 months | 24 months | 24 months |
| Insurance | Free for pledged ornaments | Free for pledged ornaments | Free for pledged ornaments |
| Digital Gold Loan Facility | Available | Available | Available |
Additionally, there's a special scheme, ideally for farmers, called the IIFL Agri Loan. It is a half-yearly scheme starting from INR 3,000 with attractive interest rates.
Benefits of a gold loan
Gold loans have been an age-old concept, but now, it is more structured and easy to avail of at great prices. A few benefits of taking a gold mortgage loan are:
1. Lower Interest Rate:
A gold loan is cheaper compared to other unsecured and personal loans. The gold loan interest rate from IIFL Finance starts from as low as 0.83% per month; one of the best rates in the market.
2. Processing Fee:
Gold loan charges one of the lowest processing fees, with IIFL Finance charging as low as INR 0, depending upon the availed scheme.
3. Easy Verifications:
The documentation process for gold loans isn't as complex as other types of loans. There are bare minimum documents required, like address proof and identity proof.
4. Insurance Cover:
The gold ornaments pledged by the borrower are protected by insurance.
Apply for a gold loan scheme with IIFL Finance
IIFL Finance, a leading gold loan lender. Since its inception, it has helped several borrowers have a hassle-free experience. They have thirty years of experience in providing gold mortgage loans to 6 million satisfied customers who received their financing smoothly.
IIFL offers competitive interest rates and flexible repayment terms for short-term gold loans. They ensure the safety of your collateralized physical gold until the required amount has been repaid. There are absolutely no additional costs at the redemption of your gold mortgage. You can also avail yourself of digital gold anytime, anywhere. In case of any query, you can contact our 24-hour customer service team via phone or live chat.
Walk into any of our branches pan India or apply online, fill out an e-KYC and get approved for a gold loan in under 30 minutes.
Frequently Asked Questions
Q.1: What are the various gold loan schemes provided by IIFL Finance?
Ans: IIFL Finance majorly provides schemes that include the minimum loan amount of INR 3,000 with no cap and reasonable interest rates.
Q.2: Is there any gold loan scheme for farmers?
Ans: Yes, IIFL Agri Loan is ideal for farmers. It is a half-yearly scheme starting with INR 3,000 at attractive interest rates.