Should You Take A Gold Loan For Higher Education Expenses?
Planning for higher education but worried which one to consider, gold loan or education loan? Here's an article that will help you understand the differences!
30 Aug,2022
08:40 IST
132 Views
68 Likes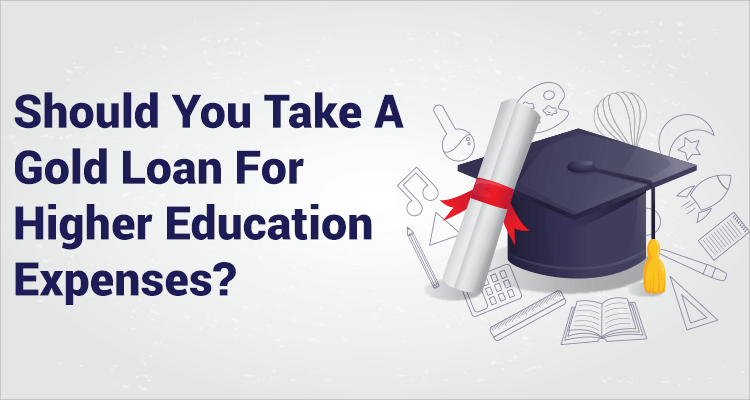 Pursuing higher education in India and abroad can be expensive, especially after an economic downturn. Colleges are breaching affordable limits for many mid-income families across the country, making education loans necessary.
Applying for a student loan can be a tedious process, since they come with several eligibility criteria and other conditions. This article will help you determine whether you should opt for an education or a gold loan for further studies.
Challenges In Availing Of Education Loans
Education loans have become a common phenomenon with rising education costs in India and abroad. The RBI has also introduced specialized education and study loans which are available at various financial institutions. However, these loans have a few limitations that make their availability difficult.
• Stringent Eligibility Criteria:
These loans are available specifically to students accepted in recognized colleges and universities.
• Partially Subsidized Education Interest Loan:
Only students accepted in Ivy League Colleges or equivalent institutions are allowed subsidised education loan interest rates.
• Selective Expenses:
Typically, an education loan only covers tuition fees and other university or college charges. You have to bear the travel, lodging costs, and other expenses out of your pocket.
• Credit Score Or Guarantor Required:
Since it is an unsecured loan, financial institutions grant the loan through an appraisal process based on one's financial standing or at least a guarantor.
Education loan eligibility criteria and conditions reduce the risk of lending. However, there are a few alternatives available that you can consider to avail financing for your education. Gold loans are one of the most convenient means to gather funds.
Why choose a gold loan?
This loan type is one of the easiest ways to fund your needs. A few of the reasons that make a gold loan a preferable option include:
1. Flexibility:
Gold loans do not require borrowers to fulfill stringent eligibility criteria to avail themselves. Students can avail of a gold loan regardless of merit to sponsor their higher education without any financial hurdles.
2. No End-Use Restrictions:
Gold loans possess no restriction on their use. You can use it for your educational purposes.
3. No CIBIL Score Required:
The best part of a gold loan is that it does not require a credit history.
Apply For A Gold Loan With IIFL Finance
IIFL Finance is a leading gold loan lender. Since its inception, we have successfully provided a loan against gold to 6 million satisfied customers who received their funds hassle-free.
IIFL offers the gold loan interest rate at a reasonable rate. We also ensure the safety of your collateralized physical gold until the required amount has been repaid. There are absolutely no additional costs at the redemption of your gold mortgage. If you have any questions, you can contact our 24-hours customer service team via phone or live chat.
Getting a gold loan has never been easier! Walk into any of our branches pan India, fill out an e-KYC and get your loan approved in under 30 minutes.
Frequently Asked Questions
Q.1: Is getting an education loan difficult?
Ans: Education loans can be challenging to avail of and are only helpful to a few students due to various criteria or restrictions.
Q.2: Is a gold loan a better option to fund my higher education?
Ans: A gold loan can be a more flexible and easy alternative to fund your higher education if you have enough gold in hand.