Gold Loan: Expectations Versus Reality
Before availing a gold loan, you must be aware of the facts about gold loan in detail. Read to know the expectations & reality of gold loan here!
4 Jan,2023
07:27 IST
1963 Views
1289 Likes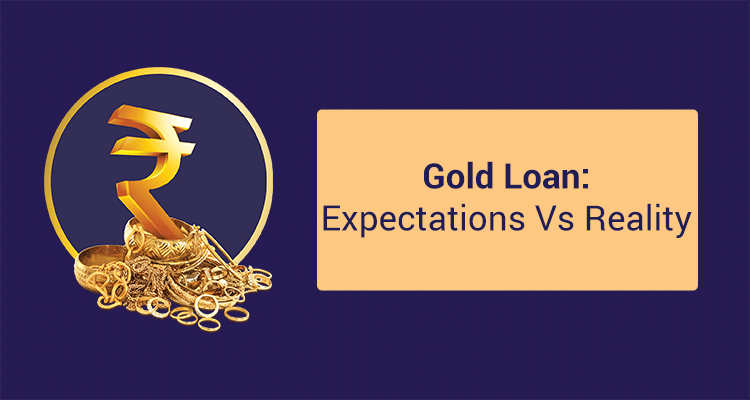 A gold loan is essentially a secured loan where the borrower offers personal gold jewellery as collateral against the money borrowed. Whenever one is short on money, one can avail a gold loan to meet short-term financial needs, which could range from paying off a medical bill to a kid's school fees to even some necessary home repairs. Simply put, there is no cap on how money borrowed as a gold loan may be used.
Most good lenders allow for the entire process, from application to verification of the gold to repayment and closing of the gold loan, to be done online and from the comfort of the borrower's home. The gold that is offered as collateral is kept safe by the lender and is returned once the loan and interest have been fully repaid, at the end of the tenor of the loan.
Moreover, since the borrower pledges gold as collateral, their credit history does not matter. So, as far as a gold loan goes, a borrower's CIBIL score is irrelevant.
One of the best things about availing a gold loan is that one needs minimal paperwork. All a borrower needs to do is furnish basic details including:
1. Their name, gender, address and age
2. Proof of identity (Passport, Voter ID card, Aadhaar card etc)
3. Proof of address (Passport, Voter ID card, Aadhaar card etc)
4. Bank account details
5. Passport size photograph
Expectations Vs Reality
While a gold loan is undoubtedly a quick and easy option to avail a loan, borrowers should be aware of certain features and practices related to this credit product before pledging their precious jewellery.
• A lender needs gold of a minimum purity of 18 karat. Having said that, these norms differ from lender to lender. So, if your gold jewellery has a purity of less than 18 karat, you may not be able to get a loan.
• The money lent depends on the purity of the gold kept as collateral. It is determined by a factor known as 'Loan to Value' (LTV), which is typically a percentage of the value of the gold pledged. Typically, lenders can lend up to 75% of the value of the gold, as per regulatory guidelines. This means that if you are pledging gold ornaments that have a market value of Rs 1 lakh, you will get a loan of no more than Rs 75,000. So, borrowers should analyse their financial requirements accordingly and prepare beforehand.
• Lenders do not typically consider precious stones embedded in the gold jewellery while reviewing an application for a gold loan. So, any diamonds or rubies that maybe embellished in the ornaments will be discounted and only the value of the gold will be calculated for the purposes of the loan.
• Another factor that borrowers should thoroughly check is the interest rate on the gold loan. The interest rate varies widely, from 11-12% to 25-30%, depending on various factors.
Things To Keep In Mind While Applying For A Gold Loan
1. Approach Only Reputed Lenders:
Although the gold loan market is huge and fragmented with lots of small jewellers, borrowers should approach only reputable banks and non-banking finance companies as they offer some of the most competitive rates in the market. Moreover, good lenders also allow for a seamless process—from application to valuation to disbursement and finally to repayment and closure of the loan.
2. Tenure Of The Loan:
The longer the tenure, the smaller the EMI one needs to pay. Having said that, the longer the tenure, the higher is the overall interest outgo, and vice versa.
3. Repayments:
Borrowers should typically choose flexible repayment options and tenures that suit their pocket and allow them to repay without stretching their finances much. Good lenders allow borrowers to pay the interest first and then the principal amount at the end. Conversely, they can be smart and pay off the principal first, so that their overall interest cost comes down.
Conclusion
A gold loan can be one of the best and easiest ways to get some quick cash if you are falling short, for the short term. While hundreds of banks, non-banking finance companies and local moneylenders offer gold loans, as a borrower, make sure to approach a good lender like IIFL Finance, so as to make the process seamless and hassle-free.
Not only does IIFL Finance allow you to apply online, but also helps value your gold at home. Moreover, you can also repay the loan online. In the meanwhile, your personal gold is kept safe in secure vaults, and is returned to you when the loan is closed.