Finance Your Dream Franchise Or Dealership With A Gold Loan
Want to finance your franchise or dealership? Turn to gold loan to finance your dream franchise business with extra perks. Visit to know more details!
24 Aug,2022
09:13 IST
179 views
12 Likes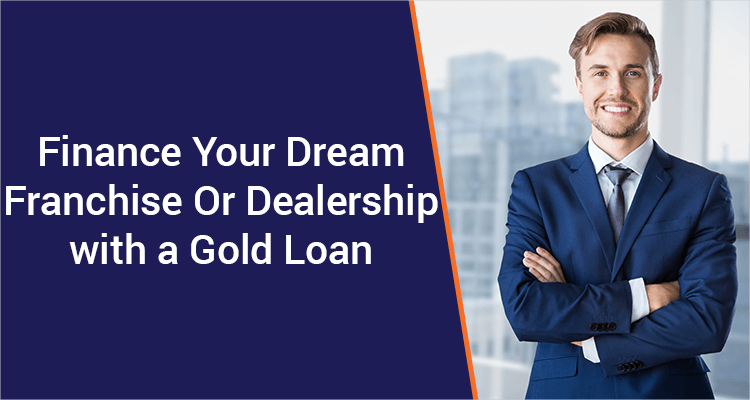 A franchise or dealer is a business structure in which one organization (franchisor) licenses the rights and authority to sell and grow a business to another provider (franchisee). This business type is a common strategy often considered a wise approach to business expansion.
One of the best examples of the franchise business model is the fast food chain: McDonald's. Other examples include Khadims, Reebok, Audi, and many more. However, the dealership requires a tremendous initial investment in the business.
Therefore, apart from raising funds to acquire the franchise, you should consider providing budgets such as working capital, employee wages, and incidental costs before you start your business. The sum of these expenses is the total amount you will need when seeking a franchise loan.
Financing Your Franchise Business
Surprisingly, many Indian franchisees say this is their first business venture. These efforts are rewarding as the younger population is more likely to accept foreign business practices. From food chains to footwear to car brands–you could dream of opening any franchise or dealership business.
Additionally, the availability of franchise finance has made it easier than ever to acquire and maintain a franchise business. Various loan types, including gold loans, provide a large amount of money for the pledged gold. The gold loan interest rate is also reasonable and allows borrowers with the most flexible terms.
These loans offer borrowers several benefits, including easy access, secure transactions, and flexible repayment periods that allow you to repay your debt without financial burden. Therefore, it helps collect the necessary financial security without diluting the asset's capital.
Gold Loan For Franchise Or Financing
A gold loan is one of the best options to finance your franchise or dealership dream. Gold loans have the following advantages over other kinds of loans:
1. Quick Disbursals
One of the most prominent advantages of a gold loan is that it is quick and hassle-free. All the documentation processes and approval can be conducted online. After you apply online, a representative will visit your residence to complete the KYC registration and check the gold valuation. If the application is well-filled, the loan can be approved instantly.
2. High Loan-to-value (LTV)
The LTV or Loan-to-Value Ratio determines the ratio of the maximum loan that a lender can offer to you. The gold loan value depends on the loan-value percentage provided by the lender, the purity, and weight of the pledged jewellery.
Apply For A Gold Loan For Your Franchise Business With IIFL Finance
IIFL Finance is a leading gold loan lender. Since its inception, it has achieved a hassle-free experience for various gold loan borrowers. We have successfully provided gold mortgage loans to 6 million satisfied customers who received their funds effortlessly.
IIFL offers competitive interest rates and flexible repayment terms for short-term gold loans. We also ensure the safety of your collateralized physical gold until the repayment of the required amount. There are absolutely no additional costs for the redemption of your gold mortgage. If you have any questions, you can contact our 24-hour customer service team via phone or live chat.
Getting a gold loan has never been easier! Walk into any of our branches pan India, fill out an e-KYC and get your loan approved in under 30 minutes.
Frequently Asked Questions
Q.1: What is a gold loan?
Ans: A loan against your valuable gold in any physical form is known as a gold loan. Here, your gold is the collateral for your cash needs.
Q.2: Why is a gold loan a good option for financing a franchise business?
Ans: A gold loan offers flexible repayment terms, reasonable interest rates, high loan-to-value, and quick loan disbursals.