Factors You Can't Ignore While Applying For A Gold Loan
There are some things you must know when applying for a gold loan. Read to know 4 things you must consider when applying for a gold loan!
2 Oct,2022
09:21 IST
8 views
13 Likes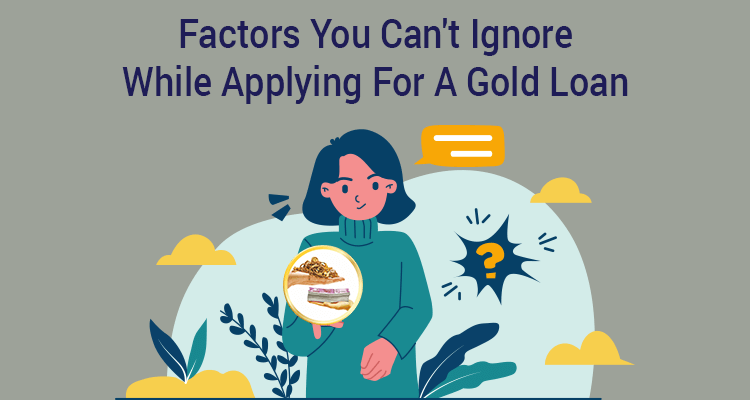 Gold is considered one of the safest investments since time immemorial. It is safely stored until you need to wear it during momentous festivities and occasions or financial emergencies. During such emergencies, you can pledge your gold to avail of a gold loan. However, there are a few things to remember while applying for a gold loan.
This article discusses the factors you can't ignore while applying for a
gold loan online.
Factors To Note While Applying For A Gold Loan
Your gold items act as collateral in a
gold loan.
While it is easy to avail of a
gold loan,
you cannot ignore the following factors while applying for a gold loan.
1. Lender Credibility
Choose a trusted lender who will take care of your valuables until loan repayment. When applying for a
gold loan,
it is imperative to research the reputation and reliability of the lender. Customer reviews help you make a more informed decision. Pay attention to the lifespan and history of the lender and make sure it is trustworthy. Beware of scammers who may rob you of your valuable possessions.
2. Interest Rates
You must compare the interest rate of different lenders and make an informed decision. It is one of the most crucial factors when selecting a
gold loan
scheme to ensure you avail of the highest loan at the minimum interest rate.
3. Loan Amount
The loan amount is another criterion evaluated when applying for a financial loan. You should know that the
gold loan
amount is calculated based on repayment ability and the gold value. Processing fees vary by lender and are likely 2-4% of the loan amount.
4. Loan Tenure
The repayment period for gold loans is between 12 and 24 months. Before applying for a gold loan, borrowers should consider their financial obligations. Remember that not paying back the loan amount will hurt your credit score, and you may not be eligible to apply for additional loans in the future.
Gold Loan Repayment Methods And Structures
Through the app or website, you can get everything at your doorstep while applying for a gold loan. You can also easily calculate EMI and other amounts through the
Gold Loan Interest
Calculation section. Below are some standard repayment methods and structures.
1. Repayment Methods
Some lenders let you pay interest first and then the principal amount at maturity. Other finance companies may ask you to pay interest quarterly, annually, or semi-annually. At the end of the term, you must pay the principal of the gold loan.
2. Repayment Structures
By reviewing your repayment structure before confirming your gold loan application, you can plan your finances and reduce your chances of default. There are four types of repayment schemes, as described below.
• Regular EMI: It is best suited for employees who have regular cash inflows. In this scheme, you can repay the loan in EMIs, including the principal amount.
• Partial Repayment: ​​This type of repayment structure is ideal for freelancers as it allows them to make payments at will. There is no strict repayment schedule, and borrowers are not restricted when making payments.
• Interest Only EMI: This structure requires the creditor to repay the entire amount with interest before or at maturity.
• Full Repayment: The borrower does not have to pay any amount during the loan term. The interest amount is calculated monthly but collected at the end.
Apply For A Gold Loan With IIFL Finance
Trust IIFL Finance for all your gold loan requirements. IIFL Finance is a leading gold loan provider in the country. You can check the rates at your nearest IIFL Finance branch or apply for gold loans online.
The entire process, from application to disbursement, is 100% online. If your gold items clear the purity check, the disbursals take a few hours. This way, you can fulfil your needs and repay them per cycle. Apply for an IIFL Finance gold loan today!
Frequently Asked Questions
Q.1: What is the acceptable quality of gold for a gold loan?
Ans: Typically, gold purity between 18k to 24k is admissible as collateral in a gold loan. However, it can vary from lender to lender.
Q.2: What is the mode of gold loan disbursements?
Ans: The mode of disbursements is predominantly online through IMPS, NEFT, or RTGS or via cash.