Factors Affecting Gold Loan Interest Rate Calculation
There are various factors that influence your gold loan interest rates when applying for a gold loan from lenders. Read to know the 4 factors here Now!
30 Jun,2022
07:01 IST
119 views
22 Likes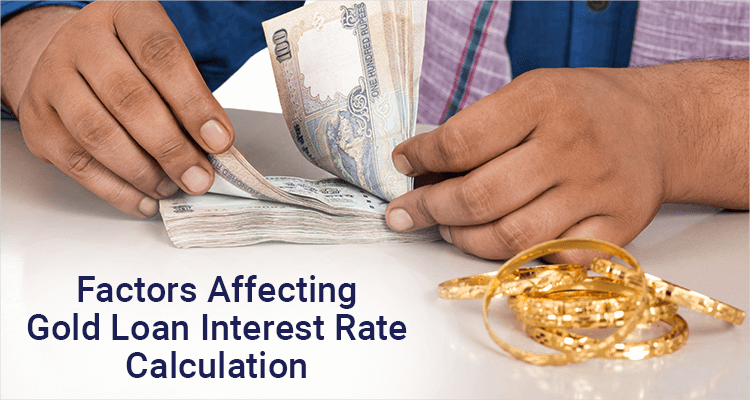 The gold loan interest rate is a critical factor that impacts your finances. Therefore, it is important to understand the interest rate calculation and the factors that lead to its fluctuation. Listed below are the factors that can help you learn how to calculate gold loan interest.
1. Credit Score
Your credit score or CIBIL score is a reflection of your creditworthiness. A good credit score indicates that you have made timely repayments without defaults. Lenders grant lower gold loan interest rates to people with higher credit scores. A lower CIBIL score leads to higher interest rates.
2. Benchmarking
Benchmarking rates can be of 2 types – MCLR linked lending rate and Repo Rate lending rate. Lenders may choose any of the two benchmarking rates. When the RBI changes its repo rate, the gold loan rates will also change.
For instance, if the Reserve Bank of India decides to cut the repo rate by 40 basis points, the lending rate will also have to be reduced by 40 basis points. 20 basis points will lessen the MCLR-linked lending rate.
If the interest rates are linked to the repo rate, EMIs will change every three months. The gold loan rates will change every six months or a year if it is linked to MCLR.
3. Principal Amount
The quantity and quality of gold you pledge directly affects the loan amount you get. Loan-to-value ratio or LTV is the proportion of an asset's value against which a lender is willing to provide the loan. The RBI mandates that the LTV should lie between 75-90%. Lenders may choose to decide on a lower LTV.
The loan amount you are sanctioned plays an essential amount in determining the interest rate. Sometimes, a higher loan amount also increases the amount of interest to be paid by the borrower.
4. Monthly Income
Lenders review your monthly income before approving your gold loan at the subsequent interest rate. Your income indicates your ability to repay the loan amount. Often, the higher your income, the lower the gold loan interest rate. However, a low income may also affect your eligible loan amount.
Get The Lowest Gold Loan Interest Rate With IIFL Finance Gold Loans
IIFL Finance Gold Loan has various schemes with interest rates starting as low as 0.83% per month. You can walk into any of our 1900 branches pan India, complete eKYC within 5 minutes and be eligible for getting money within 30 minutes. You can also apply for a gold loan through the IIFL app and receive cash for your gold right at your doorstep!
Frequently Asked Questions
Q1. Are There Other Gold Loan Charges Involved Apart From Interest?
Ans: Yes, these charges include processing fees, documentation fees, valuation fees, payment default fees, etc.
Q2. Is Bullet Repayment Allowed For IIFL Finance Gold Loan?
Ans: Yes, along with EMI, bullet repayment is also allowed. To check the loan prepayment charges, reach out to the customer portal at IIFL Finance.
Q3. Is The Documentation Process Cumbersome?
Ans: No. Gold loans are the most secured assets on a lender's books. IIFL Finance asks for minimal documentation/KYC and optional income proof from their borrowers.