Compare Different Gold Loan Interest Rates In India
Before availing a gold loan, you must know the interest rates & the various factors which affect the gold loan interest rate. Read to know the complete details!
15 Jul,2022
12:44 IST
142 Views
64 Likes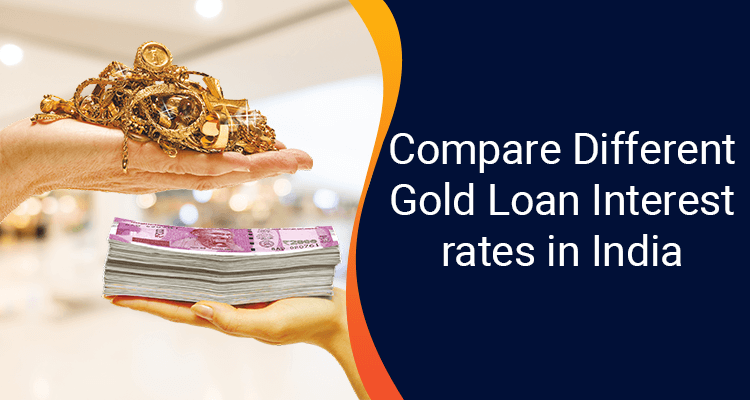 Almost every household in India buys gold jewellery for various occasions. However, once bought, most of the gold articles sit in storage. Gold loans allow individuals to avail of a loan by pledging the gold articles as collateral.
This type of loan has become a widely popular financial instrument and resulted in numerous financial institutions offering gold loans. Hence, it is critical to perform a gold loan interest rate comparison before choosing an ideal gold loan scheme.
How To Compare Gold Loan Interest Rates?
Similar to eligibility criteria, every financial institution also levies different interest rates on their gold loans. It is because of the different costs and charges that come with the business model of different financial institutions.
For example, banks charge a 1-2% processing and valuation fee, which increases their interest rates compared to NBFCs that do not have such charges. Hence, it is important to execute a gold loan interest rate comparison based on various factors that influence the interest rates on gold loans.
Here are the factors that can affect gold loan interest rates:
• Demand And Supply:
Demand and supply highly influence the price of gold in the domestic market and, ultimately, the interest rates on gold loans. If the demand for gold is higher than the supply, the price of gold increases.
On the other hand, if the supply is higher than the demand, the price of gold decreases. Both situations create a fluctuation in the interest rates of gold loans offered by various institutions.
• The Gold Price:
The domestic gold price is inversely proportional to the interest rates of gold loans. The answer to the gold loan rate today is almost always different as the prices of gold fluctuate daily.
While executing a gold loan interest rate comparison, you should search for the gold loan rate today to ensure that the rate of gold is stable. The higher the gold price, the lower the interest rate, as your pledged gold will be valued higher.
• Economic Situation:
As gold is a tradable commodity, investors prefer to buy gold either physically or online when the economy is going through a negative phase. The primary reason is to counter inflation and its consequences on other asset classes such as equities. Since gold sees higher demand, it can also allow borrowers to buy a gold loan with a lower interest rate.
• Loan Tenure:
You should consider loan tenure while comparing gold loan interest rates. Loan tenures highly affect the interest rates considering the period over for your monthly repayment obligations.
The higher the loan tenure, the lower the interest rates will be, as you will have more time to repay the gold loan. Hence, you must choose a financial institution with more tenure options while taking a gold loan.
• Relationship With The Bank:
Most financial institutions tend to offer gold loans to their existing customers as they already know their credit score and history. However, if you are eligible, you can always take a gold loan from any financial institution. Though, in some cases, if an individual has an existing relationship with the lender, they may offer a lower interest rate.
Avail A Gold Loan From IIFL Finance
With IIFL's Gold loan, you get industry-best benefits through our process designed to offer instant funds based on the value of your gold within 30 minutes of application. IIFL Finance Gold Loans come with the lowest fee and charges, making it the most affordable loan scheme available. With a transparent fee structure, there are no hidden costs you have to incur after applying for the loan with IIFL Finance.
| | |
| --- | --- |
| Interest Rate | 6.48% - 27% p.a. |
| Loan Amount | No maximum limit |
| Loan Tenure | 24 months onwards |
| Processing Fee | Rs 0 onwards |
FAQs:
Q.1: What are the documents required?
Ans: Documents required are Aadhar Card, PAN Card, Driving License, Passport, Ration Card, Electricity Bill, etc. Visit the IIFL Finance gold loan page to get the full list of documents to submit.
Q.2: How much time does it take for the disbursal of the loan?
Ans: With IIFL Finance's gold loan, you get the loan amount credited directly into your bank account within 30 minutes after the loan approval.
Q.3: What are the MTM charges?
Ans: IIFL Finance levies a flat fee of Rs 500 as MTM charges for valuing the gold articles to reflect their current market value.