Can Diamond Jewellery Be Used To Avail Of A Gold Loan?
Thinking of availing gold loan with the help of diamond jewellery? Read this article to know if you can avail gold loans with other jewellery!
10 Dec,2022
12:18 IST
45 Views
3 Likes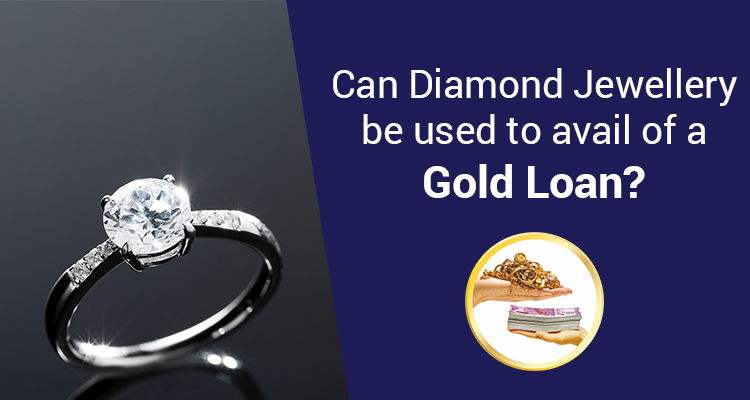 There's a reason why gold is considered a haven over any other gemstone. Diamonds can be lab-made; gold, on the other hand, is a rare metal. However, gold ornaments include certain gemstones and diamonds, which raises the question of whether you can get a gold loan against your diamond jewellery.
What Is A Gold Loan?
A gold loan is an amount borrowed against your gold ornaments or other articles, making it a secured loan type. Gold loan is multi-purpose with no restriction on their ultimate usage. Therefore, a gold loan is an easy way to fulfil your financial needs at a relatively lower cost.
What Type Of Jewellery Can You Use To Avail Of A Gold Loan?
You can use any gold jewellery/ornament/article with a purity between 18-24 carats. However, it is noteworthy that lenders determine the loan amount on the gold piece and excludes any stones attached to it during valuation. The higher the purity of the gold, the higher the loan amount. Hence, gold coins qualify for a higher loan than any other blended piece of jewellery.
What determines the maximum value of a gold loan?
Lenders calculate the current market value of pledged gold based on its weight and purity. The criteria considered while determining the amount of loan approved in place of gold jewellery include the following.
1. Gold Purity:
The quality of the collateralised gold jewellery significantly impacts the loan amount. The eligible gold purity for a loan should range between 18K to 22K. 22K gold contains copper, cadmium, zinc and silver alloys, making it resistant to damage.
2. Loan-To-Value (LTV) ratio:
A loan-to-value ratio is a risk assessment a lender performs before approving a gold loan. It is the amount a financial institution can lend to a borrower as a percentage of the value of the collateral asset. The RBI regulates the LTV ratio on gold loans at 90%. Thus, the lender can only offer a max of Rs. 90 against total gold collateral of Rs. 100.
3. The Monetary Value Of Gold:
Gold weight is an essential factor that lenders evaluate when approving a loan. The only decisive factor in gold jewellery is gold's purity and weight. Therefore, the evaluators exclude the gemstone prices from the valuation.
4. Gold Shape:
Since ornaments have sentimental value, they will pay you back faster. When pledging gold for a loan, be aware that some lenders do not accept gold bars and bullion as collateral.
5. Jewellery With Gemstones:
The loan amount is determined solely by the weight and purity of the gold. Diamonds, precious or semi-precious stones embedded in decorations, are not considered when weighing decorations. If present, it is removed before the final measurement.
Can Diamond Jewellery Be Used o Avail Of A Gold Loan?
There is rarely any lender who provides a diamond jewellery loan or offers a loan against diamond jewellery. Asking for a gold loan against diamond jewellery is like asking for a house in exchange for a passenger car. The values and sentiments attached to the two are far different. Hence, you cannot get a gold loan on diamond jewellery.
You can obtain gold loans only with gold jewellery as collateral. Lenders calculate the value of gold and exclude any gemstones attached to the pledged items. By collateralising the right gold jewellery, you can get tons of credits without selling it. Commit to the highest purity gold gemstone, i.e., 22 carats, to receive maximum funds for your financial requirements.
Avail Of A Gold Loan With IIFL Finance
With IIFL Finance, you can avail of a gold loan. You can also visit the online platform to check eligibility criteria. We also provide competitive interest rates and flexible loan terms.
The entire process can be completed 100% online, from application to disbursement. You may also avail of any assistance if required. Apply for an IIFL Finance loan today!
Frequently Asked Questions
Q.1: How is collateral evaluated for a gold loan?
Ans: The collateral for a gold loan must be between the purity range of 18-24 carats. The loan valuation excludes any precious stones or diamonds attached to your pledged jewellery.
Q.2: What is the LTV ratio for a gold loan?
Ans: The Reserve Bank of India has set the maximum LTV cap of 90% on gold loans in India.