5 Smart Ways To Plan Your Wedding With A Gold Loan
How gold loans can help you finance your wedding? Read to know about the most affordable loans to finance marriage in India. Visit Now!
15 Dec,2022
08:35 IST
5 Views
1 Like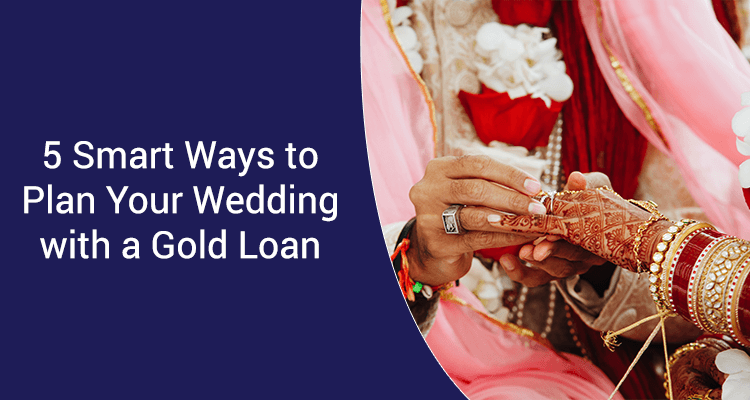 Weddings are among life's most memorable events. Now that you have found "the one," a new, beautiful journey awaits you. It can, however, be quite challenging to plan a wedding. Numerous expenses, including an extensive guest list, venue, wedding outfits, catering, etc., make Indian wedding budgets hefty. In such situations, gold loans can be helpful.
Here are six tips to help you plan your wedding smartly with a marriage loan from a bank.
Planning Your Wedding With A Gold Loan: 5 Smart Tips
It's essential to plan a budget for all the possible costs of your wedding. Through this budget, you can determine whether or not you should take out a loan and how much you should borrow. Here are some tips that will help you plan this budget.
1. Make A Wedding Checklist
Plan your wedding down to the smallest detail in advance. It may include choosing the venue, planning the menu, picking up a relative from the station, or buying your wedding dress. Keeping track of your timeline ensures that your requested arrangements are going according to the plan.
Having a wedding checklist can also help you determine whether you're overburdened. After all, it's your wedding, and you deserve to enjoy it. When you feel your checklist is getting overwhelming, delegate items to others.
2. Plan Your Expenses
Planning your wedding requires a clear budget. Your wedding checklist should include a general budget and a proper allocation of money for each item. Create a solid budget with your parents or anyone contributing to the wedding.
If you need more money, discuss when and where to apply for loans for marriage purposes, such as a gold loan scheme or a personal loan. Gold loans process quickly and require very little documentation. Thus, you can get credit even during wedding planning. Due to the security provided by the gold, lenders charge low-interest rates based on the pledged collateral.
3. Start Your Guest List
Depending on your guest list, your budget is going to change. Therefore, it's essential to plan it out in advance.
Don't wait too long for your guests to respond to your invitation. To arrange vendors, you need to know approximately how many guests will attend. Request your attendees to notify you of their availability as soon as possible.
4. Fix Dates And Venues
Setting a date for your wedding well in advance is a good idea. Weekend weddings, for instance, are more relaxed since more people can attend. Destination weddings may require more planning. There are also times when venue prices are higher on popular dates. If this is the case, it would be best to plan your dates and venue according to the loan amount approved.
Once your dates are set, you can choose your venue. Make sure you read reviews, visit the place yourself and ask your partner for their opinion. Make a list of the requirements you have before choosing a venue. It should be comfortable, spacious enough to accommodate all your guests, and accommodate other preferences, such as a stage or dance floor.
5. Plan Your Honeymoon
Wedding functions can be fun and tiring at the same time. Honeymoon are well-deserved vacation.
However, where you go on your honeymoon is also determined by how much you spend on your wedding. As you plan your wedding, decide whether you want an extravagant honeymoon or an extravagant ceremony. When choosing a destination, start looking at hotels and booking tickets.
Why Choose Gold Loan to Finance Your Wedding?
• Easy To Avail
Obtaining gold loans is much easier than other forms of personal funding. Financial institutions are readily available to fund gold loans due to the inherent value gold possesses. Therefore, the
eligibility criteria for gold loans
are easily satisfied.
• Minimum Documentation
Due to their ease of access, gold loans require minimal documentation.
• Affordable
Loans secured by gold are the most affordable. When you compare gold loans to other options for financing your wedding, such as personal loans, you will witness that a gold loan has an interest rate of 9-24%, whereas a personal loan has an interest rate of 15-30%. There are many more distinguishing factors.
• Instant Processing
The gold loan disbursement usually occurs the same day the application is submitted. You can use the money for upfront payments as well as unforeseen expenses.
• Flexible Repayments
Companies that provide gold financing offer flexible repayment options to borrowers. As a result, you can choose the repayment method that best suits your needs.
Get A Gold Loan From IIFL Finance
Budget constraints should not deter you from the wedding arrangements you want. Plan your dream wedding with an instant gold loan from IIFL Finance. Visit the IIFL Finance website for more information!
Frequently Asked Questions
Q1. Can you take a gold loan for a wedding?
Ans. Yes, you can take out a gold loan to finance a wedding. The purpose of gold loans is not predetermined, and you can use them however you see fit.
Q2. Which is better for a wedding: a personal or gold loan?
Ans. Gold loans are secured loans and have a lower interest rate. Hence, they are a better option for wedding expenses.