Things You Need To Know About Gold Loan Locker Facilities
Individuals often store jewelry and other assets in a gold locker in banks for safe-keeping. Know everything about gold loan locker facilities here!
14 Dec,2022
12:57 IST
12 Views
8 Likes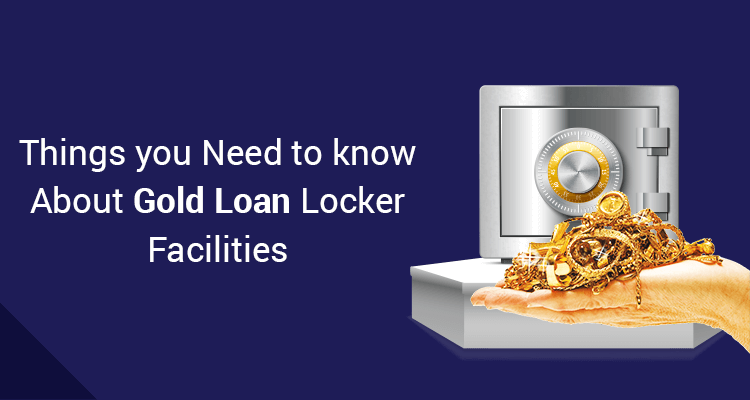 Gold is one of the most popular forms of investment in India. Aside from its aesthetic purposes as ornaments, Indians can use gold to resolve any financial crisis. By mortgaging gold, people obtain a substantial sum of money to meet their immediate financial needs. When they pledge their collateral, most financial institutions offer locker facilities for individuals to store their pledged high-value assets and provide the highest level of safety for their pledged gold.
How To Avail Of Gold Loan Locker Facilities?
A gold loan is a secured credit option where individuals pledge gold articles as collateral. They can receive their collateral after repaying the secured loan, as with other secured financing options. Gold loan benefits, such as affordable interest rates and high loan amounts, are only available to those who submit substantial and pure gold articles.
Financial institutions offer locker facilities to keep pledged items secure. The borrower must submit an application form, KYC documents, and locker agreement to obtain a gold locker in India. In the first year, financial institutions do not charge a fee. After a year, the customer will be responsible for the charges
Benefits Of Gold Loan Locker Facilities
Some of the benefits of
gold loan lockers
for customers are as follows.
1. Safety
You are undoubtedly safer keeping your valuables in a lockbox offered by a financial institution than in your home. Financial institutions have a secure infrastructure such as high-security vaults, entry and exit monitoring systems, and upgraded electronic surveillance systems. This infrastructure makes them a popular choice among customers.
2. No Annual Locker Charges
There are no annual locker charges for gold loan lockers from financial institutions. Customers can save a considerable amount that they would have otherwise incurred to ensure the safety of their pledged gold.
3. No Documentation Needed
If you are applying for a gold locker at a bank, you must complete additional paperwork, such as a locker nomination form and a stamp paper locker agreement. Since you already submit all the
documents for your gold loan
, there are no further requirements for gold loan lockers.
4. Insurance
Gold loans come with highly-secure safety lockers that are fully insured since the customer is present when the contents are weighed, marked, documented, and sealed.
5. Eligibility
There's often a long waiting period for
gold lockers at banks,
even if you're a bank customer. However, you can apply separately for a gold locker if you have obtained a gold loan.
Get A Gold Loan From IIFL Finance
Providing extensive gold loans in India, IIFL Finance offers industry-leading benefits when you apply for a gold loan. The funds are available within 30 minutes of your application, based on the value of your gold.
The IIFL Finance Gold Loans are the most affordable loan scheme available due to their low fees. Furthermore, there are no hidden fees when applying for a loan with IIFL Finance. Apply today!
Frequently Asked Questions
Q1. How safe is your gold in a lender's locker?
Ans. Lenders also keep the physical gold they accept as collateral in a highly secure locker and follow all the same security precautions as banks.
Q2. Is it better to sell gold or take a gold loan?
Ans. You will only receive the amount you paid for gold if you sell it, without any making charges incurred by the jeweller. Because you retain ownership of the asset and won't suffer making-charges losses, a gold loan is a good option.
Q3. What happens in the case of a bank locker robbery?
Ans. If any valuable item is stolen from a bank locker, the borrower will be entitled to compensation by the bank, according to the RBI.