Maximum And Minimum Gold Loan Limit In India
Gold Loan has become one of the fastest-growing services compared to other products. Read on to know minimum & maximum gold loan limit in India!
7 Oct,2022
18:51 IST
2162 Views
5 Likes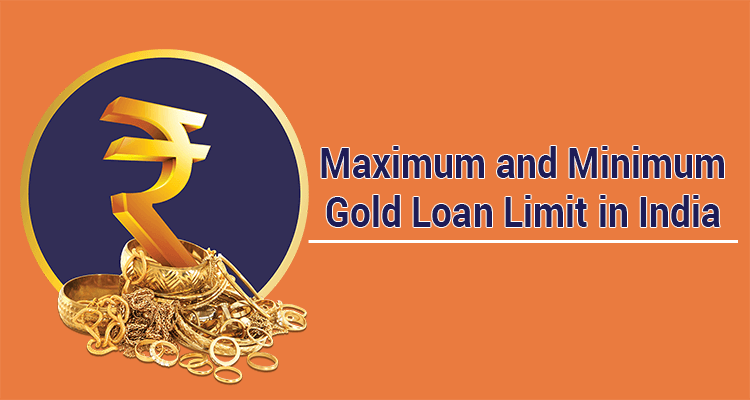 Gold signifies wealth and prosperity in Indian culture. Purchasing gold on specific auspicious occasions is a custom. People bought a small amount of gold on every occasion. Collectively, it amounts to a lot due to years of accumulation. Passing down the gold to the next generation was yet another sentimental custom.
Getting gold products in gifts was considered a blessing. Traditionally, gold ornaments only symbolised the blessings that ancestors were passing through these ornaments. But looking at the security gold provided, it wouldn't be wrong to say that the ancestors were passing on financial security to the next generation in the form of gold.
Gold has been used as a mortgage to take loans in need for centuries. Zamindars and Saavkars would provide liquidity against gold ornaments and artefacts. Today, banks supply the same aid. The Gold Loan has become one of the fastest-growing services compared to other financial products.
Many reputed banks/NBFCs accept gold objects such as gold jewellery and ornaments as security to provide loans. The loan amount one can acquire against a gold item varies depending on the purity of the gold in the jewellery, the LTV Ratio, and other internal lender limitations.
Because both banks and NBFCs offer gold loan services, comparing their rates, qualifying conditions, and loan amounts are vital. Every lender may have a predetermined minimum and maximum gold loan limit. To illustrate with an example, ICICI Bank sanctions gold loans ranging from Rs 10,000 to Rs. 1 crore, whereas SBI provides gold loans ranging from Rs.20,000 to Rs.50 lakh.
Let us look at the following table to know the minimum and maximum gold loan amounts offered by various banks in India.
| | | |
| --- | --- | --- |
| Bank / NBFC | Minimum Amount | Maximum Amount |
| HDFC Bank | Rs 10,000 | Rs 5 Cr |
| ICICI Bank | Rs 10,000 | Rs 5 Cr |
| Yes Bank | Rs 10,000 | Rs 5 Cr |
| Mannapuram Finance | Rs 3,000 | Rs 1 Cr |
| Muthoot Finance | Rs 3,000 | Rs 1 Cr |
| SBI Bank | Rs20,000 | Rs 50 lakhs |
| Canara Bank | Rs 5,000 | Rs 20 lakhs |
| Axis Bank | Rs 10,000 | Rs 5 Cr |
Factors To Consider For Gold Loan Application
1. Requirement Of Documents
The only
documents required for a gold loan
application are identity proof, address proof, and recent passport-sized photos. Banks and NBFCs might have additional document requirements to add a layer of protection, but most institutions do not require extensive documentation.
2. Loan Amount Limitations
The gold loan amount is determined by estimating the value of the gold via purity and weight. Every financial institution has a sanctioning limit and can offer loans within the permissible range only. Although, higher limits are allowed only in special cases. For such high amounts, special permissions from the management are mandatory. The management agrees with the higher loan amount only if the borrower has a positive repayment record.
3. Gold Valuation
The value of gold is determined based on the weight and purity of the gold. A gold loan amount sanctioned is up to 90% of the market value of the gold mortgaged. The loan-to-value ratio, in this case, is capped by the Reserve Bank of India.
4. Reclaim
There is no restriction on the number of times a gold ornament or any other form of gold can be mortgaged. This facility enables the borrower to take credits over and over on a single piece of gold. Also, this feature only applies to gold loans and not other personal or business loans. The borrower does not have to change the Bank or NBFC to reclaim the loan.
5. Flexible Repayment Options In Gold Loan
With various repayment options available for gold loans, the adaptability to reimburse the principal amount and interest in various forms is advantageous. The feature encourages entrepreneurs and small company owners who fall short on cash to choose gold loans over other business loan options, which consist of high monthly EMIs and rigid repayment schemes. Each Bank or NBFC has its unique policy for gold loan repayment options and borrowers must read and understand the terms and conditions of repayment before applying for the loan.
Apply For A Gold Loan With IIFL Finance
With IIFL, avail all the benefits of gold loan services. The documentation of IIFL consists of ID proof and address proof. The smooth operational system of IIFL makes the process of gold loans easy. IIFL approves a loan of the minimum amount of Rs 3,000 and the maximum amount of up to Rs 50 lakhs.
FAQs
Q.1: What is the margin in a Loan against Gold at IIFL?
Ans: Typically, every bank or NBFC maintain a margin of at least 25% in the case of loans against gold. The margin implies that an individual can avail of a maximum of 90% of their gold's market value as the loan amount. For example, if the valuation of gold is Rs. 1 Lakh in the market, then IIFL will offer you a maximum loan amount of Rs. 90,000.
Q.2: What Documents do I need to apply for Gold Loan at IIFL?
Ans: Basic KYC documents such as identity proof, address proof and two photos of the applicant are mandatory at all the IIFL branches to avail loan.
Q.3: What happens if an individual cannot repay their loan amount?
Ans: Bank/NBFCs will provide periodic reminders to the customer about the payment after the end of the tenure. After that, they deliver a final notice to the customer via call or message about the auction. Lenders can then sell the deposited gold in an auction.