When Do Expensive Unsecured Loans Make Sense?
Personal loans may be used for almost any purpose and are sometimes a good option, but they can be expensive. Does availing them makes sense? Read to find out!
18 Dec,2022
18:47 IST
12 Views
1 Like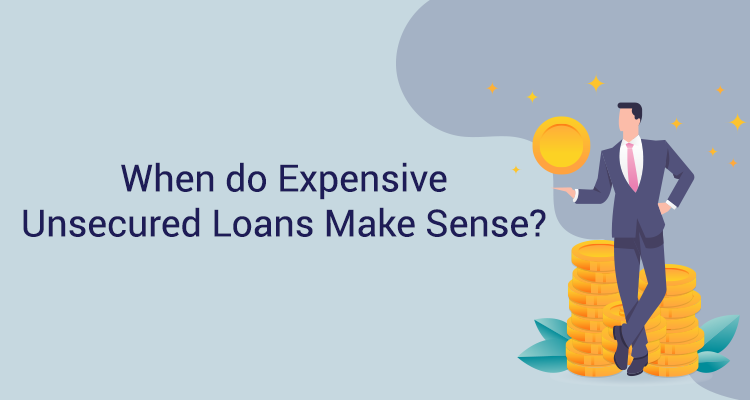 Life comes with unforeseen circumstances. You may have enough money one day but need external capital on another day to cover immediate financial emergencies. A personal loan allows borrowers to avail of adequate capital to cover expenses. However, you do not have to pledge collateral for a loan from lenders. In such cases, consider taking an unsecured personal loan online.
However, as they may be expensive, you must know when to take such loans.
What Are Unsecured Loans?
Unsecured loans allow borrowers to raise adequate capital without pledging an asset as collateral. Lenders approve unsecured loans to borrowers who don't own a valuable asset for pledging. However, as there is no need for collateral, the lenders charge a higher interest rate and have rigid eligibility criteria to ensure they effectively analyse the creditworthiness of the borrowers.
If you default on an unsecured personal loan, the lenders penalize the outstanding amount or may increase the interest rates ahead.
How Do Unsecured Personal Loans Work?
Unsecured personal loans online provide immediate capital to borrowers without any end-use restrictions. They can use the personal loan amount for legal purposes without being answerable to the lender.
When you apply for unsecured personal loans online, lenders analyse the eligibility and creditworthiness to offer a suitable amount per your financial situation. Once the lenders approve the personal loan application form, they disburse the unsecured personal loan into the borrower's bank account. However, since such loans are unsecured, they can prove expensive for the borrowers as the interest rates are high.
When Do Expensive Unsecured Loans Make Sense?
If you do not own a valuable asset to pledge as collateral, there is no option other than taking an
unsecured personal loan online
from a lender. However, expensive
personal loans
also make sense if you consider the following factors.
• No Collateral
Lenders do not provide secured
personal loans
to borrowers without pledging an asset that has a value close to the offered loan amount. You can consider taking expensive
unsecured loans
to raise urgent and immediate capital without collateral.
• Monthly Income
Lenders have set eligibility criteria for offering unsecured loans online, such as personal loans, to ensure they offer the amount to credible individuals capable of repaying the loan amount within the loan tenure.
One such factor is the monthly income which should be around Rs 22,000 minimum. However, as unsecured personal loans are expensive, you can consider getting them if you have a high monthly income and can repay the high EMIs comfortably.
• Flexible Loan Terms
Numerous factors are included in the personal loan process, such as loan tenure, repayment options, etc. While taking a personal loan, you should ensure that the loan terms are flexible enough to justify the high-interest rates.
Furthermore, flexible loan terms would ensure that the unsecured personal loan is not highly expensive and you can pay it effectively. Hence, get an expensive unsecured loan if the loan terms are flexible.
• Quick Approval and Disbursal
You may opt for expensive unsecured loans online if you urgently need capital to cover personal expenses such as medical bills. Reputed lenders approve the personal loan amount within five minutes of application.
Once approved, they disburse the loan amount within 24 hours into the borrower's bank account. You can consider taking an expensive unsecured personal loan online if you require quick capital, and the loan product provides speedy approval and disbursal.
Avail Of An Ideal Personal Loan With IIFL Finance
IIFL Finance provides comprehensive and customised
personal loans
to fulfil your capital requirement. The
personal loan
offers instant funds up to Rs 5 lakh with a quick disbursal process and attractive
personal loan interest rates
. You can apply for the loan online or offline by visiting IIFL Finance nearest branch and verifying your KYC details.
FAQs:
Q.1: What is the interest rate on IIFL Finance personal loans?
Ans: The interest rate on IIFL Finance loan starts at 11.75%.
Q.2: Do I need collateral for an unsecured personal loan from IIFL Finance?
Ans: No, you do not need to pledge any asset as collateral to take an unsecured personal loan from IIFL Finance.
Q.3: What are the minimum and maximum loan tenure for IIFL Finance personal loan?
Ans: The minimum loan tenure is 03 months, and the maximum term is 42 months for IIFL Finance personal loan.